USD School of Law Professor Orly Lobel Speaks on Gig Economy Panel at the National Summit of Hispanic State Legislators
Professor Orly Lobel Speaks on Gig Economy Panel at the National Summit of Hispanic State Legislators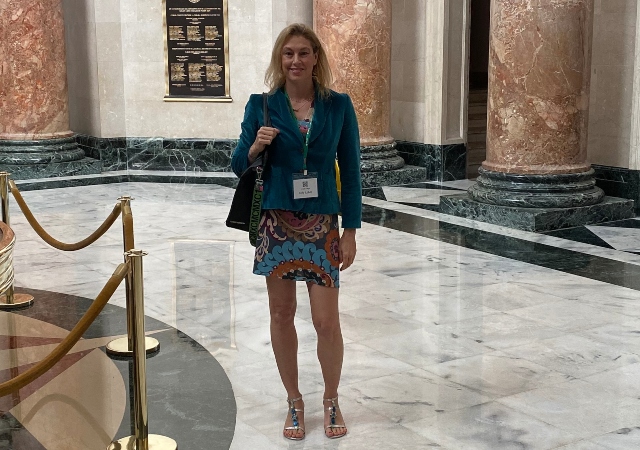 SAN DIEGO (December 5, 2019) – University of San Diego (USD) School of Law Warren Distinguished Professor of Law Orly Lobel spoke on the issue of gig economy at the 17th National Summit of Hispanic State Legislators in Puerto Rico on December 4.
The summit, hosted by the National Hispanic Caucus of State Legislators, highlights the various interests and issues facing the Hispanic community. Lobel was joined by Illinois Senator Omar Aquino and California Assemblywoman Lorena Gonzalez to discuss the rise of gig economy, popularized by ride-share drivers. The speakers spoke on the challenges of gig economy and the lack of included benefits and opportunities for growth within the system.
Lobel and the other panelists spoke before 150 of the country's state senators to examine the ways in which gig workers can be protected and granted more freedom in their work.
About Professor Orly Lobel
Warren Distinguished Professor of Law Orly Lobel's areas of expertise include Intellectual Property, Employment and Labor Law, Government Agencies, Employment Discrimination, and Regulation. She has received numerous awards in recent years including the Thorsnes Prize for Outstanding Legal Scholarship and the Irving Oberman Memorial Award. Her two latest books have won several prestigious awards.
About the University of San Diego School of Law
Recognized for the excellence of its faculty, curriculum and clinical programs, the University of San Diego (USD) School of Law educates approximately 800 Juris Doctor and graduate law students from throughout the United States and around the world. The law school is best known for its offerings in the areas of business and corporate law, constitutional law, intellectual property, international and comparative law, public interest law and taxation.
USD School of Law is one of the 84 law schools elected to the Order of the Coif, a national honor society for law school graduates. The law school's faculty is a strong group of outstanding scholars and teachers with national and international reputations and currently ranks 36th nationally among U.S. law faculties in scholarly impact and 22nd nationally in past-year faculty downloads on the Social Sciences Research Network (SSRN). The school is accredited by the American Bar Association and is a member of the Association of American Law Schools. Founded in 1954, the law school is part of the University of San Diego, a private, independent, Roman Catholic university chartered in 1949