SOLES PhD Student Awarded $40,000 Ford Foundation Grant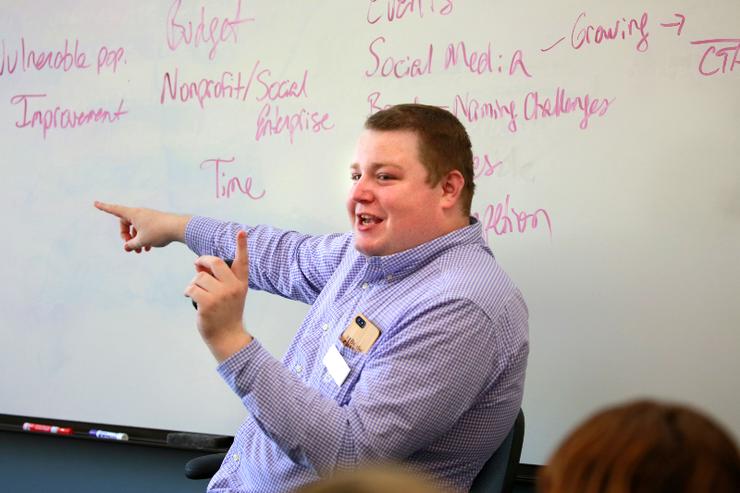 begin quote

I keep hearing that the dissertation is the final step in the doctoral journey, but for me it feels like to end to one adventure and the beginning of another exciting one.
Colton Strawser, a SOLES PhD Leadership Studies Student (Nonprofit and Philanthropic Leadership) was recently awarded a grant from the Ford Foundation to study the participatory grantmaking practices of California community foundations – a topic that will be the focus of his dissertation, along with examining how community foundations are actively leading and engaging with their local communities.
While participatory grantmaking has been gaining interest and recognition in the academic literature in the last couple of years, Strawser was first introduced to participatory grantmaking while in middle school – "When I was in middle school I joined a local youth philanthropy council through my community foundation where students from the county schools were tasked with distributing funds that supported youth programs and services. In essence, it allowed the youth to be active change agents in their community by determining where funding was to be allocated."
Identifying as both a critical scholar and "pracademic" (a mix between practitioner and academic), Strawser's research often focuses on the perspective of the community, or recipients, of philanthropy, in the relationship between community foundations and their local communities. As a former community foundation staff member, Strawser researches the stated values, funds distributed, and organizational actions of community foundations which sometimes provide two distinct narratives; what an organization is saying, and what it is actually doing, "My research is not focused on collecting data for an exposé, but rather I work to create different mirrors and lens to allow organizations to seek to understand whether or not they are actually delivering the public goods that were the intended outcomes when the organization first began."
As an interdisciplinary scholar, community engagement within community foundations is not the only topic on Strawser's research agenda – he also studies how institutions of higher education are engaging with their local communities. During his undergraduate studies Strawser majored in Philanthropic Studies at the Indiana University Lilly Family School of Philanthropy where he took a course with Dr. Julie Hatcher, a pioneer in the field of higher education community engagement and service-learning, where she shared challenges that were all too familiar to Strawser's research on community foundations. Therefore, another line of his research was born.
After completing his undergraduate degree, Strawser had more questions than answers and decided to pursue master's degrees in both Higher Education Administration and Nonprofit Management and Philanthropy at Bay Path University. His master's thesis examined the service-learning expectations for faculty members and community partners as well as the capacity-build supports that community foundations provided local community-based agencies, respectively. Realizing that researching could be a full-time job, Strawser began his journey that eventually led him to the PhD in Leadership Studies program in SOLES.
"You hear the terms community engagement and community foundation, and it may imply that the community themselves are there front and center, but I have noticed in practice that this is not always the case. I am on a mission to bring the community back to the center of this work through two tools that I have recently developed and articulated – the Framework for Community-Centered Engagement and Framework of Community Leadership." Both frameworks surrounding community engagement and leadership are recent creations by Strawser that have emerged within his time in the PhD program at SOLES. His work as a doctoral research assistant in The Nonprofit Institute has created additional opportunities for him to further explore concepts of community leadership, and his research fellowship in the Mulvaney Center for Community, Awareness, and Social Action have provided additional outlets to study the unique relationships that institutions of higher education have with their local communities. Strawser hopes to publish his Framework for Community-Centered Engagement in the Spring and his Theory of Community Leadership in Fall 2020.
With hopes to defend his dissertation in 2020, Strawser is preparing to conduct field work that would not have been possible without his Ford Foundation grant. In addition to field work, Strawser plans to utilize the funding to gather and analyze a statewide data set on foundation funding and will be converting his dissertation research into a practitioner report that will be disseminated a few months after completing his dissertation.
"I keep hearing that the dissertation is the final step in the doctoral journey, but for me it feels like to end to one adventure and the beginning of another exciting one. I still have more questions that I do answers, but I suppose as an academic that means job security for the foreseeable future."