Study Abroad: Cornerstone of a USD Educational Experience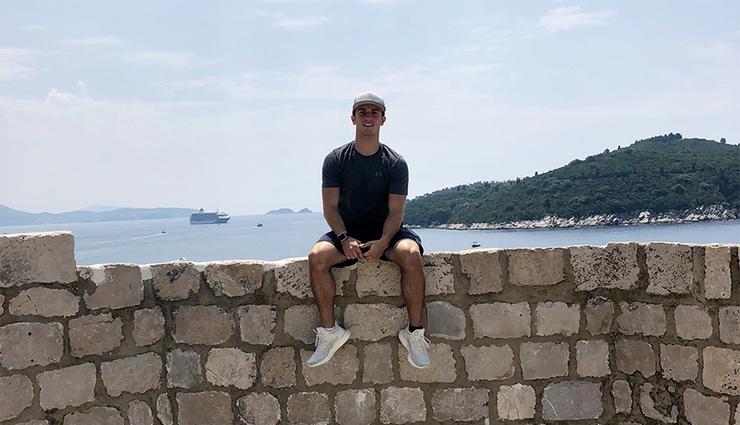 The beginning of the nationally recognized International Education Week each November is an annual reminder of the strength and consistency of study abroad opportunities at the University of San Diego.
On Monday, Nov. 18, the Institute for International Education released its 2019 Open Doors Report on International Educational Exchange, which includes undergraduate study abroad rankings in multiple categories. Among them is a list of the top 40 doctorate-granting universities. For the 14th consecutive year, USD made the list, finishing fifth based on the IIE report's data formula.
The university's popular study abroad program has consistently been a rankings success. Since 2007, USD has been ranked among the top seven each year. Eight of the last 10 years, USD has been among the top three. The Open Doors Report, which is co-authored by the U.S. Department of State's Bureau of Educational and Cultural Affairs, is a powerful resource for international education trends.
Using the most recent data — the 2019 report consists of numbers from the 2017-18 academic year — USD finished with a 73.2 estimated participation percentage of students who did at least one study abroad experience as a Torero undergrad. This number was exceeded by only four other institutions — Elon University, Pepperdine University, University of Denver and Wake Forest University. USD did finish ahead of Top 10 institutions such as Notre Dame, NYU and Georgetown.
Denise Dimon, PhD, associate provost for international affairs and economics professor in USD's School of Business, appreciates all that studying abroad does to enhance a USD student's liberal arts education experience.
"Study abroad prepares students to handle uncertainty and ambiguity, takes them out of their comfort zone, enhances language skills, and provides an opportunity to allow for an appreciation of different cross-cultural perspectives," she says.
Study abroad has been a staple of USD's educational footprint.
"USD has been a pioneer with study abroad program, starting with a summer program in Guadalajara over 50 years ago, the law school's summer abroad program, our Second-Year Experience Abroad program, and an amazing number of short-term, faculty-led programs along with the traditional semester exchange programs," she says. "We've also recently launched a double degree program for business majors."
Emphasis on study abroad got a major push at USD when then-President Mary E. Lyons made international education a strategic initiative. The International Center opened in 2007. Located in Saints Tekakwitha and Serra Hall 201, the study abroad office is joined by the Office of International Students and Scholars and the International Student Organization has administrators working in this space.
Kira Espiritu, PhD, director of International Study Abroad activity, leads a team helping students live and study in more than 40 countries for a short-term, summer, semester or year-long trip while earning USD credit offered in more than 80 programs. Students can participate in activities such as research, internships, community engagement, practicums and student teaching.
Current President James T. Harris sees the value of Toreros studying abroad to become better global citizens as they seek to address the world's most urgent challenges.
The university has also taken steps to improve its visibility abroad, opening a permanent academic facility, USD Madrid Center, in 2014. It's a space that has successfully had classes for both undergraduate and graduate students and has hosted multiple Torero alumni networking events. A proposed presence in Italy, a USD Rome Center, is in the works.
Dimon acknowledges that other universities are focusing more on study abroad as USD has done for many years. Knowing this makes for greater competition in the annual rankings, but this is good news for prospective and current Toreros interested in studying abroad.
"We will continue to create and develop new possibilities and innovations in international education," Dimon says. "Our main purpose is to assure that we help educate, holistically, our students to develop greater global awareness and understanding through direct international experiences as part of their USD education."
— Ryan T. Blystone