USD's Justice in Mexico Receives $3M Grant to Support OASIS through 2022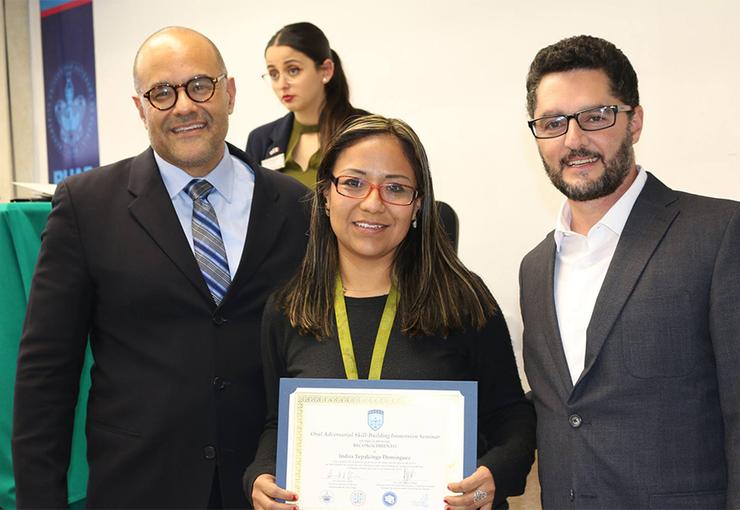 Coordinated by the Justice in Mexico program at the University of San Diego, the Oral Adversarial Skill-Building Immersion Seminar (OASIS) has been extended financial support through 2022 by a generous $3 million grant from the U.S. Department of State's Bureau of International Narcotics and Law Enforcement Affairs. This brings the total federal grant for the program to $9.3 million since 2006.
OASIS is an oral advocacy training program that provides skill-building and exchange opportunities. As a primary goal, OASIS offers oral trial litigation skills training for Mexican law professors, practicing attorneys, and law students to develop the competences and best practices necessary for the successful performance of their professional duties within the judicial system.
To achieve this, OASIS conducts three activities each year:
Three 40-hour litigation workshops in Spanish to 240+ law professors and students from Mexico's largest public law schools;
Three study tours for Mexican jurists to learn about the U.S. criminal justice system;
Annual international symposium to promote public awareness and scholarly exchange.
Under the new proposal for activities in 2019-22, OASIS will focus on regions where local communities have not received the necessary attention, funding, and additional resources during and after the implementation of the system or regions that will provide important opportunities for broader regional impact. Target locations include Puebla, Oaxaca, Aguascalientes, San Luis Potosí, and Campeche/Baja California Sur.
"This is a great example of the kind of high-level academic exchange program that is so urgently needed to forge stronger ties between the United States and Mexico," says Dr. David A. Shirk, director of USD's Master of Arts in International Relations and principal investigator of Justice in Mexico.
"OASIS gives skilled practitioners the opportunity to develop deep and lasting ties that can last well beyond the life of the grant to advance the long-term of strengthening the rule of law in Mexico and improving binational cooperation."
College of Arts and Sciences Dean, Dr. Noelle Norton, congratulated Dr. Shirk for his long-term work on Justice in Mexico's OASIS program on behalf of the College.
"His commitment to education across the US-Mexico border supports USD's goal of building connections with communities outside of our campus, which we have the unique opportunity to do, being located so close to an international border. We are grateful to the State Department for its continued funding for this important work."
The university's Justice in Mexico program works to improve citizen security, strengthen the rule of law, and protect human rights in Mexico. The program generates cutting-edge research, promotes informed dialogue, and works to find solutions to address these enormously complex issues. Justice in Mexico is entirely funded by external grants and individual gifts and is based at USD.
— Lissette Martinez