Announcing the 2019-2020 Core Fellows in DISJ and Integration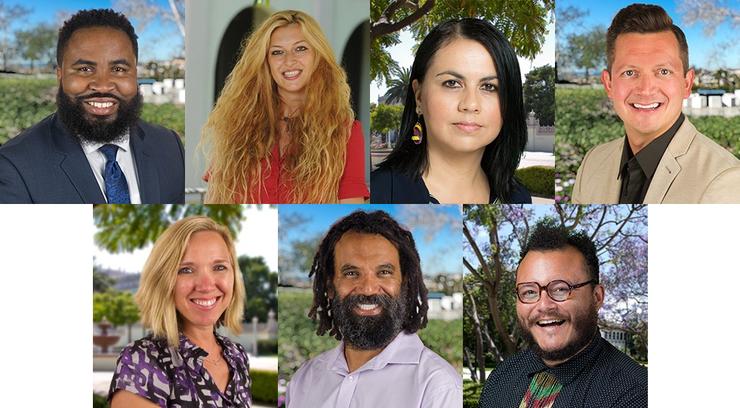 Announcing the 2019-2020 Core Fellows in DISJ and Integration.
Since the implementation of our new undergraduate core curriculum in Fall 2017 two new areas of the Core - Integration and DISJ (Diversity, Inclusion, and Social Justice) - have required further development and growth in our new Core. Each year a small group of faculty are selected to serve as Fellows, forming a community of experts to assist and further develop this area of our curriculum. A description of the two Fellows' programs and this year's esteemed faculty Fellows appear below. Please contact them if you have questions related to their area of expertise.
DISJ Fellows Program (Diversity, Inclusion, and Social Justice)- As we continue to build our DISJ course offerings in the Core the three new Fellows will assist the current Core Area Representative in working with faculty to align their courses with the various DISJ flags. The Fellows will also be assisting in the WASC reaccreditation process, highlighting the diversity related curricular initiatives implemented since our last accreditation.
Integration Fellows Program (Advanced Integration and First Year Integration)- The Advanced Integration Fellows will be working together to assist faculty in aligning their courses with the Advanced Integration learning outcomes. The First Year Integration Fellows will focus their efforts on supporting the Learning Communities program; gathering resources to support faculty teaching first year integration, and running alternative integration experiences for students in unusual circumstances.
Diversity, Inclusion and Social Justice Fellows
Jamall A. Calloway, PhD (Theology and Religious Studies)
Dr. Calloway is an Assistant Professor of Theology and Religious Studies and an affiliate faculty member in the Ethnic Studies Department. He teaches courses that center Systematic theology, liberation theology, philosophy of religion and literature. He received a bachelor's degree in humanities from Tougaloo College in Jackson, MS, his Master of Divinity degree from the Divinity School at Yale University and Masters of Sacred Theology, and a PhD in Systematics from Union Theological Seminary in the City of New York where he studied under the late, Dr. James Cone. When Dr. Calloway is not on campus he is working on his first book entitled: Staring at the Dark: A Black Systematic Theology of Deliverance.
Antonieta Mercado, PhD (Communication Studies)
Dr. Mercado is an associate professor in communication and social justice. She teaches classes on Media and Conflict, International Media, Introduction to Media Studies, and Public Relations and Social Movements. Dr. Mercado studies the communication and citizenship practices of Mexican indigenous immigrants in the United States, and how those practices extend to the transnational public sphere, contributing to forms of world citizenship or "grassroots cosmopolitanism."
Jesse Mills, PhD (Ethnic Studies)
As a DISJ Fellow Dr. Mills helps faculty members prepare their courses and proposals for the flags in this important Core area. He served on and chaired the original DISJ Area Task Force for two years, and is in his third year as Core Area Representative for DISJ. Dr. Mills is honored to work with the DISJ Fellows team to provide for departments and individuals who are interested in DISJ supportive informational visits, workshops, and consultation. He looks forward to working with you!
T.J. Tallie, PhD (History)
Dr. Tallie is an assistant professor in history. His work focuses on questions of race, indigeneity, sexuality, and belonging in settler societies in southern Africa, Oceania, and North America. His DISJ courses encourage students to make connections between historic structural issues of oppression and the contemporary world in which they live.
First Year Integration
Jane Friedman, PhD (Mathematics)
Dr. Friedman is a professor in the mathematics department. She has been involved in the LLC program, from almost the beginning. She has taught many LLC courses and served for a time as Faculty Director of an LLC. She was one of the initial Integration Fellows, focusing then as she does now on First Year Integration.
Rebekah Wanic, PhD (Psychological Sciences)
Dr. Wanic is a member of the Department of Psychological Sciences and teaches Evolutionary Psychology in the TLC program - a course which integrates material from various disciplines to help explain how past adaptive considerations may have shaped current behavioral and information processing tendencies.
Advanced Integration
Bradley Bond, PhD (Communication Studies)
Dr. Bond is an associate professor and chair of the department of communication studies. Brad is a returning integration fellow who previously worked on the integration area task force during the development of the new core curriculum, and served as the 2017-2018 core area representative for advanced integration. In his own pedagogy, Dr. Bond has worked with colleagues to successfully submit an honors team-taught course and a single-instructor communication studies departmental capstone for advanced integration.
Julia Miller Cantzler, PhD (Sociology)
Dr. Cantzler was a member of the Integration Area Task Force since its inception and chaired the ATF during its second year. She has been serving as the Integration Core Area Representative on the Core Curriculum Committee for the past two years. Prior to the passage of the new Core, she piloted Advanced Integration through a linked cluster of courses on the topic of Sustainability and has since offered this class as a stand-alone integration course and as a linked course abroad. She has also attended workshops and presented at national conferences on the topic of integrative learning. She has significant experience helping faculty tailor their courses to meet the Integration learning outcomes at both the first year and advanced levels. She is available to provide feedback and help faculty brainstorm innovative ways to incorporate integrative experiences into their courses.
Adriana Vamosiu, PhD (Economics)
Dr. Vamosiu joined the department of economics within the School of Business in 2013. Her main research interests are the economics of higher education and industrial organization, particularly pricing theory, bundling and compatibility issues and. She will be teaching the capstone senior course in her department starting Spring 2020, where the students develop their own research project on a topic of their own interest using real world data. This course is CINT by nature.