Meet the Catalyzer Team: Catalyzing Students' Passion for Entrepreneurism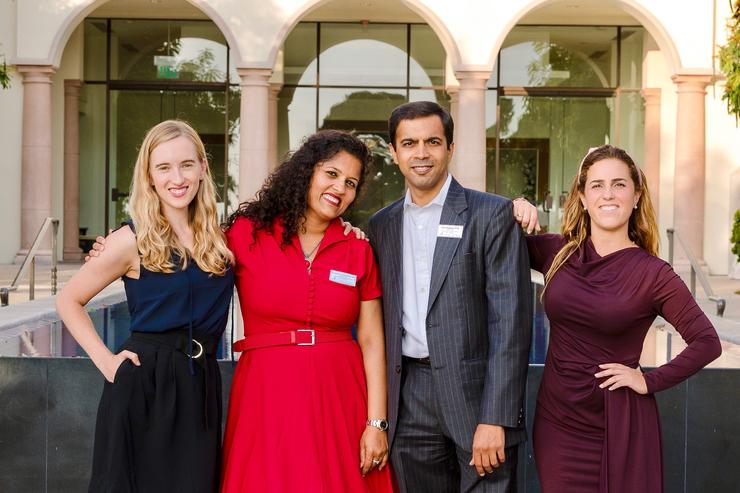 begin quote

Entrepreneurial mindset is all about spotting an opportunity to do better than what is currently being done, convincing others that your idea is worth pursuing, and giving that idea all you have got.
Associate Professor of Management Rangapriya "Priya" Kannan likes to say she's been "studying innovators and entrepreneurs" through her research projects for almost two decades.
In truth, it started much earlier as Kannan moved around different parts of India, learning about the country's different cultures and languages -- of which she is fluent in three -- and watching ordinary citizens use "jugaad" or hacks to find ways to improve their lives. In a country not rich in natural resources like India, "you have to be entrepreneurial," she says.
This fall, Kannan is taking her passion for innovation to a new level as she becomes the founding director of the University of San Diego School of Business's new Entrepreneurship and Innovation Catalyzer (The Catalyzer). "Our goal is to build entrepreneurs," she says.
"When students come to The Catalyzer with an early-stage idea, our team of talented faculty and staff will help give them the knowledge and tools to start bringing their idea to life at the Fowler Business Concept Challenge, which will be launched for the first time on campus this November. The Catalyzer will also continue to host the V2 Pitch Competition, the Legacy Entrepreneurship Conference and the Torero Ventures Lab, among other entrepreneurship initiatives that will help USD build exemplary and curious innovators for our community," she adds.
As an associate professor of management, Kannan has worked in Silicon Valley as well as in India. She earned her PhD from UCLA. Kannan has been published in several leading academic journals including the Strategic Management Journal and Journal of Product Innovation Management and is fascinated to learn how people come up with an idea and convince others to buy into it. "You have to be passionate to ignite the passion in others," she says.
Joining Kannan at The Catalyzer team is Entrepreneurship Manager Regina Bernal, who helped start the USD School of Business' entrepreneurial efforts seven years ago and has been a force for fueling the entrepreneurial spirit within our border region. "It's been fun to see entrepreneurship develop like a startup at USD. The ecosystem has completely transformed since I started in this role," she says. "The students' passion for innovation and entrepreneurship has been a key factor in the growth of our efforts and helping them on their entrepreneurial journey to success is a true joy."
Outside of USD, both Kannan and Bernal enjoy finding ways to relax. "I love spending time with my family as well as learning about new things," says Kannan who is married with two children, ages 17 and 11.
Bernal enjoys yoga and meditation. "There needs to be a lot of self-care in entrepreneurship," she says. "Sometimes the last thing we think about is taking care of ourselves and how important it is for the success of our learning and growth of our entrepreneurial ideas."
In their efforts, the two will be joined by a supporting team including USD School of Business Strategic Initiatives Manager Karolina Rzadkowolska and Clinical Professor of Operations Management Amit Kakkad, who will be the strategic advisor for The Catalyzer.
Rzadkowolska contributed to the successful launch of The Brink Small Business Development Center at USD and is a successful entrepreneur herself as an alcohol-free lifestyle coach and founder of the company Euphoric Alcohol-Free. She's passionate about building an empowering space for students to test ideas as they explore their creativity and develop their entrepreneurial skills. "'Who am I to start a business?' is a question that I want to eliminate from students' minds. Launching a business does take business acumen, but it also takes perseverance, the ability to learn from mistakes and pivot, and an overriding belief in your ability to succeed. At The Catalyzer, we are really thinking about developing a holistic entrepreneurial mindset that will serve students for life."
For his part, Kakkad, who helped create two successful startup firms and grow USD's Center for Peace and Commerce, sees his role as "catalyzing The Catalyzer" and to advise the center to reach its full potential. Kakkad, who enjoys a multitude of adventure sports in his spare time, states that eventually, the goal is to support all students on campus, not just those in the business school, to become entrepreneurial problem-solvers. "Entrepreneurial mindset is all about spotting an opportunity to do better than what is currently being done, convincing others that your idea is worth pursuing, and giving that idea all you have got. That's a highly valuable trait, no matter where their career takes them," added Kakkad.
The Catalyzer team will also work very closely with faculty and expert mentors from the USD School of Business as well as with several other partners on campus including the Kroc School of Peace Studies, School of Engineering School of Law, College of Arts and Sciences and Centers of Excellence such as the Changemaker Hub and the Law Clinic.
"Having a strong team in place is critical to igniting students' passion and creativity," Kannan says. "We can't wait to grow The Catalyzer!"