Professor Susie Babka on USD's 'Christ' Art Exhibit: "Drawings are Where Artists Get to be a Theologian"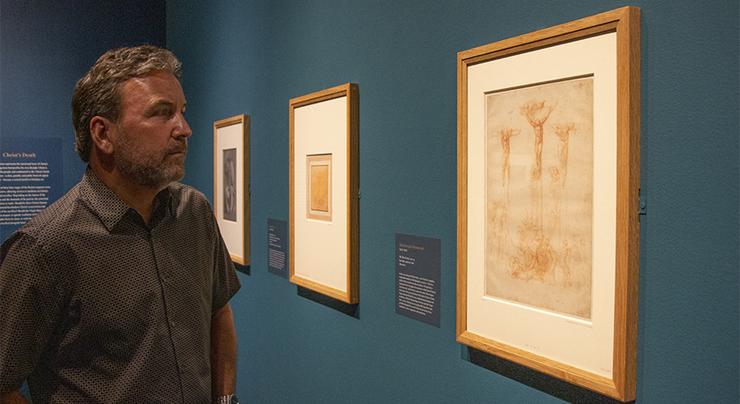 Susie Babka, PhD, an associate professor in the University of San Diego's Theology and Religious Studies Department, has many unique academic experiences to her credit, but the chance to kick off a fall series of USD faculty art gallery talks connected to the "Christ: Life, Death and Resurrection" drawings and prints exhibit in the Hoehn Family Galleries is a true thrill.
"Kudos to Derrick (Cartwright, director of the University Galleries) for encouraging and facilitating this partnership with The British Museum," Babka said. "I hope this is something we can really build up in terms of USD being able to contribute to the artistic life of San Diego in a unique way. I'm thrilled this is happening here."
Given that Babka's academic research involves studying theology through the work of artists, she's a natural pick to give visitors to the art gallery in Founders Hall a deeper dive into the Italian Renaissance artists' work — including the famed Michelangelo — when she speaks from 5-6 p.m. on Thursday, Oct. 3 in the gallery's foyer between the two-room exhibit.
"My research and publications center around what are art's impact on theology and religious studies. What's the relationship? To me, images in history, whether it's Christian history or any other religious history are just as important as scriptures and texts," Babka said. "And the things I'll be highlighting and talking about is that drawings are where artists get to be a theologian. An artist gets to work out theologically what is significant and a lot of times these are experiments because drawings aren't necessarily meant for the public to see. Prints are, and certainly finished works are, like paintings and sculptures, but that's why drawings are really fascinating. The artist is working out 'What do I emphasize? What do I leave out about a particular scene, story or idea in theology? What's really interesting to me is the experimentation."
Babka believes Michelangelo, whose drawing in the exhibit is "The Three Crosses," deserves more credit for his work in terms of the kind of research she's focused on.
"He's obviously important in art, but I think he's just as important in contributing to our understanding of God and the story of Jesus and everything just like Aquinas is. Aquinas gets privileged in the tradition of being a doctor of the church. Michelangelo is important and everyone knows on some level who he is, but they don't think of him as making that kind of contribution. He's done all of these other things, but if you go to the Sistine Chapel with the fresco on the one side, The Last Judgement, there's so much theological richness in that."
Those who attend Babka's Thursday free event as well as other USD faculty talks scheduled for Thursdays from 5-6 p.m. (*except where noted) — Mike Kelly, Philosophy, Oct. 10; Paul Evans, Digital Humanities, Oct. 31; Molly McClain, History, Nov. 7; Brittany Asaro, Italian, *Tuesday, Nov. 12 (6-7 p.m.); and Abraham Stoll, English, Nov. 21 — can expand their knowledge from different perspectives.
"Paintings, drawings, visual art has always been pedagogical, always a teaching tool. Even people who are not Christian might find an interest in just seeing this experimentation of artists and exploring different aspects of the Christian story," Babka said. "I really hope that faculty outside of our art department or Theology and Religious Studies, the obvious groups who will go with students, come to see for one how important the Renaissance was to human endeavor, especially in western thought. The Renaissance is really hard to explain where we are today as a post-modern society without it being one of those beginning points. ... The human contribution to art is perspective."
Babka's working title for her gallery talk is "Infinity and Ambiguity."
"To me that's where the interest comes — the dynamic between the ambiguity that art provides and the infinity it is trying to harness," she said.
— Ryan T. Blystone
For more information, visit the Christ: Life, Death and Resurrection art exhibit webpage.