Torero Tidbits: Summer Research Colloquium; About Time Project; Law School Nears; SFI Summit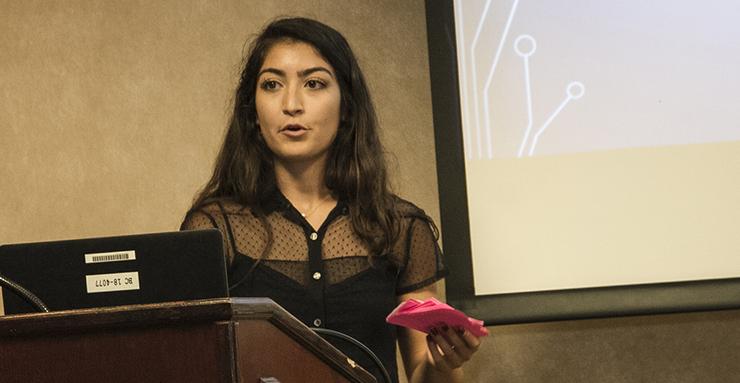 Summer student scholars who've spent the past few months working on research projects in a variety of disciples at the University of San Diego will have a chance to share their work and express what they've learned.
The second annual Summer Research Colloquium will take place Thursday, August 8 from 9 a.m. to 3 p.m. in Camino Hall. Students in the McNair Scholars program, students who work in faculty members' campus labs on federal grant-funded research or have funding through USD's Summer Undergraduate Research Experience (SURE) or are Pre-Undergraduate Research Experience (PURE) will gain experience through their respective public presentations.
The colloquium schedule is set with various rooms hosting presentations for a specific research discipline. Camino Hall 108 and 109 will host projects connected to Life and Physical Science; Camino 111 hosts Behavioral Neuroscience and Mathematics; Camino 112 hosts Social Sciences; Camino 115 hosts Arts and Humanities; and Camino 117 will host Engineering. The first presentation in each room begins at 10 a.m. Welcome remarks and a keynote address begin at 9:15 a.m. in Shiley Theatre.
This free event, which is open to the campus community, is co-sponsored by McNair Scholars, Office of Undergraduate Research and USD Associated Students.
About Time Sundial Project Seeks Support; Public Event Aug. 12
If you've been on campus and have passed by the area outside of the Belanich Engineering Center's Fabrication Lab, you'll see the formation of a big project.
About Time, the name of the project, is a 15-foot tall sundial. The goal of this project, led by Shiley-Marcos School of Engineering's Integrated Professor Gordon Hopple, PhD, and Kroc School of Peace Studies' Assistant Professor Austin Choi-Fitzpatrick with huge assistance by students and the community at-large, is for it to be on display at the 2019 Burning Man event, Aug. 25-Sept. 2, in Northern Nevada.
The project, which has a ChangeFunding donations page on the USD website, is a large-scale art installation. "Our goal is to design, build and install a super cool piece of art that plays with a key concept in physics and philosophy: time."
Choi-Fitzpatrick said there will be a public event from 6:30-9:30 p.m. Monday, Aug. 12 at the SD CoLab, which is an arts collaborative workspace. It is located at 6055 Fairmount Avenue in San Diego, 92120. Those who attend the event can help with the actual project.
"We're looking for folks interested in selecting images or words we can use to laser-cutting these disks, and then helping sand them down. This means we have a range of activities, from skilled to anyone-can-do-it, so come down and help contribute," states the Facebook page invitation.
Fall Semester Nearing for School of Law Students
Summer is just about over for returning fall semester USD School of Law students and it's especially closer for incoming first-year JD students.
Monday, Aug. 12 through Thursday Aug. 15 marks the annual first-year JD student orientation week at the law school.
Among the highlights on the first day, which takes place in the Joan B. Kroc Institute for Peace and Justice is the dean's welcome and the Oath of Professionalism from 6-7 p.m. This is a chance for all incoming law students to meet and hear from USD Vice President and Provost Gail F. Baker, School of Law Dean Stephen C. Ferruolo, Associate Dean Margaret A. Dalton and law faculty members. The Oath of Professionalism will be administered by Judge Ana España '82 (JD).
For a complete listing of the orientation schedule, please visit the School of Law orientation schedule webpage.
Meanwhile, the School of Law's Fall 2019 semester first day of classes is Monday, Aug. 19.
Social Fabric Initiative Summit Aug. 21
The culmination of the Social Fabric Initiative, a summer program led by Joan B. Kroc School of Peace Studies' KIPJ Program Office Tina Medina will take place at 6:30 p.m. Aug. 21 aboard the USS Midway.
The SFI program consists of high school students, university-level interns, and professionals working on different environmental and social justice issues important to the San Diego community. After spending the summer designing and implementing small-scale community change projects, all program participants come back together at the SFI Summit to showcase their projects, share their experiences and celebrate their successes and growth.
Please Note: This event is for SFI participants and those directly involved with the program. If you'd like to become involved, contact Tina Medina at ksmedina@sandiego.edu ahead of the event.
— Compiled by Ryan T. Blystone