Chemistry Alumna Shannen Cravens Returns to Talk Research at Symposium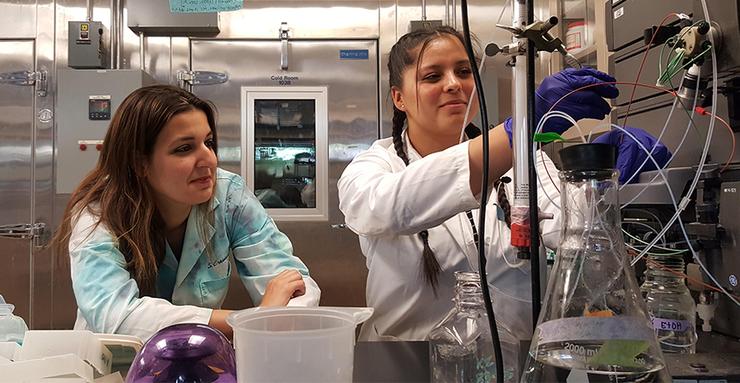 Shannen Cravens, PhD, returns to her undergraduate college alma mater this week. It won't be the first time the 2011 chemistry alumna has been back on the University of San Diego campus since graduation, but it does carry special meaning because she'll be here in an official, professional capacity.
On Wednesday, Cravens, entering her second year as an assistant professor of chemistry and biochemistry at Gonzaga University, will be one of five speakers — and one of three USD alumni — for a Summer Research Symposium from 1-5:30 p.m. that is hosted by USD's Department of Chemistry and Biochemistry. The event is open to invited guests and USD summer research students and faculty.
Her talk, at 2 p.m. in Mother Rosalie Hill Hall's Warren Auditorium, is titled, "DNA Literacy: How do proteins 'read' our cellular blueprint?"
"I'll be talking about the big question my lab at Gonzaga investigates — How do proteins 'read' our DNA? While my lab is only 10 weeks old and I won't be showing any earth-shattering data, I hope the budding researchers in the audience enjoy hearing what it is like to work in my lab. I'll be sharing the theory behind DNA recognition and why it is so important, and I'll walk everyone through the trials and triumphs my students have had this summer. I think it's really important to share not just our biggest findings, but to also share our challenges. Research is a difficult pursuit and it's always nice to know that you're not the only one who has felt like you've been running around in circles."
Though it will focus on what she does at Gonzaga, the talk Cravens will give some insight into her time and development as a college student at USD and at Johns Hopkins' School of Medicine where she got her PhD in 2016. She was then a post-doctoral research associate at the University of Pennsylvania's Perelman School of Medicine and a National Institutes of Health IRACDA Fellow, which afforded her the opportunity to teach at the first degree-granting historically black college in the United States, Lincoln (PA) University.
"What I study in my lab is inspired by my own undergraduate research experience. I became interested in how molecules 'read' DNA back when I worked with (USD Chemistry Professors) Tammy Dwyer and Debbie Tahmassebi. In graduate school, I chose a lab that would allow me to expand my knowledge of DNA recognition from the perspective of proteins. I studied the mechanisms of DNA repair at Hopkins. As a post-doc, I was introduced to an unusual protein called parkin that I believe has some relatively unexplored DNA-binding capabilities. My lab at Gonzaga is investigating how parkin, a protein known to lead to early onset of Parkinson's Disease when it malfunctions, can act as a DNA-binding protein that regulates tumor suppressor genes. So, in a sense, my research focus is a combination of all my experiences."
Road to the Future Began at USD
But the road began at USD, a place Cravens cherishes for opportunities she had, faculty mentorship and teaching from USD professors such as Drs. Jeremy Kua, Julia Schafer and Christopher Daley and advice from Dwyer to prepare her for the future she's still building.
"The faculty, hands down, is the reason why I've stayed so connected to USD and have donated annually since I graduated," she said. "College for me was very much a time of self-discovery. I knew what my family hoped I would do with a degree in chemistry, but I hadn't yet determined what I wanted to do with it. Dr. Kua encouraged me to join a lab after my first semester and that's really what changed my whole career path. When I look back on how I ended up where I am today, I have to give credit to the incredible faculty I got to know so well. They not only inspired me professionally, but many of them became close friends who actively sought to keep in touch after I left. It's one of the big reasons I decided to pursue a career as a professor at a primarily undergraduate institution. I want to give other students the same opportunities I had and, hopefully, inspire a few the same way that I was. I value my undergraduate research experience so much because I recognize just how transformative it was for me."
Attending Johns Hopkins made good on advice Dwyer gave Cravens to apply to graduate schools outside California, the state she'd always lived. "Moving to Baltimore was a city definitely outside of the 'bubble' I had grown up in and changed my perspective on many things for the better. I also met my fiancé while living in Baltimore so the city holds a special place in my heart."
Cravens, who will marry Harman Khare, PhD, a Gonzaga assistant professor in mechanical engineering, this summer, will have Dwyer among her bridesmaids. "She's been my biggest professional inspiration and is one of my closest friends," Cravens said.
Speaking, Listening at the Research Symposium
Dwyer invited Cravens to talk at this week's Summer Research Symposium. Other USD alumni speakers are Dr. Ashley Parks '08, a toxicologist for the Southern California Coastal Water Research Project, and Dr. Nicholas Salzameda '01, an associate professor of organic and bioorganic chemistry at California State University, Fullerton. Jessica Moreton, a UC San Diego PhD candidate in chemistry and biochemistry and UC Irvine Chemistry Professor Jennifer Prescher will also give talks. A USD student research poster session takes place from 4:30-5:30 p.m. in the Hilton Loggia area outside Warren Auditorium.
"I'm honestly looking forward to all of the talks and I absolutely love that three of us are alumni," Cravens said. "It will be great to hear what other USD graduates have accomplished. I hope students realize that by attending these talks that the work they are currently doing at USD is setting them up to do even more great things in the future. I was in their shoes not that long ago. This talk does mean a lot to me because I see it as a way to publicly thank the people who set me on this career path. I hope I make them proud."
— Ryan T. Blystone
Photo courtesy of Shannen Cravens