New Interim Dean of University of San Diego School of Business Barbara Lougee Is Up for the Challenge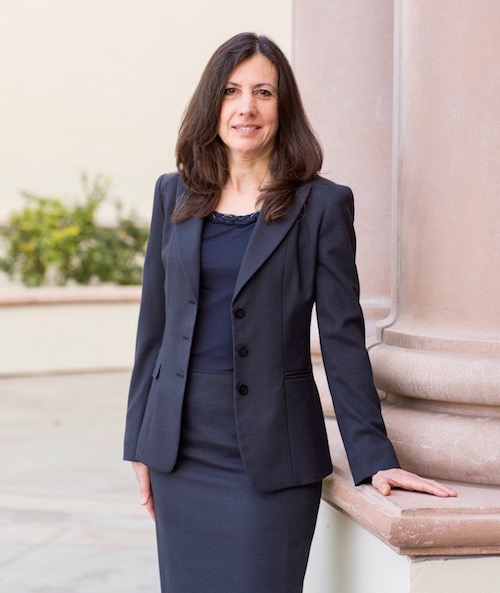 begin quote

'It's full speed ahead on the school's strategic plan,' said Lougee who is the very first woman to lead the school. 'I'm thrilled to take the helm at this dynamic time.'
From working on Wall Street, hiking in the Alps, and being the first in her family to graduate from college, new interim dean of the University of San Diego School of Business, Barbara Lougee, has never been stopped by a challenge.
"It's full speed ahead on the school's strategic plan," said Lougee who is the very first woman to lead the school. "I'm thrilled to take the helm at this dynamic time."
"We are going to continue to build our reputation around the world," she elaborated, with events like the Seven-by-Seven Global in Madrid, Spain this fall where prominent alumni will share their stories in a TED Talk-style event with an audience of alumni, students and executives from all over Europe.
Along with its emphasis on global education and improving the world through business, another focus will continue to be innovation and entrepreneurship. The school plans to synergize its programs in that area to create "an ecosystem" where these programs can feed off each other for greater success.
In November, the USD School of Business is also launching the first Fowler Business Concept Challenge where USD students will pitch an idea for a new business, get their innovation feet wet and "get excited about entrepreneurship." The challenge will be part of a number of initiatives funded by a multi-million-dollar gift from USD Trustee Chair Emeritus Ron Fowler.
Drawing on her background in finance, Lougee also plans to look for greater efficiencies in the school to fund more student scholarships, as USD leads a campus-wide Stride to 2024 initiative to improve structural and operational effectiveness.
Lougee, who follows Dean Jaime Gómez after a successful four years, has an eclectic background and plenty of experience to draw on as she leads the school over the 2019-20 year. Raised in an extended family reminiscent of "My Big Fat Greek Wedding" in the New York metropolitan area, she was the first in her family to attend college.
She studied geology as an undergraduate student at Colgate University and originally planned a career in science. But as a graduate student at the Scripps Institute of Oceanography, she realized that wasn't the right path. However, all turned out well as she began working at San Diego defense contractor Science Applications International Corporation (SAIC) as a programmer/analyst and realized a career in business and later education was her true calling.
After earning an MBA, MS and a PhD in accounting all from Cornell University, Lougee began teaching at the University of California, Irvine and was later recruited by financial services giant Morgan Stanley. A stint on Wall Street followed.
"It was a priceless learning experience," but "at the end of the day, I realized I am passionate about teaching and helping people, not banking," she said. She chose USD because of the strong sense of community, values-based education and balance between teaching and research excellence. As a professor, she's received numerous awards including Outstanding Professor Award, Professor of Impact Award and Professor of the Year Award – some of them in multiple years.
Prior to becoming interim dean, Lougee was the first woman to be appointed associate dean of graduate programs at the USD School of Business. During her tenure in that position, the school created a new MS in Business Analytics, which launches this fall, and earned several impressive rankings. Most recently, the MBA program rose to #79 in U.S. News & World Report, 2019, and leaped twenty spots to #60 in the nation by Bloomberg Businessweek, 2018.
"It wasn't easy," she recalled. Lougee took over the post in 2016, during a reorganization where staff and administrators left for the Christmas holiday and returned with new jobs and positions.
"From that chaos, we built a team and it's the achievement I'm most proud of," she said, even more so than earning a PhD from Cornell and that "was really challenging." It's been "wonderful to see the team grow and ultimately work so well together."
Lougee loves living in sunny San Diego and has plenty of hobbies, including hiking all over the world, running and pilates. "I never run out of things to do here. I just don't have much time to do them now."