Dr. Annette Taylor Retires after 29 Years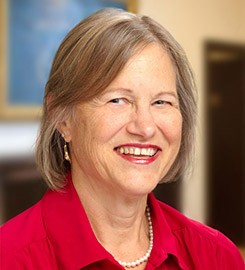 The Psychological Sciences Department celebrating Dr. Taylor's retirement
Professor Annette Taylor is retiring! Well... sort of. The "sort of" comes from the reality that Dr. Taylor's commitment to a life of learning and teaching means retirement is never an option. Over the last five years of gradual retirement she has traveled and taught around the world tackling Semester at Sea (from Brazil to Ghana to Singapore), becoming a visiting professor at Ashoka University in India and teaching psychology at joint base Hickham/Pearl Harbor in Oahu, Hawaii. She will continue educating students at USD in Introductory Psychology in the fall.
Dr. Taylor's retirement comes after 29 years of dedication to USD and the Department of Psychological Sciences. Dr. Taylor came to USD in 1990, becoming its first cognitive psychologist and tasked with engaging undergraduate researchers. She has not only taught Cognitive Psychology, Research Methods and Introductory Psychology, she also created more specialized courses in Attention, Memory, Research Methods in Cognition, Research Methods in Memory, and even the Psychology of Food. Together with her side kick, Professor Patricia Kowalski, she conducted laboratory and classroom studies to try to figure out why students hold so many misconceptions about psychology and why those misconceptions are so hard to dispel. She authored and edited the Encyclopedia of Human Memory and published more than 20 journal articles and chapters. However, her most impressive achievement is the number of students Dr. Taylor has mentored in research and guided over the years. A fearless traveler, Dr. Taylor and her dedicated students have presented research at conferences across the country and abroad. Today, many of these students, some of whom are now professors themselves, are sharing their mentor's guidance with their own students and colleagues.
The Department of Psychological Sciences at USD is a better place having had Professor Annette Taylor in it. We thank her for her dedication to our students, department, and university. We wish her well on her travels and her learning & teaching adventures. And we aspire to her dedication to a quest for knowledge and to her motivation to share that knowledge with others.
Oh yes! And congratulations on passing all 40 levels of Pokémon GO!
Thank you Annette!
The Psychological Sciences Department