Deeply Rooted: Acknowledging the Legacy of the Kumeyaay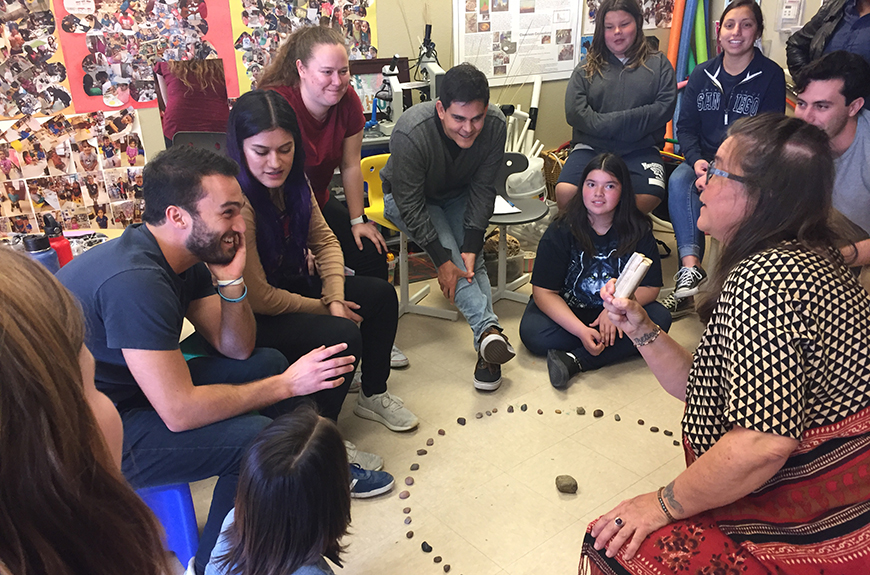 By understanding who we are and where we come from, we gain a better understanding not only of ourselves, but of the world around us. That knowledge is vital to developing the meaningful relationships that become the defining chapters in the story of our lives.
The University of San Diego's story is intrinsically tied to the Kumeyaay band of indigenous peoples, who owned the land upon which the university was built prior to its founding in 1949. The relationship between USD and the Kumeyaay has spanned more than seven decades, and is evident in the campus landscape, as well as the curriculum and research for USD professors in the Shiley-Marcos School of Engineering and College of Arts and Sciences who work with the Kumeyaay community.
A fine visual on-campus example is the beautiful Kumeyaay Garden, located on the north edge of the USD campus, just north of the Hahn University Center and overlooking Tecolote Canyon. It offers visitors a chance "to make a meaningful connection to the living Kumeyaay legacy."
Per the Department of Biology website when talking about the 50-plant spectacle: "We encourage everyone to stop by, enjoy the view and spend some time learning about the native plants that are an essential part of the Kumeyaay culture. The Kumeyaay use these plants for food, drink, medicine, tools, clothing and shelter."
Another permanent marker is the work of a USD task force of student leaders, staff and administrators in 2019 to rename campus spaces honoring the Kumeyaay in language — Mata'yuum Crossroads ("gathering place") — and Catholic Saint Kateri Tekakwitha, formerly Lily of the Mohawks and an Algonquin-Mohawk laywoman, who is recognized in the new name, Saints Tekakwitha and Serra Hall.
"On our campus we have been engaging in dialogue for many years about how we acknowledge the history and legacy of the local indigenous tribes and recognize that our beautiful campus is built on their homelands," said USD President James T. Harris at a public announcement ceremony in 2019. "We also had numerous debates and conversations about the history and legacy of Saint Junipero Serra, who was canonized by Pope Francis (in 2015). The friction between these two dialogues is not easily reconciled, yet our university's mission and vision require us to lean into these discussions with open minds and compassionate hearts."
The impact of this relationship defines the course of curriculum in several academic units. Examples include social justice education in engineering classes taught by professors Caroline Baillie and Odesma Dalrymple, and an 2017-18 approved strategic initiative class proposed by Biology Teaching Professor Marcelle Darby and Persephone Lewis, USD's Tribal Liaison and a Professor of Practice in Ethnic Studies.
Lewis, who has been USD's Tribal Liaison since 2014, and Darby won proposal approval for "Western Science Meets Indigenous Ways of Knowing: Creating a Core Scientific Inquiry Course with Integration and Indigenous Science Resources."
Connected to USD's No. 1 Strategic Goal, Enhancing Student Learning and Success, the initiative resulted in Biology 117, an undergraduate lecture/lab course that synthesizes Indigenous knowledge and Western science to develop inquiry-based lab sessions that can be integrated into a Kumeyaay land-based curriculum, thus utilizing a partnership with Kumeyaay educators.
Efforts to connect with Kumeyaay educators were successful; the class was held in Fall 2019, but due to COVID-19 has not been taught since. Lewis and Darby are excited by its potential to bring Indigenous ways of being in relationship with the natural world.
Lewis, in particular, has been critical to maintaining USD's connection to the Kumeyaay. Her presence and expertise have bridged Engineering Professor of Praxis Baillie and Industrial and Systems Engineering's Dalrymple to the Viejas Education Center and, particularly, one of its educators, Debbie Stein. The latter has run an after-school STEAM (Science, Technology, Engineering, Art and Mathematics) program strictly utilizing Kumeyaay language and context. Lewis introduced Baillie to Stein and provided vital assistance to pave the way for a trusting partnership to emerge.
"Trust is really important," Baillie said. "The critique is that we're coming to help you. In the beginning, I really had to build that trust. I had done programs with the indigenous in western Australia. I know it can take many years. But here, Perse came and talked to our class. Perse is really a translator between worlds. It was difficult for our students to hear. Nobody wants to hear about the colonization that was done. It's very hard to hear and yet we must hear it."
Lewis' work enabled Baillie's class, Engineering 494 (Special Topics in Engineering) to interact with Stein and her young students. Students from both USD and the education center visited each other on campus in 2018.
"When Caroline first wanted to approach me and I heard about the program from Perse, I thought, 'We won't speak the same language. I'll meet with her, but I was skeptical,'" said Stein. "But 10 minutes in, we bonded and I knew this could work. She came from a place where I knew it could work because she understood being an outsider and being English that she's considered part of the colonization. But she has the utmost integrity, I love working with her."
— Ryan T. Blystone