Resilience Fortifies Entrepreneurial Spirit of Mechanical Engineering Alumni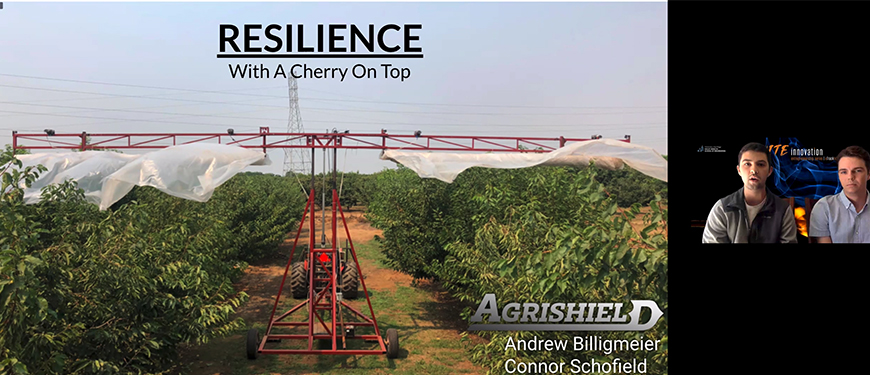 So much has been said and done to give Andrew Billigmeier and Connor Schofield reasons to pause and think about what's happening. Gusty winds foiled plans for a successful launch of their most prized project. An unfortunate accident in the machine shop sent Schofield to the hospital.
Neither obstacle, however, has lessened the passion and the entrepreneurial spirit that these two University of San Diego mechanical engineering alumni have to adapt and move on.
"Being an entrepreneur is like putting your head on the chopping block," says Billigmeier, a 2018 Shiley-Marcos School of Engineering alumnus. "You put your ideas and your passion on the line for the public to ridicule and critique. But it's a good thing, it's a good lesson, because I think you find success out of failures."
Billigmeier and Schofield, a 2017 USD alumnus, run Agrishield LLC, a business specializing in agriculture equipment design and manufacturing. Need a Universal Irrigation Winder for your drip irrigation retrieval needs? Agrishield makes it. Want a sucker remover for your farm's grape suckering needs? Get it here. Need a CNC plasma cutting service? Agrishield in Linden, Calif., is the place to go.
Engineering and Entrepreneurship
On Wednesday afternoon, these alumni were inaugural guests for the Shiley-Marcos School of Engineering's "Ignite Innovation Entrepreneurship Series," done through its eTrack Initiative, to discuss ways in which technology meets entrepreneurship. The event was hosted by the school and the Engineering and Computer Science Alumni Council.
"I'm thrilled about this because we've spent a lot of time in the last six years developing an entrepreneurship program," said Shiley-Marcos School of Engineering Dean, Chell Roberts, PhD, said of this series which was held on Zoom. "We've seen over the last several decades an emergence of entrepreneurship inside of engineering and computing. We wanted to develop something inside engineering to give our students an opportunity to do something different. Our aspiration isn't only for our students to create companies — though we do have some great examples of that — but that our students have an opportunity to learn about value-added, about customers, about taking their designs and ideas and doing something with it, more than just the technical side, but also the business side of things. It's a marriage that's very important to us."
Billigmeier, Schofield took a strong interest in entrepreneurship their junior year at USD. Hearing that Venkat Shastri, the school's De Sanctis Professor of Engineering and Entrepreneurship, was planting seeds for an entrepreneurship pathway, Billigmeier had an idea.
"When you grow up in an agriculture town, you're bound to be introduced to problems that farmers face. One of those is cherry cracking," he said. "Cherries are a big industry in California and across the country. They are harvested by hand and picked. While they are harvested in May, June and July, if it rains, the cherry acts like a sponge, soaks up the water and splits. They're not commercially viable and it can cause a lost income up to 15 percent because the cherries are cracked."
He was fascinated by this problem and thought two things — one, why had no one else come up with a solution? Secondly, due to the engineering skills he was amassing at USD, he wanted to be the one to try and find the answer.
"We decided to take it head-on," Billigmeier said. "We wanted to put ourselves in a place to succeed — and that's to use all of the resources available to us. When we heard that Venkat was starting an entrepreneurship track, we signed up. We wanted to be a part of it."
Cherry Tree Cover Project
The Cherry Tree Cover was soon created. The project is one of the first four USD entrepreneurship projects done through Shastri's leadership. Their product had a towable mechanism to deploy a plastic tarp that rests on the shape of the tree to divert rainwater. The group entered it into the Changemaker Challenge, and it was the senior design capstone project for Billigmeier, Schofield and others.
It drew the attention of Don De Sanctis, an entrepreneurship and business mentor who liked the idea, liked the students' initiative and provided mentorship, financial investment and more to support their efforts.
"He wanted to see this come to fruition," Billigmeier said. The students built a full-scale model, working long days and later, while Schofield had a day job in San Diego, he'd spend weekends in Linden working on the project. Eventually, Schofield moved up to join Billigmeier in Linden and the two worked on it. They sought help from fabricators while working toward a deadline to have the cover ready for when the rain would come. Issues with the fabricators not working as fast as they'd like forced the students to take matters into their own hands.
"We worked 15-16-hour days seven days a week," Schofield said. "We were watching the weather reports and a large storm was coming. We got it done, spent the night before putting up as much plastic as we could. We brought customers and they stood under the plastic with us as the downpour was happening."
After the long hours and being exhausted, they both took naps. Customers had come, saw what they were doing and everything seemed fine.
"That was wishful thinking," said Billigmeier who showed the Zoom audience a picture of the plastic covering off and not protecting the cherry investment at all. "When I woke up, I noticed that the winds were incredible. It had gone from 20 to 30 miles an hour about 60 to 70. This was the culmination of a year of work. We were devastated knowing the amount of time we had put into it."
But what was deemed a failure actually had a silver lining. Farmers who had come out to see the demonstration, saw their professionalism and their hard work and began to bring other ideas to them to work on. Not only could this expand their business, but also helped them with networking, marketing to the farming community and using skills gained while earning an engineering degree and applying them to Agrishield LLC's growth.
Schofield's Setback, Comeback
The second obstacle, Schofield's accident, came while testing the prototype for what is now the Universal Irrigation Winder. "Things went sideways and I ended up in the hospital with four partially severed fingers. I got lucky. I quickly saw a hand specialist in the Bay area and they did what they could."
Did the accident create a pause? Yes. Schofield admits the injury made him think about where he wants to be and what he wants to do, but when faced with the question of "where do you see yourself in two, five or 10 years?" I still can't say for sure, but I know where I don't want to be is sitting at a desk and working for someone else."
His passion for inventing, problem solving and building things remains intact. "I did design work a few weeks later and then I got back in the shop and I worked with our winders again, right away. I faced the problem head on."
The duo's other projects are sustaining their business these days. The Cherry Cover Tree project is on hold in terms of bringing it to market, but they are doing tests on it while they do work on the others. They are learning about the business, about the market and about themselves each day. They love the entrepreneurship life. There are good days and bad days, but their experiences have already helped them understand their approach.
"It's made us realize to not let obstacles get in the way," Billigmeier said. "We've done a lot right, but have learned through failure. We're taking on projects and it has been awesome in helping us grow."
— Ryan T. Blystone