Torero Tidbits: USD Wine Classic Going Virtual; Library Award; Dishing with Dean Roberts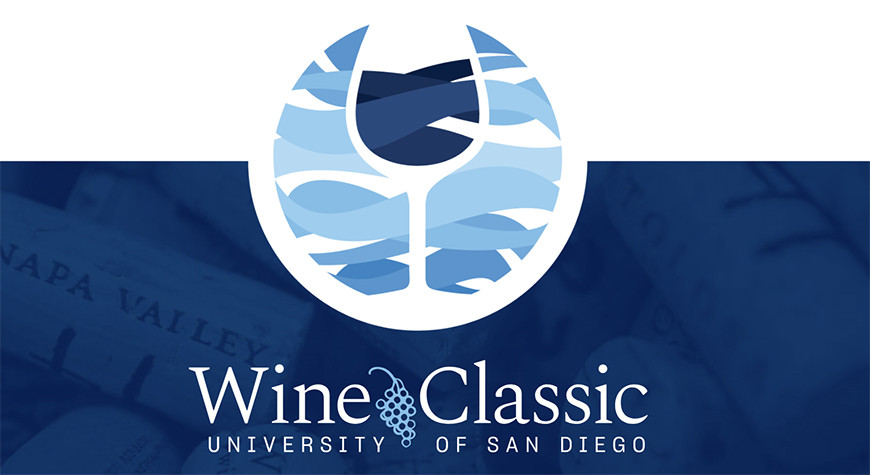 Virtual USD Wine Classic July 11 Supports Student Scholarships
The 12th annual University of San Diego Wine Classic is near, set for Saturday, July 11 at 4:45 p.m. and it will mark the first time this Torero tradition event is presented as a virtual event.
Preparing for a virtual toast from coast-to-coast, the USD Alumni Association will conduct this event with a host of fun activities, such as guided tastings with wine makers, interactive games, music performances, raffle, marketplace and a silent auction, all while you participate from your own home. You can also learn more about USD-affiliated wineries.
Those wanting to participate in the Wine Classic can register for free to be part of it. To take it a step further, you can purchase a Toast Box — per person for $40 and $75 for two people. Order yours online by June 29.
The Toast Box for One contains a 2020 USD Wine Classic etched Wine Glass, a USD Wine Classic-branded corkscrew bottle opener, a Beechwood top bottle cork wine stopper, a surprise, delectable treat to pair with your wine, a one-of-a-kind USD Wine Classic trivia game card, special USD-affiliated winery information, fun wine swag to participate in a virtual toast and two additional entries in the Wine Classic participant raffle.
The Toast Box for Two has everything that the box for one does, but has an additional wine glass and four additional entries in the raffle.
The USD Wine Classic is the USD Alumni Association's signature scholarship fundraising event. The event has raised more than $640,000 for the Alumni Endowed Scholarship Fund. Once again, net proceeds from this year's event will provide critical scholarship funds to support current underrepresented USD students.
To learn more about the event, purchase a Toast Box, get involved with the online auction, online shop in the marketplace for great items or learn about the raffle, please visit the USD Wine Classic website.
Hankins '20 Wins Top Copley Library Undergraduate Research Award
English major Sarah Hankins '20 earned the top prize in the inaugural Copley Library Undergraduate Library Research Awards with her English senior project, it was announced last week.
Hankins' paper, titled, "Torture the Women: A Gaze at the Misogynistic Machinery of Scary Cinema," was from her English senior project course in Fall 2019, taught by Dr. Maura Giles Watson. Her senior project faculty advisor was Dr. Fred Robinson.
"This award recognizes your exceptional use of library resources and services in the writing of your paper. On behalf of the judging panel, I offer congratulations on your achievement," said Michael Epstein, Copley Library's Head of Reference.
As part of the award, Hankins receives $800, an award certificate and a letter of recognition from the Dean of the University Library, Theresa Byrd, EdD. Hankins' paper will also be featured in Copley Library's online repository Digital USD.
The Copley Library Undergraduate Library Research Awards were established to recognize students' exceptional research papers using library resources and services.
For more information, please visit: https://www.sandiego.edu/library/about-us/awards.php
July 1: Dishing with Engineering Dean Chell Roberts
Alumni, parents, friends and community members are invited to join Chell Roberts, PhD, dean of USD's Shiley-Marcos School of Engineering, for a fun, easy virtual cooking demonstration on Wednesday, July 1 from 4-5 p.m.
Dean Roberts will show you how to prepare a traditional Caesar salad with a side dish of baked Camembert. No cooking experience necessary. Cook along with him or just watch and learn.
If you plan to cook with Dean Roberts, here are the ingredients to have ready:
One head of romaine lettuce; 3 anchovy fillets (preferably in bottles, not salted or not in a can); 1 TBS Dijon Mustard; 2 cloves of garlic; 1.5 TBS of Worcestershire sauce; 1 large egg; 1/3 -1/2 cup olive oil; 1 lemon juiced; Parmigiano Reggiano cheese - about 1/4 cup grated and some shaved; Pinch or two of salt. One round of Camembert cheese; 1-2 sprigs of rosemary; 1 baguette.
Cooking utensils needed: Bowl (preferably a wooden bowl like the original recipe), whisk, cutting board, knives, and an oven.
For more information about this event and to register to get the Zoom link, please contact Elisa Lurkis at Elurkis@sandiego.edu
— Compiled by Ryan T. Blystone