MS Cyber Security Special Report: Cybersecurity By the Numbers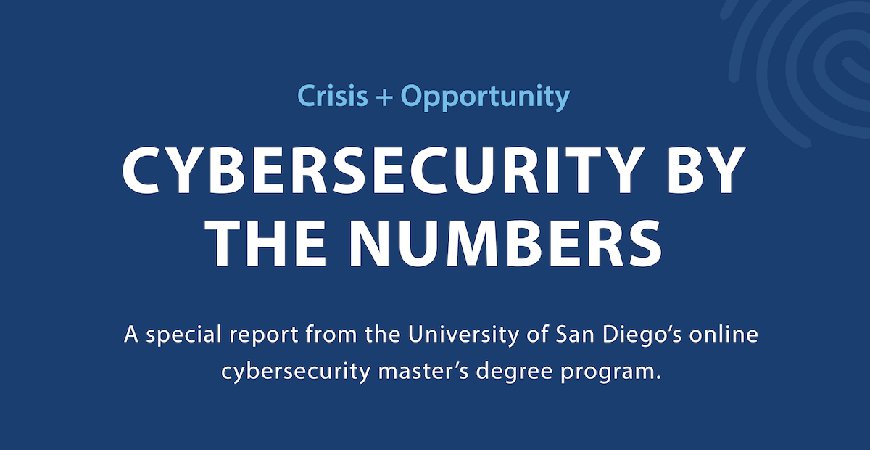 A special report from University of San Diego's Online Cybersecurity Master's Degree Program.
The ongoing cybercrime epidemic has triggered a cybersecurity call to arms, as organizations around the globe are looking for some 3.5 million skilled workers to help combat a $6 trillion problem.
The worldwide adoption of digital technology that empowers organizations to work faster and more efficiently than ever before has also brought greater vulnerability to high-tech attacks. A 21st century cybersecurity workforce has mobilized to confront this challenge, but the supply of workers still falls far short of the ever-growing demand.
Expert researchers at industry watchdog Cybersecurity Ventures predict that by 2021 there will be 3.5 million unfilled cybersecurity positions worldwide and the global cost of cybercrime will reach $6 trillion per year.
As private industry and government agencies alike scramble to secure their IT infrastructure and safeguard their data and information assets from highly skilled hackers, troubling headlines trumpet news of the latest big-name organization to get hit with a major security breach.
And with each new breach, the demand for talented cybersecurity professionals continues to grow, with fresh Help Wanted listings appearing each day for six-figure jobs at employers across all industries.
"Unfortunately the pipeline of security talent isn't where it needs to be to help curb the cybercrime epidemic," says Robert Herjavec, a founder and CEO of Herjavec Group and a panelist on ABC's "Shark Tank." The result is that hackers and cybercriminals sense blood in the water.
The well-documented cybersecurity workforce shortage represents both:
• A crisis (for the organizations that need to keep their systems secure), and
• An opportunity (for the in-demand cybersecurity professionals who perform this essential work)
Among the many statistics that help put that opportunity in perspective: The field of cybersecurity is currently experiencing zero percent unemployment.
This special report from the University of San Diego's online cybersecurity master's degree program offers a comprehensive review of the current state of the cybersecurity jobs market, as well as an eye-opening look at the overall industry landscape.
"Strong cybersecurity capabilities have become absolutely essential for all organizations today. Unfortunately, an industry-wide talent shortage is making it extremely hard for employers to find qualified professionals," said Chuck Bane, academic director and professor of practice for the University of San Diego's innovative, online or on campus Master of Science in Cyber Security Engineering. "The result is unprecedented opportunity for current and aspiring cybersecurity professionals to earn high salaries performing important and meaningful work."
—Michelle Moore, PhD, Academic Director
USD Master of Science in Cybersecurity Operations and Leadership