The Value of Saying Farewell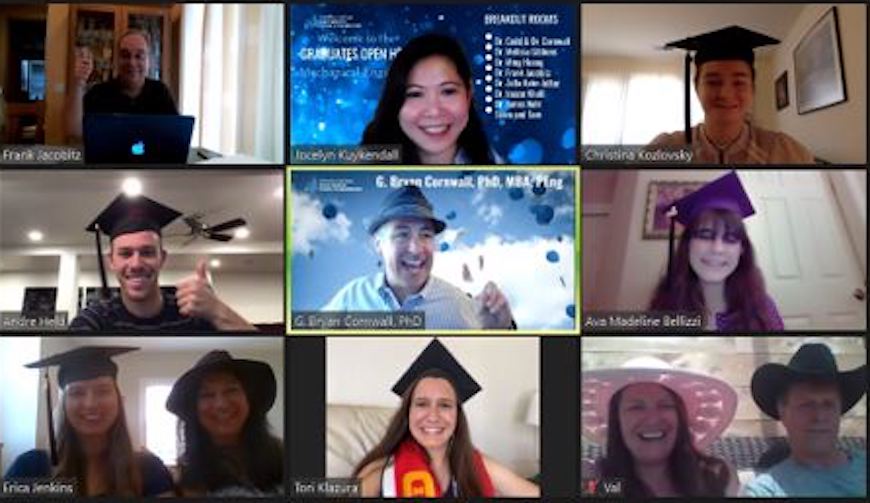 Saying goodbye is important — and often difficult — even under normal circumstances. So, with the campus closure this spring coupled with the postponement of commencement ceremonies, faculty, staff and administrators from USD's Shiley-Marcos School of Engineering (SMSE) felt compelled to close out the semester with a virtual Open House celebration for the class of 2019-20 graduates.
The school takes great pride in the personal attention given to its engineering and computer science students, building strong relationships that extend well beyond the four-1/2 years SMSE students spend at USD. Now, more than ever, the school felt it was essential to say farewell to the graduating seniors in a structured, yet intimate setting — to provide students and their families with the opportunity to celebrate their incredible accomplishments, share stories and reach out to one another one last time for virtual hugs and high fives in honor of this important milestone.
The Open House was held on Friday, May 22, 2020 from noon until 1:00 in the afternoon following the last day of finals. Five virtual rooms featured a space for each of the school's department chairs and faculty to personalize a celebration for their students and guests.
Dean Chell Roberts, Associate Dean Rick Olson and a myriad of administrators also hosted an executive welcome room to greet guests and reminisce with them.
Roberts and his five department chairs simultaneously kicked off the celebration at noon with a live welcome followed by a congratulatory video. Each of the school's departments have varying sizes and personalities, so it was left up to each department chair to determine the format that would best reflect their department's style and needs.
Professor and Chair of Mechanical Engineering Frank Jacobitz started his room's celebration with a PowerPoint presentation. He had also lined up faculty and students to share their stories, and then coordinated breakout rooms allowing personal one-on-one chats with the faculty.
"Our Open House was really successful," said Jacobitz. "I think leaving flexibility for the different programs was a great ingredient to success."
Chair and Professor of Industrial and System Engineering (ISYE) Truc Ngo, spent days putting her "heart and soul" into creating an emotional video to honor her ISYE graduates.
"Having this Open House meant a lot to me. In-person goodbyes can be tough, and having this format actually made it easier," said ISYE graduate William Trevena '20. "When I watched the video and saw all of the faculty congratulating us, I was flooded by so many good memories of my time here at USD."
In the integrated engineering department room, most of the time was spent very casually and informally. The faculty showed a PowerPoint, after which they all raised a glass and toasted each other and then they played a fun drawing and captioning game called Drawful.
Post Doc Laura Gelles enjoyed hosting the newest department's celebration. "There was a lot of laughter at the responses to the Drawful game questions. What was particularly exciting was that I think all of the students had secured a job—some of the students were even calling in from their new jobs, which was fun to see!"
There were countless smiles and stories shared throughout the event — not only by the students and faculty, but by the proud parents as well. It provided much needed closure for very deserving families until we all come together in October for the official commencement ceremony. We wish our graduates immense success as they move into this next phase of their lives.
As Rick Olson so eloquently shared in his opening video message, "Congratulations on reaching this milestone. I am really excited to hear about some of the things you are going to do next. Now go out there and do something awesome."
— MIchelle Sztupkay