The Sound of Hope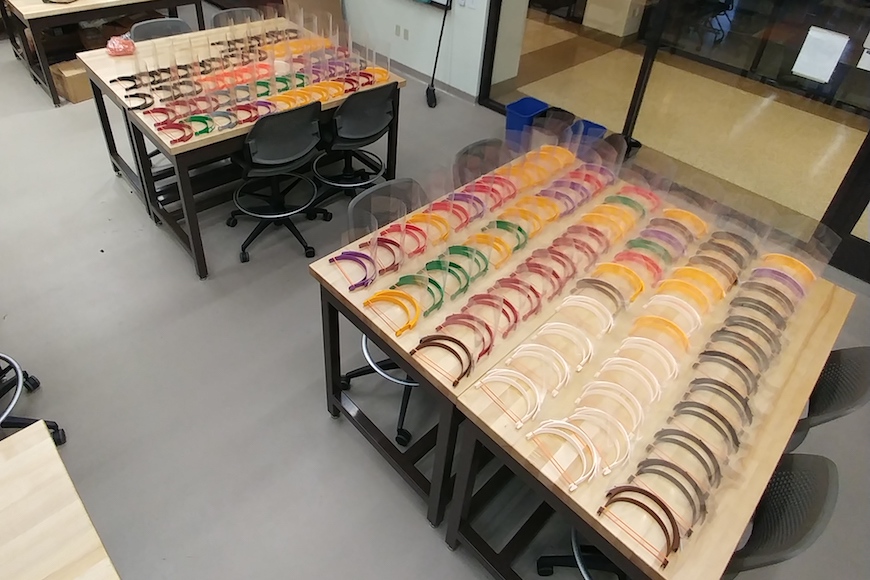 begin quote

Being a part of USD, which is an anchor institution here in San Diego, has really reinforced our core values of community and compassionate service.
Amidst the COVID-19 campus shutdown, a lone staff member of USD's Shiley-Marcos School of Engineering skeleton crew unlocks the door to the Belanich Engineering Center (BEC), secures it safely behind him, then turns and slowly passes through the threshold down the empty corridor. The stillness within what used to be a thriving learning space now conjures up mental images out of a western movie. One would almost expect a tumbleweed to scurry down the deserted halls that connect the recently remodeled labs and classrooms.
But this is no movie and there are no actors. This is life as we know it— a snapshot in time that we are all learning to navigate. The silence is deafening... except for a distant whirring that begs to be heard.
Step back to the third week of March 2020 when Chell Roberts, dean of USD's Shiley-Marcos School of Engineering, was orchestrating the logistics of his onsite team to oversee the facilities and keep operations running smoothly. It was during this time, he met with Dean Jane Georges from USD's Hahn School of Nursing.
"I asked if there was anything our school could do," recalled Roberts. "Dean Georges expressed an urgent need for personal protective equipment (PPE) in hospitals. She suggested that other institutions were manufacturing PPE equipment and would welcome our help."
Roberts immediately conducted a search and found an article from UCLA detailing specifications for 3D-printed face shield prototypes to be used as personal protective equipment by medical professionals fighting against the COVID-19 outbreak. He then reached out to his Mechanical Lab Manager, Steve Saxer, PE, knowing the school had the freed up lab space and equipment, as well as the skeleton staff, and asked if we could "reasonably produce any of these personal protective equipment prototypes."
Not knowing the optimal specifications required to create an effective face shield, or what materials might be accessible that could be safely delivered in a reasonable timeframe, Saxer responded, "Possibly." The wheels were set in motion. Partnering with Lab Technician, Sam Burt, the two immediately began working on testing, tweaking and fabricating three types of headbands for the face shields.
Georges selected the one prototype she liked best and connected Saxer with Clinical Assistant Professor Nicole Martinez, MSN, FNP-BC, ENP-C, PHN, to move the project forward.
"I was ecstatic when they approached me to see and identify any ways they could help as I knew that any type of protection was essential for all of us providing care in the emergency department," exclaimed Martinez, who is also a nurse practitioner at Scripps Mercy Hospital.
The process was slow to start, initially yielding only six to eight face shield headbands per day. But as iterations turned into success, the whirring of the 3D printers graced the silenced BEC hallways with the sound of hope.
"We are now trying to run all four 3D printers day and night," explained Saxer. "In a perfect world we would get 32 frames per day — each set takes about four or five hours so it is hard to get more than two sets totaling eight from each printer. I am yielding about 26."
Saxer and Burt were not alone in their efforts. They also enlisted the help of recently graduated integrated engineering alumnus Michael Korody '20 and Chadmond Wu, president of the USD 3D Printing Club, to print face shields using the same specifications from their home 3D printers.
"Steve reached out to me in order to help increase the production capacity of the USD 3D printing farm, as he was a mentor during my senior design project where I built a high temperature 3D printer. I have currently produced over 50 mask frames by running my printer 24 hours a day, explained Korody. "My neighborhood friend since grade school is an ER doctor in Los Angeles and has confirmed that they are using the 3D printed shields of the same design that we are producing at USD — they appreciate it and there is demand for more. I'm glad Steve reached out and that collectively engineers can play a piece in the puzzle to return to a normal life."
With materials at a premium and a virtual standstill for delivery amidst the crisis, Saxer did some research online and discovered a resourceful solution of using overhead transparencies for the shields to be affixed to the printed headbands. "We simply punch holes in them. It works."
After a few short weeks of collaborative work, the Shiley-Marcos School of Engineering team to date has delivered a rainbow assortment of over 250 assembled face shields to USD's Hahn School of Nursing that will be donated to Scripps Mercy Hospital San Diego, which not only allow nurses, nurse practitioners and physicians to protect their patients, but also themselves and their family members.
"It was a wonderful experience to work with Steve — to collaborate together. To be able to go to the workshop and see how the masks were developed, for him to hear my feedback and stories of what we were experiencing in the ER," exclaimed Martinez.
When asked the school's long-term goal for the face shields, Saxer confirmed, "We want to produce a minimum of 100 face shields every week, and will keep printing them until there is no more need or until our printers break down."
"We are happy to be partnering with the Hahn School of Nursing and we are also actively pursuing other relationships within industry to further this critical work," added Dean Roberts.
These are the silver linings that we must hold onto in times of crises. Through this experience, as tragic as it is, we are finding inspirational ways that push us beyond our personal and professional limitations and stretch us to do more… to be more. To be Changemakers.
"Being a part of USD which is an anchor institution here in San Diego has really reinforced our core values of community and compassionate service, and this is just another example of how this is such an amazing university who helps out community especially during crises such as this. These community partnerships that we have really deepened are connections with our community and population here in San Diego."
— Michelle Sztupkay