The Sound of Hope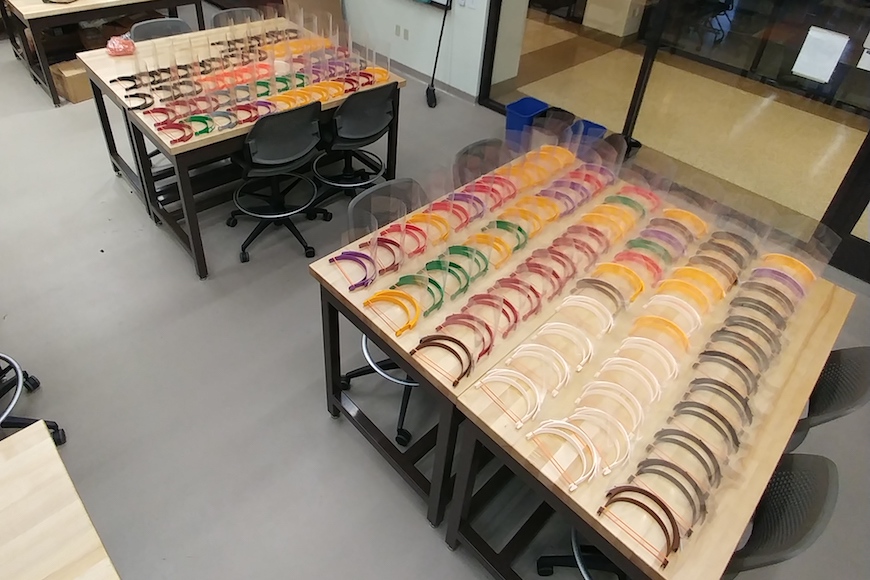 begin quote

Being a part of USD, which is an anchor institution here in San Diego, has really reinforced our core values of community and compassionate service.
Amidst the COVID-19 campus shutdown, a lone staff member of USD's Shiley-Marcos School of Engineering skeleton crew unlocks the door to the Belanich Engineering Center (BEC), secures it safely behind him, then turns and slowly passes through the threshold down the empty corridor. The stillness within what used to be a thriving learning space now conjures up mental images out of a western movie. One would almost expect a tumbleweed to scurry down the deserted halls that connect the recently remodeled labs and classrooms.
But this is no movie and there are no actors. This is life as we know it— a snapshot in time that we are all learning to navigate. The silence is deafening... except for a distant whirring that begs to be heard.
Step back to the third week of March 2020, when Dean Chell Roberts of USD's Shiley-Marcos School of Engineering was orchestrating the logistics of his on-ground team during the initial COVID-19 campus closure. It was then that he met with Dean Jane Georges from USD's Hahn School of Nursing and Health Science. "I asked if there was anything our school could do," Roberts recalls. "Dean Georges expressed an urgent need for personal protective equipment (PPE) in hospitals. She suggested that other institutions were manufacturing PPE and would welcome our help."
Roberts immediately conducted a search and found detaied specifications for 3D-printed face shield prototypes to be used by medical professionals. Knowing the school had available lab space, equipment and skeleton staff, he contacted Mechanical Lab Manager Steve Saxer and asks if we could "reasonably produce any of these PPE prototypes."
Uncertain of the specifications or materials required to create an effective face shield, Saxer responds, "Possibly." The wheels were set in motion. Georges selected the optimal prototype and connected Saxer with Clinical Assistant Professor Nicole Martinez, who also works as a nurse practitioner at Scripps Mercy Hospital.
"It was a wonderful experience to collaborate with Steve — to be able to go to the workshop and see how the masks were developed with my feedback and to share my stories of what we were experiencing in the ER," Martinez explains.
The process was slow to start, initially yielding only six to eight face shield headbands per day. And as the iterations gained momentum, the whirring of the 3D printers quickly graced the silenced hallways with the sound of hope.
Saxer and crew were not alone in their quest. They also enlisted the help of alumnus Michael Korody '20 and Chadmond Wu, president of the USD 3D Printing Club, to print face shields from their homes. After a few short weeks of collaborative work, the engineering team delivered the first group of over 250 desperately needed face shields to the School of Nursing that were, in turn, donated to Scripps Mercy Hospital San Diego.
Around this time, two USD alumnae from Collins Aerospace, Carol (Daniels) Palguta and Renee Thomashow, had reached out to Professor of Industrial and Systems Engineering Leonard Perry in search of a partner in the assembly and distribution of face shields for UCSD Medical.
By mid-May, the arrangement was finalized with Collins, and the team began producing higher volumes of a different style of face shield.
"Over time, improved stacking led us to be able to print 60 shield frames per day five days per week," Saxer says. "Collins now picks up 200 a week. I continue to support our nursing school with roughly 100 shields weekly."
When asked about the school's long-term goal for the face shields, Saxer confirms, "We will keep printing them until there is no more need or until our printers break down."
These are the silver linings that emerge in the face of adversity. Where inspiration and collaboration push us beyond our personal and professional limitations and stretch us to do more — to be more. To be Changemakers.
"Being a part of USD, which is an anchor institution here in San Diego, has really reinforced our core values of compassionate service," Martinez says. "This is another example of how this is such an amazing university who helps out community, especially during crises such as this."
— Michelle Sztupkay