Engineering Students Charged up to Work on Drone Project with Japanese Partner Hatsu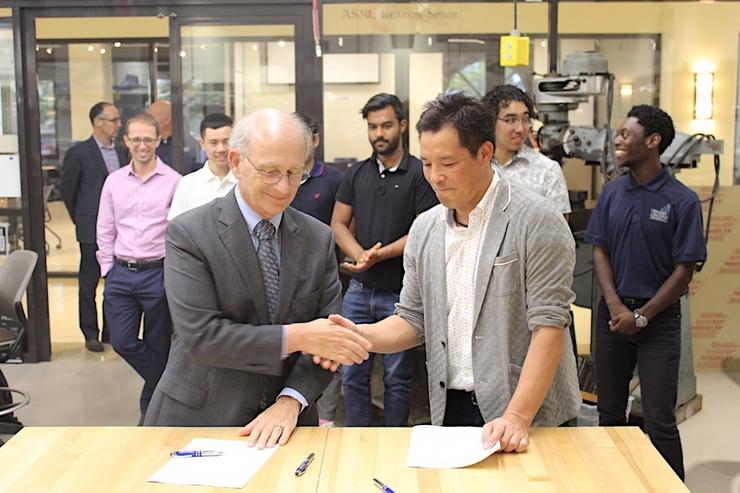 A typical battery-powered drone will last from 45 minutes to an hour, but that's not enough for many security, delivery or search and rescue operations. However, for their senior capstone project, a group of Shiley-Marcos School of Engineering students are going to find the best solution to charge drones autonomously.
This week, officials from the school officially signed a partnership for students to work with Hatsu Japan Co., Ltd., a joint venture involving 10 medium-sized firms from that country.
"I'm very excited about this project," said Hatsu CEO Takashi Suzuki. "If this project is successful," many other Japanese companies will want to partner with the school. For its part, Hatsu wants to expand its markets outside Japan and add to its workforce as the population in Japan continues to age, he explained.
The partnership offers the Shiley-Marcos School many benefits as well, said Associate Dean Rick Olson. "It's projects like this one that help students understand" how what they learn in the classroom applies to industry and the real world.
Suzuki and Olson were joined by Hatsu's Marketing Director Jack Chen-Yi Chieh and Director Norio Okubo, along with Assistant Professor of Integrated Engineering Gordon Hoople, the project's faculty advisor.
Hatsu already has a conceptual design for a "drone charging station" but wants to add a range of improvements for better efficiency and safety. The primary challenges are the design of an off-grid power system to wirelessly charge the drone, possibly solar or geothermal and design a precise landing system.
Students working on the project include three electrical engineering students, Zhiyi Deng, Abdalwhab AlRshood, and Nolan Au, along with integrated engineering student Eduardo Ortega and mechanical engineering student Desmond Jones.
While it's going to be a challenge, Jones said he's looking forward to getting started. With Amazon and so many other companies looking to use drones, the project is going to offer valuable experience that could lead to internships or even first jobs after graduation.