Engineering Valedictorian Has Passion for Continuous Improvement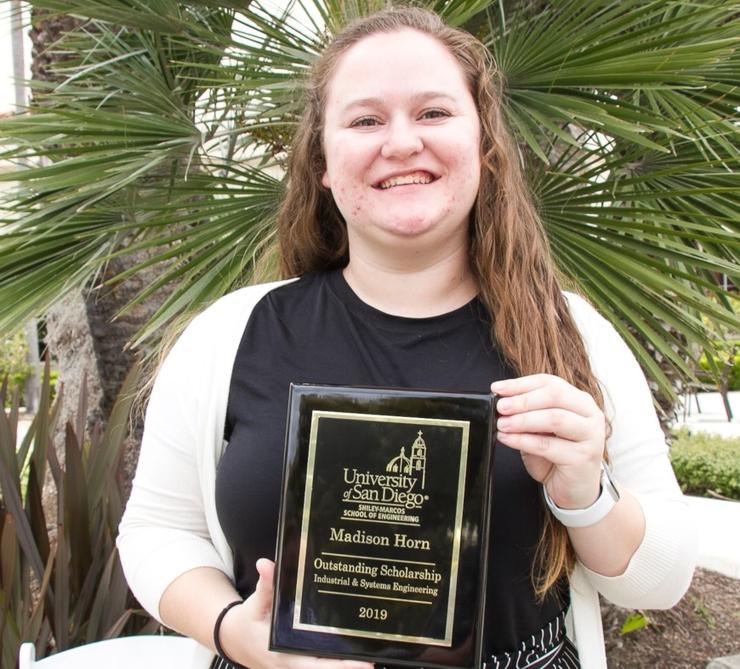 As someone who's always looking for improvement, it's not surprising that industrial and systems engineering graduate Maddy Horn is the 2019 Valedictorian for the Shiley-Marcos School of Engineering.
Horn, who earned a 3.98 grade point average, said she loves systems engineering, because "it's about improving and coming up with a better and better solution" and integrating data analytics and science into the mix.
A native of Portland, Horn will be staying in San Diego and joining G2 Ops, Inc., a technology and cyber security firm.
She is the current president of its Society of Women Engineers chapter, vice president of its Institute of Industrial & Systems Engineers chapter and an officer in Tau Beta Pi — this is the world's largest and first engineering honor society. She also is a past president of Theta Tau, an engineering fraternity on campus.
"My parents are elated," to hear me speak at graduation," said Horn, who loved the class small classes that allowed her to get to know many of her classmates and professors. While she's grateful for her time at USD and sad to leave, "it's good to be moving forward."