Assistant Professor of Mechanical Engineering Imane Khalil Named ASME Fellow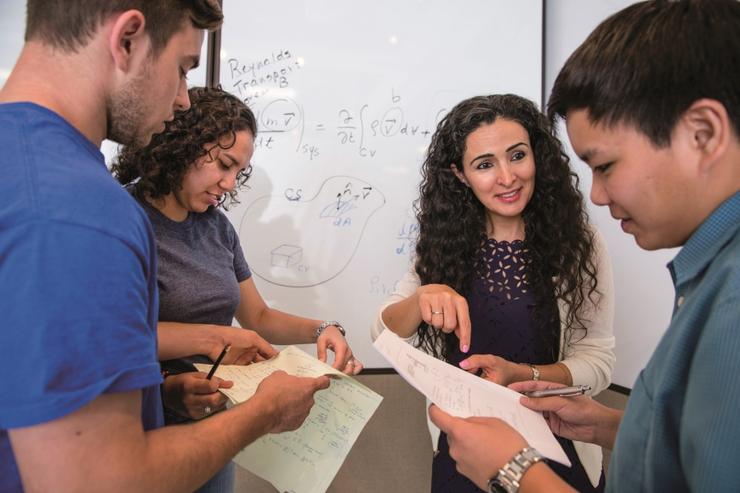 The USD Shiley-Marcos School of Engineering is proud to announce that Assistant Professor of Mechanical Engineering Imane Khalil has been elected a Fellow of the American Society of Mechanical Engineers (ASME) for significant achievements during more than 20 years of service and leadership.
ASME Fellows constitute less than three percent of the organization's 130,000 members. Dr. Khalil has been a steadfast member since 2004 and received this distinction for her major contributions to thermal fluid science and her dedication to the mechanical engineering profession.
"The Fellow grade is truly a distinction among ASME members," said Thomas Costabile, executive director of the professional society.
Dr. Khalil, who joined the Shiley-Marcos School of Engineering in 2014, has made major contributions in every period of her diverse career. During her time at Sandia National Laboratories she contributed to essential industry software projects, taught international workshops on nuclear safety, and managed team members working on the Mars Curiosity Rover. As a professor at USD, she publishes as lead author on the subject of heat transfer and nuclear safety and collaborates with Sandia National Laboratories to model spent nuclear fuel.
"Being an engineer has given me many opportunities to be of service whether it is on the national level at Sandia National Laboratories or directly to individual students as a faculty member at USD," Dr. Khalil said. "Of all the contributions I have made as an engineer, training the next generation to advance the profession will have the most impact."
"Dr. Khalil's achievements are remarkable for a professor who is also teaching six high-level courses per year, leading two clubs, and participating on several university-level committees," said Shiley-Marcos School of Engineering Chell Roberts. "She is very deserving of this high honor."
Dr. Khalik earned her bachelor's, master's and PhD from in Mechanical Engineering from the University of California, San Diego.