USD's 7-By-7 Alumni Event Coming to Hong Kong in January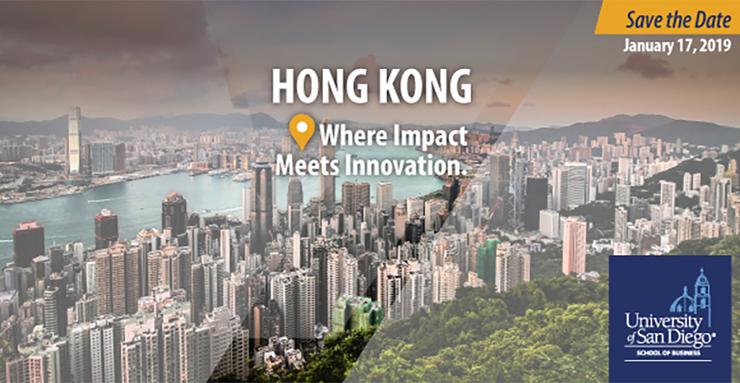 The University of San Diego is one of the nation's leading higher education institutions, but the university always looks for ways to better serve its students, alumni and campus community through exciting global opportunities.
On January 17, 2019, the USD School of Business will host its latest approach to international education when the very popular Seven-by-Seven event takes place from 6:30-8:30 p.m. at the Excelsior Hong Kong — Causeway Bay in Hong Kong, China.
This is a chance to hear seven USD alumni — representing School of Business, College of Arts and Sciences and Shiley-Marcos School of Engineering — give their unique version of a TED Talk as they share their inspirational stories highlighting leadership, creativity and innovation.
The seven alumni to participate are: Vanessa Martires '87 (Accountancy), the head of global ethics and compliance operations at Facebook; Bill Dopp '00 (MBA), CFO at Technical Rubber Company; Deep Bedi '11 (Industrial and Systems Engineering BS/BA); Joyce Chen '06 (Communications), general manager of Yenrabi Limited; Annette Lo '04 (MA History), education programme manager, City Contemporary Dance Company; Christopher Heras de Leon '07 (International Relations), director of LNG Business Development at TOTAL; and Kurt Luedtke '18 (MS, Real Estate).
This first-ever internationally hosted event gives the audience an opportunity to hear from alumni who have overcome cultural barriers, navigated complex settings, and have ignited tremendous impact in the global community.
The event will include drinks, appetizers and networking with Hong Kong VIPs, USD faculty and students.
There is no cost to attend the Jan. 17 event, but an RSVP is required as seating is limited. To learn more, contact Bridget Breitenberg by email, bbreitenberg@sandiego.edu, or call (619) 260-4828.
— USD News Center staff