Former P.O.W. Inspires Future Engineers and Military Officers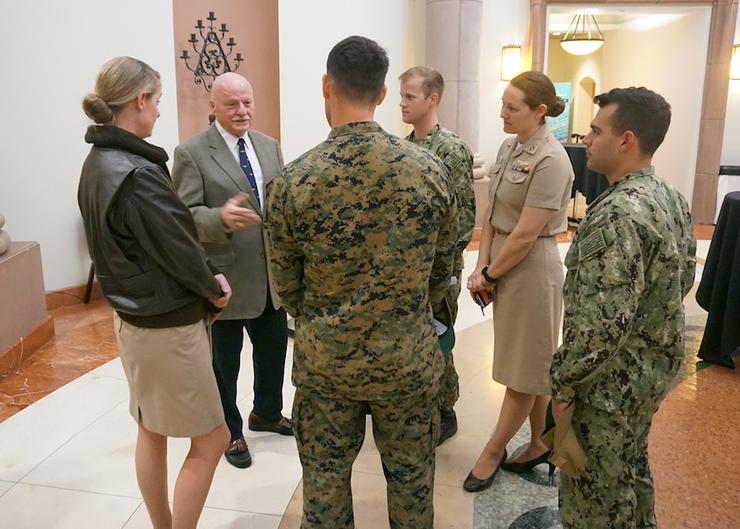 This month's finals are an important and stressful part of students' lives but Monday, Dec. 10 they had a chance to put it all in perspective.
Students from USD's engineering and Naval Reserve Officers Training Corps (NROTC) programs heard from former prisoner of war Dave Carey who shared his inspirational story and lessons learned from the five years he spent in the infamous Hanoi Hilton during the Vietnam War.
"We did what we had to do. We did our best (and) we decided we were going to grow from the experience," the decorated U.S. Naval Academy graduate and retired Navy captain told the audience for the talk sponsored by USD's Shiley-Marcos School of Engineering and School of Leadership and Education Sciences in partnership with Clarity Design.
Mixing emotion and humor, Carey recalled being shot down and how he coped with the ordeal of being held in captivity in a foreign land, facing both interrogations and beatings on a regular basis. First, he and his fellow captives devised a method of communication by tapping on their prison walls. "We were the original text messengers," he said.
Then they passed the hours, days, weeks, and years by sharing all the knowledge they had ever learned – everything from reciting Robert Frost's poetry and the line about "miles to go before I sleep" -- to learning how to play the piano by creating a virtual keyboard on the prison floor.
The experience also rekindled Carey's faith in God and the 23rd Psalm, known by its first verse, "the Lord is my shepherd," became a constant source of comfort and courage.
During one stretch, Carey was imprisoned with the late U.S. Sen. John McCain. He was "one tough nut, a great guy" and "as close to a statesman as we'll see in our lifetime."
Carey tells more of his story in his recent book, "The Ways We Choose, Lessons for Life from a P.O.W.'s Experience."
After members of the audience gave Carey a standing ovation, students, some in their NROTC uniforms, gathered around to speak with him personally.
Michael Daly, a first-year NROTC student from Boston, said he came away impressed with "what you can accomplish if you work as a team and have faith in each other."