University of San Diego Honored by InfraGard for Its Cybersecurity Efforts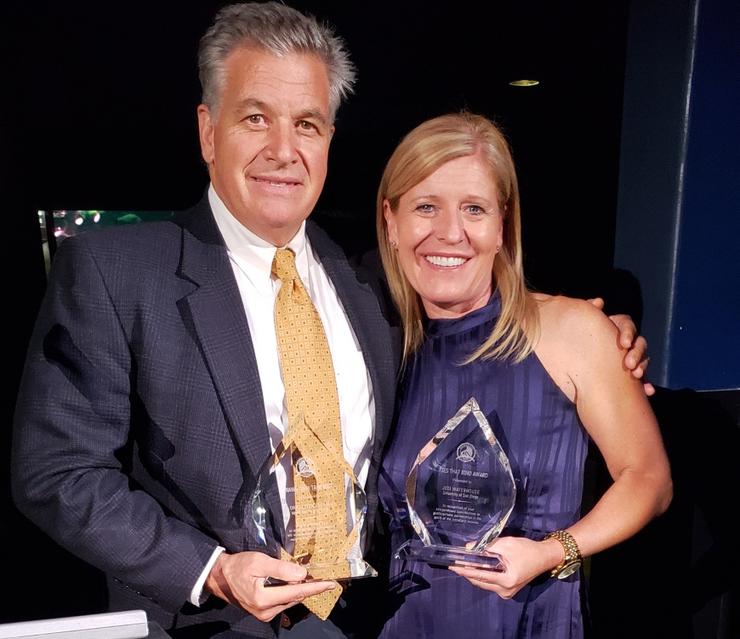 Demonstrating its growing contributions to the region's cybersecurity efforts, the University of San Diego received the Ties that Bind Award from InfraGard on Sunday, December 2.
InfraGuard, a partnership between the FBI and members of the private sector, recognized USD's Cybersecurity Executive Course, offered in 2017 and 2018 by the university's Center for CyberSecurity Engineering and Technology in the Shiley-Marcos School of Engineering.
"The first-of-its-kind collaboration assembled the region's largest cybersecurity stakeholders — homeland security (San Diego Office of Homeland Security and the San Diego Law Enforcement Coordination Center;) law enforcement (FBI), the private sector (InfraGard) and academia (USD) — to strengthen the cybersecurity posture in the San Diego region," said InfraGard Executive Director Sandy Moul.
The award was presented at a holiday banquet at Sea World. This award has only been given one other time, and was awarded to the San Diego office of the U.S. Department of Homeland Security.
"We are very pleased to receive this award," said USD Shiley-Marcos School of Engineering Dean Chell Roberts. "This type of education and collaboration represents our commitment to making San Diego one of the leading hubs for cybersecurity in the U.S. and we look forward to doing even more in the future."
"These efforts would not have been possible without the leadership of Engineering and Technology Outreach Director Jodi Waterhouse and Engineering and Technology Community Engagement Manager Mark Castellano," Roberts added.
The San Diego Chapter of InfraGard is the largest in the country with 2100+ members and a leader in innovative programming and community collaboration around critical security issues facing our region and nation.
USD's Center for Cyber Security Engineering and Technology (CCSET) is a leading academic institution that provides opportunities for world-class education, research, outreach and engagement to address critical threats to our nation's information systems. Despite best efforts, most people and organizations are not prepared to deal with the level of sophistication employed by cyber adversaries.
The Center holistically assists business, government, law enforcement and private citizens to better prepare and respond to highly trained adversaries who are responsible for billions in lost revenue each year; catastrophic disruptions in service; terrorism and activism; a dark web of criminal activity; and constant peril to critical infrastructure. For more information, go to www.sandiego.edu/cyber-security-center.