Ideas from the Heart: Sharing a Quest for the Care of our Oceans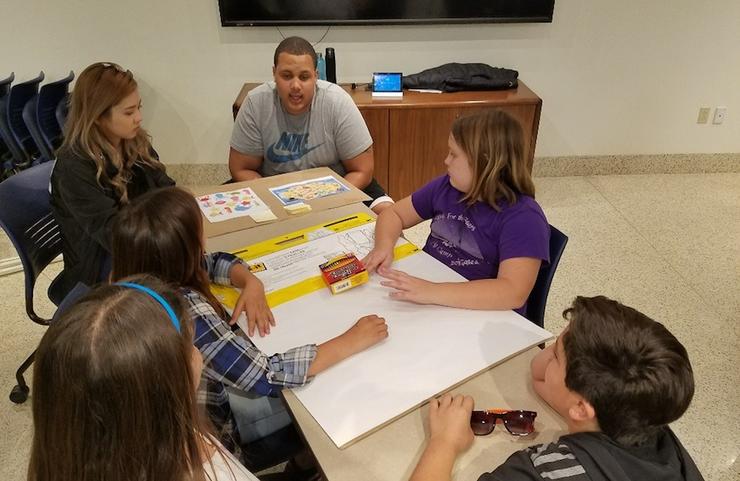 USD general engineers see the world a bit differently. Rather than focusing on one aspect of a problem, they understand the bigger picture. This requires not only a strong technical foundation across multiple areas of science and engineering, but also an appreciation of the profound impact engineers have on society.
Professor of Praxis Dr. Caroline Baillie teaches an empowering, often soul-searching, course at USD's Shiley-Marcos School of Engineering. ENGR 494 — Critical Theories and the Practice of Engineering aims to support students' understanding of engineering through the lens of social justice.
"In this course, students consider what has happened in the past and present and think about how to do things, as engineers, more fairly and equitably in the future," explains Baillie. "It's a wonderful opportunity for students to work with people who live by different values and norms, and ultimately helps them to question their own."
Baillie has led many local and international community development programs, including the recent foundation of the Engineering Exchange for social justice that serves as an umbrella for USD's shared community work in engineering. She also has a deep-rooted interest in collaborating with tribal nations as a result of her prior work with indigenous groups in western Australia.
"This type of work with tribal nations is needed, but not significantly present in engineering at USD," says Baillie. So she reached out to Persephone Lewis, Professor of Practice, Ethnic Studies and USD's tribal liaison officer, to explore ways to co-create engineering solutions for the environment with neighboring tribal nations.
"I was very happy to hear from Caroline," exclaims Lewis. "Indigenous knowledge and practices are not always valued on the campus setting nor in our society. This was an ideal partnership since there are 18 tribes in the San Diego region who, for thousands of years, have been working as scientists and engineers to care for and improve the natural environment."
Lewis introduced Baillie to Debbie Stein, Kumeyaay Language Program Coordinator and STEAM (Science, Technology, Engineering, Art and Math) teacher at the Viejas Indian Reservation, home to the Viejas Kumeyaay Nation in the southern Laguna Mountains of San Diego County. Stein was well versed in integrating cultural contexts within her curriculum.
In 2010, with the help of tribal citizen Danielle Morales, she instituted the revitalization of the Kumeyaay language at school, where she worked as a kindergarten teacher, "doing everything in Kumeyaay," explains Stein.
In 2015, Stein went to the University of Arizona, working collaboratively with researchers at B2 and university students to develop her K-8 after school program and began incorporating STEAM into the curriculum. She intuitively added the art component through connections with the Kumeyaay culture and language.
Along with new subjects and concepts, came new fears. "Learning is perpetual. Great things, better things, come from experimenting and making mistakes," explains Stein. "But overcoming fears associated with making mistakes was not an easy task when most of us have been conditioned our whole lives not to make mistakes. Albert Einstein said it best. 'Anyone who has never made a mistake has never tried anything new'. We are all celebrating this change in mindset."
Stein's success in applying the STEAM principles in her classroom helped opened the pathways, though cautiously, for initial conversations between Baillie and Stein to explore the possibility of collaborative work.
Stein admits she had reservations. "I originally had my own bias when Caroline reached out to me. Why would engineers want to work with my students? But the doors between our two environments opened and we look for understanding along all educational realms."
In preparation for the group project, Debbie presented her students with a profound video about the impact of pollution on the oceans. She encouraged them to creatively formulate ideas, in poster format, about how they would approach solutions to help preserve the ocean.
Students began exploring questions within themselves. They were seeing cultural and environmental damage happening all around them and their passion for taking care of the planet was ignited.
One of most impactful conversations Stein had during the project was with Angelina Tesam, a 5th grader student. "When asked where her ideas presented came from, she said they came from 'very deep within my soul.' She was that in touch with the source of her ideas."
The time had arrived for the Kumeyaay students to present their posters and ideas to Baillie and her ENGR 494 students. When the two groups met at the reservation, USD student, Robert Jackson, had learned a basic greeting in the Kumeyaay language - Haawka! Memeyu temenyeway? "I decided to do a little research on how to say 'Hello! How are you all?' - I wanted to show my genuine interest in their culture."
The young Kumeyaay students were surprised by the effort to learn these words. Baillie reflects, "This first encounter turned out to be very profound."
Stein's students proposed their idea to the master-level students to build a filtration system to catch plastic before it goes into the ocean. From this concept, three teams worked together with one group devising a netting filtration system; another creating the concept for an environmental board game to show how important it is to take care of environment with a cultural bent; and another articulating multiple ways to regenerate the plastic they had found - including rain coats, wallets and pencil pouches.
"The Kumeyaay students consider the earth and sea as one whole entity that they bond with - one with humanistic characteristics," says Jackson, clearly moved by the experience. "I had never thought that intensely about how important recycling really is."
Rounding out the experience, the Kumeyaay students were also invited to the USD campus to tinker in the Shiley-Marcos School of Engineering's labs and studios and work on further developing their projects. From this experience, Stein now has students inquiring about how they can get a degree in engineering when previously they never even considered visiting a university.
"The fact that 4th and 5th graders are asking about engineering in a university is amazing," says Stein. "We opened up a dialog and placed no limitations. They are finding their voices, sharing their ideas and passions. This is an incredible exchange across the board."
As a continuation of this collaborative work, both Stein and Lewis were invited by Baillie to participate in the Engineering, Social Justice and Peace Conference hosted at USD late January, which included a visit to the reservation by some of the conference participants. Additionally, the children on the reservation will have their first beach clean up on April 7th. And on February 7, they presented their ideas to their Kumeyaay council. "It is our job, our passion," explain the Kumeyaay students. "This comes from our hearts, if we don't take action who will?"
"This is what happens when you empower these kids to dig deep and ask questions," says Stein, clearly moved by the engagement. "They are talking to their government and their council, who are listening to their ideas. These young students are making things better so all people, all animals' lives, are improved. They have blossomed, they have become leaders."
Reflecting on this experience, both teachers are hopeful about sharing similar future collaborations, as the project has received initial funding through the Engineering Exchange, thanks to the generous support of Walt and Csilla Foley. Walt sits on the Shiley-Marcos School of Engineering's advisory board.
"This has been a wonderful exchange of more than ideas," says Baillie with a permeating smile. "The STEAM lab students became the teachers of our students in Kumeyaay ways, as much as our USD students helped them understand engineering principles."