GenCyber Internship Gives High School Senior Taste of Dream Job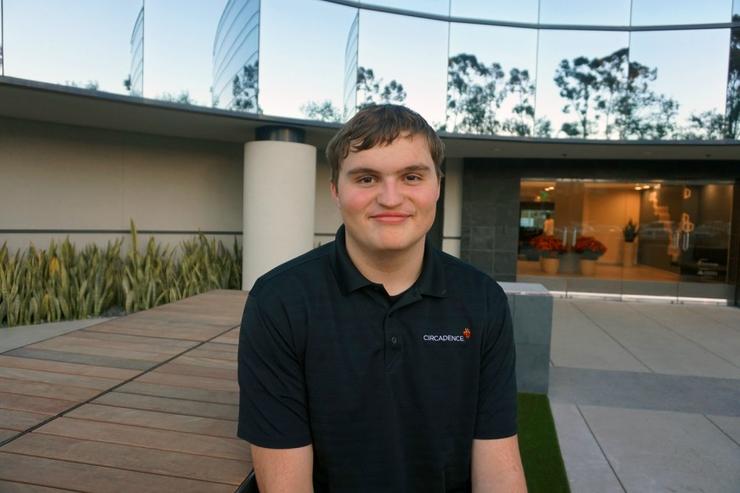 Collin Read won't graduate from high school until next spring but he's already experiencing his "dream job" of working as penetration tester for cyber attacks.
After winning a hacking competition at the University of San Diego's GenCyber Academy of Excellence Advanced Camp last summer, Read was invited to intern this fall with Circadence, the camp's industry partner and a leader in the federal cybersecurity community.
The internship has given Read a chance to practice his hacking skills that he hopes to use one day to prevent cyber attacks.
Read is working on "developing vulnerable applications so that we can collect data against it as part of our Machine Augmented Red-Teaming System," said Circadence's Chief Technology Officer Ashton Mozano who also teaches in USD's Center for Cyber Security Engineering and Technology (CCSET).
The internship also has given the high school senior at Patrick Henry High School a chance to use Circadence's Project Ares, a gamified, artificial intelligence powered cyber training solution that uses real-world tools and tactics for students interested in pursuing STEM (Science, Technology, Engineering and Mathematics) careers.
Read first had the opportunity to use Project Ares at USD's GenCyber camp last summer. "They let us give it a go and it was fun to test what I could do," Read said. In fact, he scored 10,000 points, compared to 6,000 points for the student coming in second place.
He was one of only 25 students selected for USD's Advanced GenCyber Camp, one of two camps funded in California by the National Security Agency to encourage today's students to become tomorrow's cyber professionals as the United States continues to face daily cyber attacks in the public and private sectors.
At Patrick Henry, Read is enrolled in a host of Advanced Placement classes in calculus, computer science and physics, while he applies to various colleges. He began coding at age 11 and also developed his interest in cyber security while playing computer games like Portal. After seeing how cyber systems could be attacked and defended, he was hooked. He remembers thinking, "that's really interesting. I want to learn more."
The GenCyber Academy, housed in USD's Shiley-Marcos School of Engineering, expects to sponsor several week-long cyber beginner and advanced cyber camps for high school students in the summer of 2018. Information for applying to the free camps should be available at www.sandiego.edu/engineering in early February.