Catholic High School Students Take Part in "Cyber Friday"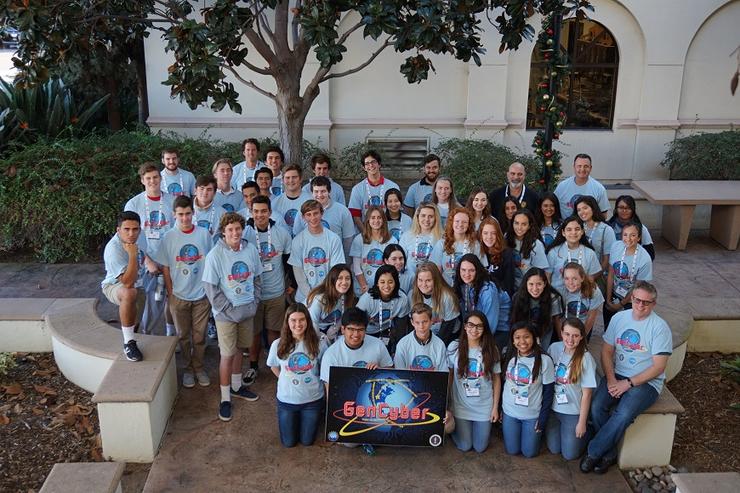 "Cyber Monday" is for shopping but a "Cyber Friday" at the University of San Diego this month gave local Catholic high school students the opportunity to learn the basics of fighting cyber crime.
The day-long seminar on Dec. 1 was sponsored by USD's GenCyber Academy of Excellence, one of only two camps funded in California by the National Security Agency to encourage today's students to become tomorrow's cyber professionals as the United States continues to face daily cyber attacks in the public and private sectors.
A group of 44 students, including 28 female and 14 male students from Cathedral and Our Lady of Peace high schools, learned the basics of digital forensics and encryption, including recovering deleted and corrupted files and finding messages hidden behind photos and images.
The day, led by cyber and law enforcement professionals from San Diego's Homeland Security office, also emphasized the importance of documenting and preserving evidence for successful prosecution. "To catch the bad guys," you also have to understand the minds of cyber hackers, lead instructor Rusty Sailors from Secure Smart Office Inc. told the students.
With 1.5 million high-paying jobs open in the cyber field, many of the students said the day reinforced their interest in it. "What did you learn today you didn't know?" Sailors asked students. "Everything," replied students in unison.
In cyber space, "Everything you do is a footprint" was one of the lessons OLP student Chloe Hallak took from the experience. "I came knowing nothing and now I know so much," added Hallak who hopes to study engineering at USD when she graduates in 2019.
Hayden Center, who plans to study computer science and engineering and play football for Stanford University when he graduates from Cathedral next spring, said he appreciated the hands-on experience. "It gave us a really good insight into the field as a whole."
The GenCyber Academy, housed in USD's Shiley-Marcos School of Engineering, expects to sponsor several week-long cyber beginner and advanced cyber camps for high school students in the summer of 2018. Information for applying to the free camps should be available at www.sandiego.edu/engineering in early February.