USD Hosts California's Only Advanced GenCyber Camp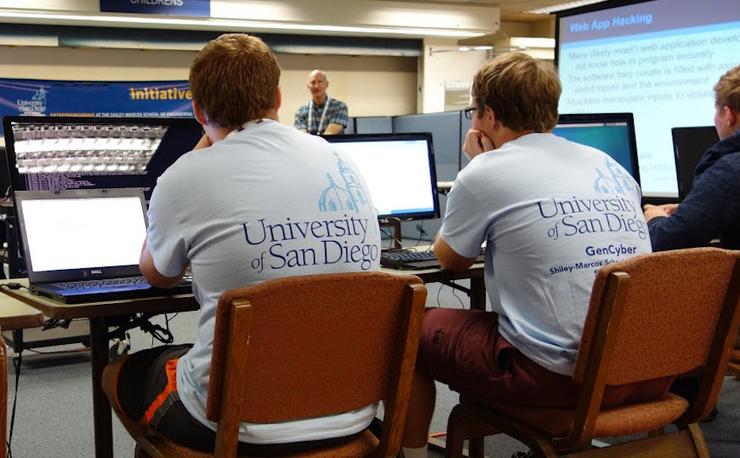 They are still in high school but a group of students from around the country will explore some of the most sophisticated elements of cybersecurity at California's only Advanced GenCyber Rising Stars Camp at the University of San Diego.
Students will take on roles as security engineer, cyber investigator, penetration tester and cyber analyst at the camp funded by the National Security Agency that runs from Monday, July 31 to Friday, August 4.
"Nearly every day, our nation faces cyber attacks on our security, government, industry and nonprofit institutions," said Chell Roberts, Dean of the USD Shiley-Marcos School of Engineering. "We are honored and excited to host this exclusive advanced camp that will help develop a pipeline of talented, young professionals to meet these challenges."
"Unlike typical Cyber Boot Camps where the entire focus is on a monolithic, Capture the Flag event to solve puzzles and earn points, the GenCyber Advanced Boot Camp gives students a crash course in advanced tools for exploiting vulnerabilities in target systems and performing hands-on malware analysis," said Ash Mozano, professor at the USD Center for Cyber Security Engineering and Technology. "The camp culminates with a gamified hacking experience where students will really put their newly acquired knowledge and tools to the test."
As they explore password cracking, incident management and other advanced topics, students will be using Project Ares that provides cybersecurity teams the opportunity to practice skills and hone tactics via a next-generation online gaming platform developed by Boulder, Colorado-based Circadence, a recognized leader in the federal cybersecurity community.
The camp also includes formal instruction from USD faculty, team projects to solve cybersecurity problems, field trips to cybersecurity organizations in San Diego and speakers including Erik La Cam, San Diego Special Agent Secret Service Computer Forensics, and Laura Lee, Executive Vice President of Cyber Training & Assessments at Circadence.
Students from across the country applied to the camp. To be selected students were required to have above-average STEM (Science, Technology, Engineering and Mathematics) proficiency. The 25 selected include students from across California and the East Coast with significant knowledge of coding, participation in cyber clubs or Cyber Patriot programs at their high schools. Through an essay requirement, they expressed their desire and passion to work in cyber security after college.
"When these 10th, 11th and 12th graders complete the camp they will have a thorough knowledge and understanding of cybersecurity foundations to seriously consider a career in the field where entry-level positions can pay as much as $80,000 to $100,000 per year," Roberts said.
Earlier this summer, USD also hosted a beginner GenCyber camp for students from around the country for the second year in a row.