Going the Extra Mile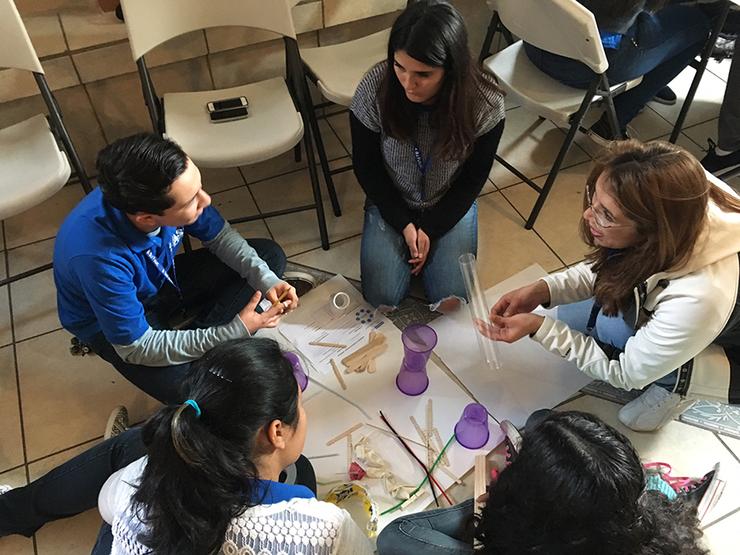 Seeking inspiration from her alma mater, Director of Advancing Students Forward (ASF) Monica Santos, MA '08, reached out to USD and the Shiley-Marcos School of Engineering in search of a cross-cultural exchange of ideas.
ASF, also known in Mexico as A Su Futuro, is a bi-national educational nonprofit located in Chula Vista that Santos has been running for years. ASF promotes cultural exchanges between students on both sides of the border and extends education to an average of 70 students in Tijuana at any given time, ranging from 7th grade through college-age (http://advancingstudentsforward.org/).
"Education in Mexico is only funded through the 6th grade," explains Santos. "ASF provides partial scholarships to incentivize students to continue their education. I was looking to introduce engineering concepts to my students."
In her search, Santos found the ideal partner — Odesma Dalrymple, assistant professor of industrial and systems engineering and co-founder of the STEAM (Science, Technology, Engineering, Arts and Mathematics) Lab program. Their connection was immediate.
"Odesma had so much information to share," reveals Santos. "I told her about my work at ASF and how I had applied for iPads grants and robotics kits, but it was all a lot of expense. Odesma encouraged me to find recycled materials and use them. She told me, 'Get started now, you don't need a grant!' and it took off from there!"
Since Fall 2015, Dalrymple has been traveling monthly to Tijuana with USD student volunteers to teach the ASF students about the engineering design process and how it can be applied in a collaborative environment to transform simple ideas and materials into complex multi-disciplinary systems, such as Rube Goldberg chain reaction machines.
"This is the nature of my work. I want to help communities that are underrepresented and underserved," says Dalrymple. "I learn so much from this experience. In many ways, Tijuana feels a lot like my home environment, so much like Trinidad. I get this, I connect immediately."
The group meets once per month in the local community center located in the Tecolote neighborhood. Most of the students speak only Spanish. They observe, interact and an alumna of the ASF program, Priscila Talavera, serves as an interpreter and translator to guide the exercises.
"I believe that being there and caring for the academic and personal development of these students is the biggest impact for many of them," says Talavera.
The initial project was a tower building activity. Each meeting is comprised of 60-70 kids and they were divided into small groups of three. Dalrymple introduced language and concepts of the engineering design process. She had a technical spreadsheet with metrics, and the students were required to come up with a strategy to maximize the criteria. Each team was given 30-minutes to build a structure and 30 minutes for demonstration. After completing the tower, they made pictorial models about the project execution, leveraging art as part of the STEAM program.
"There is research on the engineering design process as a framework for problem solving, so intellectually I know that when we propose engineering design challenges, the students are executing some form of that process," explains Rishika Daryanani, a devoted USD student volunteer. "But watching them work through problems, ask questions, propose ideas, tinker with materials, iterate plans, and ultimately the excitement that surrounds an executed idea — that's how I know that what we're all doing is meaningful. We get to see problem-solving skills literally being formed before our eyes."
In January, the students were tasked with building a small, simple chain-reaction machine. Then in March, April and May, the students participated in a culminating activity to build a larger chain-reaction machine. The preparations for the culminating activity started with the students understanding the goal, which was to open an umbrella and collectively define the requirements of the machine. Each student was placed into one of 10 teams, where each team was responsible for building a module (i.e., a sequence of three to five chain reaction steps). Five teams were then further grouped together to create a machine that will achieve the final goal.
During the March meeting when the culminating challenge was first introduced, each team sent a member to a different station to learn various STEAM techniques, such as manipulating electrical circuits to create bristle bots, using levers in various ways to trigger a reaction, making puppets with string and straws, creating a story, and using robotics to automate a step. Having acquired this new STEAM skill, the students returned to their teams to brainstorm ideas that will allow them to open an umbrella in a complex way, with a minimum of 10 steps. Most of the building occurred in the April and May meeting and by the end of the May session the students created two machines to open an umbrella.
To produce the final project, Santos and Dalrymple traveled to Los Angeles to Trash for Teaching and to Reinterpret in Santee, and brought an entire carload of recyclable materials that would have been otherwise tossed.
"I feel a great sense of awe to see what they produce, in what they can achieve with such limited resources and training. There is so much more that could be done if only they had access to such resources," says a very moved Dalrymple.
Although the students of ASF live in an isolated community, with economic, crime, and transportation challenges, with a program such as this, there is a collaborative sharing of ideas between students from neighboring countries that allows everyone to operate as equals — to break down barriers on both sides. The outreach initiative provides academic and prospective career opportunities the ASF students may have not been afforded otherwise, and serves as inspiration for the USD team who marvel in the creative and innovative approaches that the ASF teams apply to their project execution.
"I graduated from USD in 2008 with a master's degree in Nonprofit Management and Leadership. It totally changed my life and has had such an impact on the organization (ASF)," Santos continues, "USD has been so receptive. If it weren't for Odesma, I would never have imagined the extent of the involvement she and USD have provided. USD is such a gem. I am so happy to have them as a resource and partner in so many ways."