Melissa Gibbons to Receive SD County Engineering Council 'Outstanding Engineering Educator' Award
Melissa Gibbons to Receive SD County Engineering Council 'Outstanding Engineering Educator' Award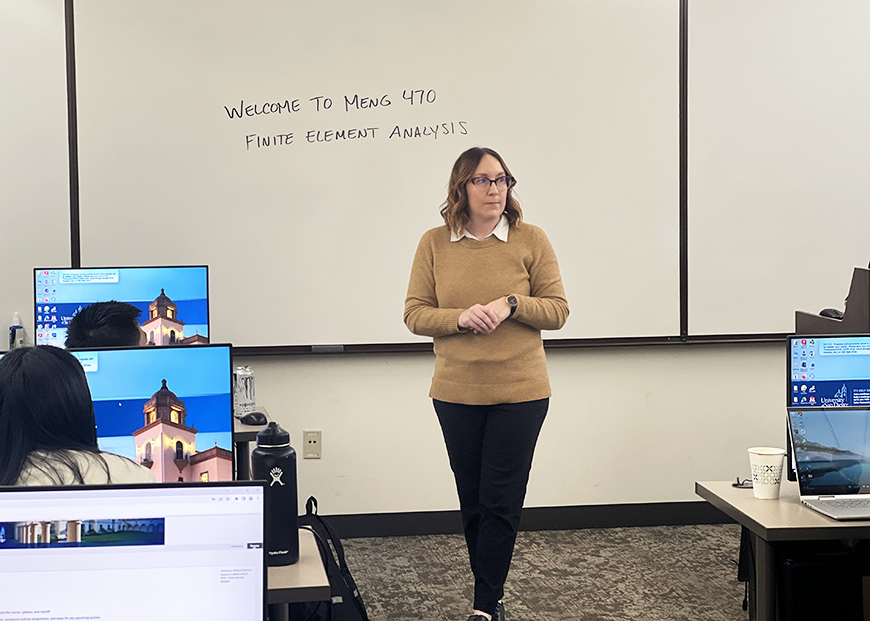 Mechanical Engineering Assistant Professor Melissa Gibbons, PhD, has been named the San Diego County Engineering Council's 2023 "Outstanding Engineering Educator," the organization announced Wednesday afternoon.
Gibbons joins five other awardees and will receive her award during the 72nd annual San Diego Engineers Week Festival Awards Ceremony and Reception at the Marina Village Conference Center on Sun., Feb. 19. Shiley-Marcos School of Engineering Dean Chell Roberts, PhD, will be a featured speaker at the event.
"San Diego is home to multiple colleges and universities filled with fantastic, dedicated and innovative engineering educators, so it is truly an honor to be recognized by a county-wide organization like the SDCEC," says Gibbons. "It is a recognition of not only my own efforts, but also the support and guidance of my colleagues in the Shiley-Marcos School of Engineering at USD."
Gibbons was nominated for the award by Frank Jacobitz, PhD, chair of the mechanical engineering department at USD. She discovered she won the award in early January — after some initial confusion.
"I received an email from Peter Livingston, SDCEC Awards chair," Gibbons recalls. "It was early in the morning and I read the email too quickly — I thought he was reaching out to let me know I was nominated for an award. It was only when I read it again carefully that I realized he emailed me because I had in fact won an award. It was unexpected and brightened up my whole day."
The SDCEC noted in their announcement that Gibbons "led the development of new collaborative design projects in both the Introduction to Engineering and Thermodynamics classes, as well as revamped several upper-division classes to emphasize technical communication. She is an active member of ASEE and past fellow of the KEEN organization, a resource to help improve the quality of undergraduate engineering education in the US."
Gibbons came to USD in 2017 as a visiting assistant professor in the mechanical engineering department. She has been in a tenure-track role since 2018.
"I am deeply thankful to be a part of a community that values and invests in engineering education," she said. "This award inspires me to continue working hard to make a positive impact in the lives of our USD engineering students."
The SDCEC is a volunteer organization whose purpose is to "promote public awareness of engineering organization events, educational opportunities, public service activities and achievements."

— Story by Matthew Piechalak