USD Students Tackle Stormwater Pollution Through Marketing Plans for the City of San Diego's Think Blue Campaign
USD Students Tackle Stormwater Pollution Through Marketing Plans for the City of San Diego's Think Blue Campaign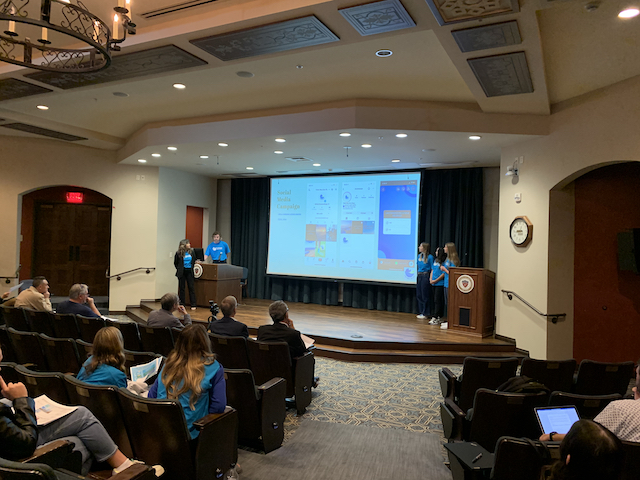 Students in Dr. Leeva Chung's "Small Group Communication'' class recently presented their marketing projects for the city of San Diego's "Think Blue" campaign in front of a panel of environmentalists, city of San Diego council members and USD's Dr. Michel Boudrias, chair of the university's Sustainability Task Force. The "Think Blue" campaign works to educate people about stormwater pollution and how to prevent it.
Katz and Associates, their client the City of San Diego's Think Blue Campaign and Dr. Chung partnered with USD alum Daniel McArdle-Jaimes '05 to design the project. McArdle-Jaimes and Dr. Chung drew in all of the community partners to build a hands-on research, project design and marketing experience while helping the city with new ideas to teach the community about stormwater pollution.
"As an educator, it's always really challenging when a student says 'what am I going to do with this material?' Ever since I've been at USD for 24 years, I've always wanted to create project-based learning to give my students something to take with them that they can remember and also build relationships along the way in and out of class," said Dr. Leeva Chung, USD communication professor.
Along the entire way, McArdle-Jaimes participated as a virtual mentor to guide students to ensure that they understood the assignment, and helped them refine their ideas and concepts. McArdle-Jaimes and Chung have worked together in designing projects like this for 17 years.
"I describe this model as bringing the workplace into the classroom, and I'm there to help mentor them every step of the way" said McArdle-Jaimes. "We've heard that this learning model kickstarts career opportunities for our graduating seniors and they walk away with tangible examples to speak from when interviewing for entry-level jobs. It also helps students understand what they're good at, and get inspired from each other on what they need to grow in."
The student team, Team Green, won for their creative take on educating San Diegans about properly disposing of their bulk items, like furniture, to prevent stormwater pollution. The team produced a PSA called "Couch: A Love Story" about the journey of a couch from being a central meeting point of a home to being dumped on the street, creating pollution.
"I think we're feeling pretty good. We were here yesterday (Thursday) in the auditorium for four hours practicing until we felt like we got it all down. I think all of us are really proud of each other and our team dynamic," said Abigail Cavizo, student in the winning team.
The winning team included junior Abigail Cavizo and seniors Miriam Castanon, Nick Brunbach, Katherine Ely and Kate Nielander. Students were also paired up with a team of students in Dr. Chung's "Intercultural Communication" class who provided the team with ethnographic research and data that was critical in the presentations.
"It's an awesome opportunity to work with sustainability which is an issue that college students care about – so to be at the forefront of innovation, while working directly with the city, is an amazing experience," said Nick Brunback, student in the winning team.
The city of San Diego says that all students will get a certificate for their participation and also a letter of recommendation for future employment opportunities. Abigail Cavizo was selected from the winning team to get a paid internship at PR firm, Katz & Associates, in the summer of 2023.