San Diego Stuns Stanford, Advances to First-Ever Final Four
San Diego Stuns Stanford, Advances to First-Ever Final Four
Toreros silence Maples Pavilion with thrilling 3-2 win over Cardinal in Elite Eight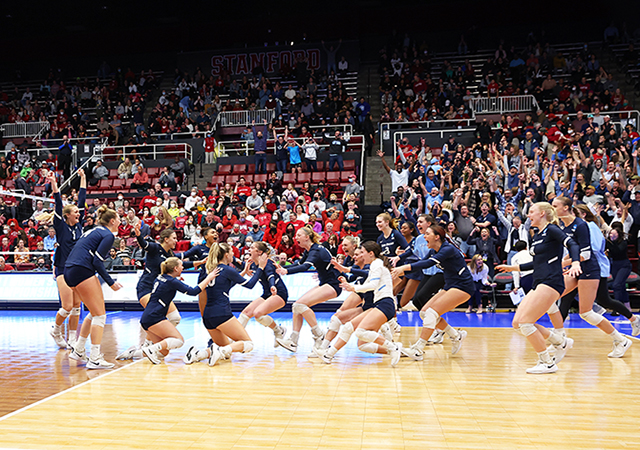 Two-seed No. 3 San Diego volleyball (31-1, 18-0 WCC) on Saturday completed the biggest win in program history to date, stunning one-seed/host No. 5 Stanford (27-5, 19-1 Pac 12) with a thrilling 3-2 win in the NCAA Tournament's Elite Eight as it silenced the Maples Pavilion to advance to its first-ever Final Four.
The Toreros dropped the first set 25-19, rallied for a 25-22 win in the second, dropped the third 25-19 again, then erupted for 25-23 and 15-9 wins in the fourth and fifth frames to secure a five-set, 3-2 comeback win in Palo Alto.
"It was such a team win — it was an absolute battle and they never ever gave up on it," said USD Volleyball Head Coach Jennifer Petrie. "It's such a testament to their tenacity, their resilience, their bravery ... it's just outstanding."
Redshirt senior Katie Lukes (.185) led USD with 20 kills, followed by both senior opposite/setter Grace Frohling (.308) and graduate outside hitter Breana Edwards (.293) with 18 apiece as their team out-hit Stanford .283 to .253.

Edwards and junior middle blocker Leyla Blackwell paced the San Diego defense with seven total blocks each.
Saturday night's win marked San Diego's program-record 28th in a row. Up next is a matchup in the Final Four (NCAA National Semfinal) in Omaha, Nebraska against one-seed No. 1 Texas on Thursday, December 15.
To read more, visit Women's Volleyball here.
UP NEXT
The Toreros are back in action on Thursday, December 18 in Omaha, Nebraska with a NCAA Final Four matchup against one-seed No. 1 Texas at 7 pm. The game will be broadcast on ESPN.
— USD News Center