Athletics: Petrie, Blossom, Three More Earn AVCA Pacific South Volleyball Honors
Athletics: Petrie, Blossom, Three More Earn AVCA Pacific South Volleyball Honors
Petrie named AVCA Pacific South Coach of the Year, Blossom named Player of the Year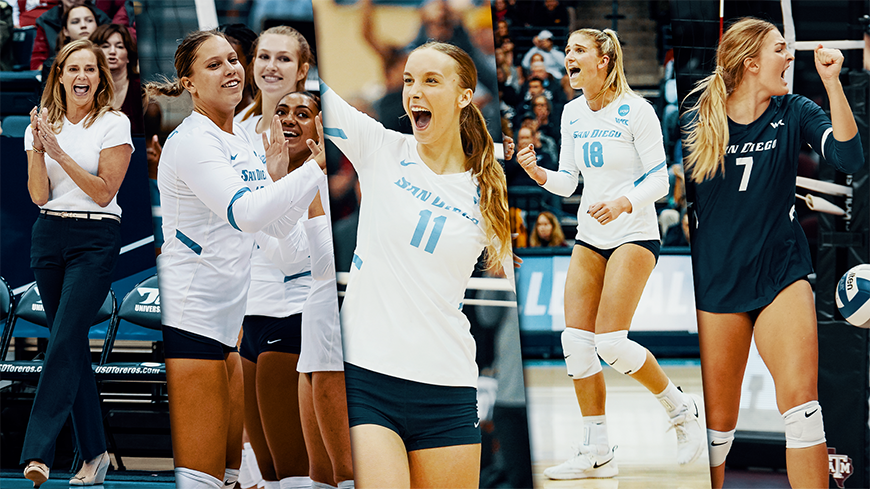 Head coach Jennifer Petrie was named the Pacific South Region Coach of the Year, Gabby Blossom was named the Pacific South Region Player of the Year, Grace Frohling, Katie Lukes and Blossom were named to the Pacific South All-Region Team, and Leyla Blackwell was named a Pacific South All-Region Honorable mention, the American Volleyball Coaches Association announced on Tuesday morning.
It's the third AVCA Pacific South Region Coach of the Year honor for Petrie, who also earned her seventh career West Coast Conference Coach of the Year selection on Nov. 28.

She has led USD to a program-best 29-1 (.967) overall record and a perfect 18-0 performance in West Coast Conference play so far in 2022, making the Toreros one of just three teams to go undefeated in conference play (Wright State, Western Kentucky). San Diego set a school record with 26 wins and counting this season, good for the best winning percentage (.967) and longest active win streak (26 matches) in the country as of Tuesday. After beginning the season at No. 25 in the AVCA Division I Women's Coaches Poll, her team moved up or maintained position in every AVCA Poll until November 28.
The Toreros tied program-high No. 2 national ranking on October 31 and held strong there for four straight weeks, giving them 11 weeks in the nation's Top 5 through 14 of 15 total polls.
To read more, visit the USD Athletics page here.