USD 2.0: New SOLES Website Launches
USD 2.0: New SOLES Website Launches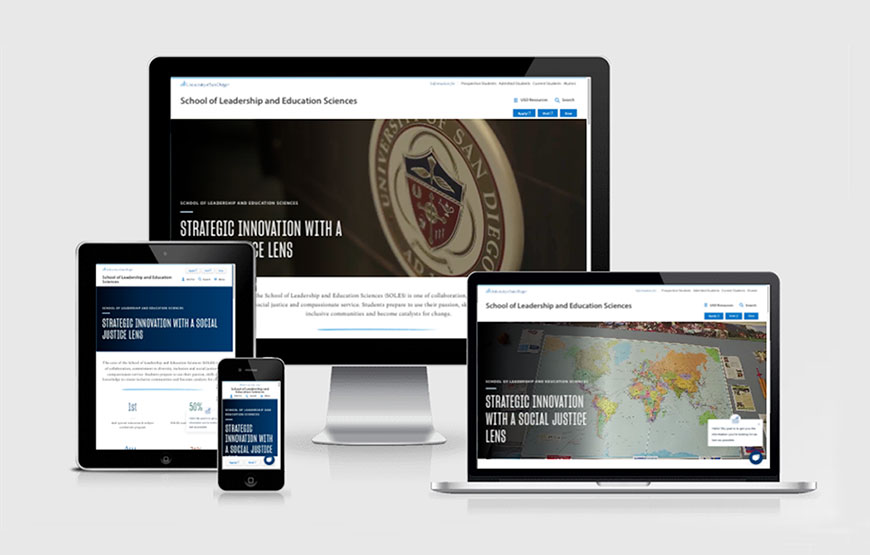 The University of San Diego's complete website redesign, known as USD 2.0, is seeing its latest milestone: A new website for the School of Leadership and Education Sciences (SOLES), which went live on Wednesday, December 7, 2022.
The school's new virtual presence mirrors the growth and changing landscape of its programs, departments and centers, which have been rapidly evolving over the past few years.
A primary objective of the new website is to bring academic and program information to the fingertips of prospective students. All programs, ranging from Ph.D studies and Master's degrees, to certificates and credentials, are now clearly accessible from the SOLES home page. This is one of the first uses of the website's new content explorer feature, which allows students to see a snapshot of each program without clicking to program-specific pages.
Career placement continues to be a primary focus for the SOLES area, and outcomes pages are affiliated with most programs, including a list of job titles that previous graduates have obtained. A student job board is also featured on the site for seeking career and teaching opportunities within the school.
The design and build of the new website spanned eight months, including a usability study with prospective and current students from around the university, ensuring that decisions about content, layout and design were made with the user in mind.
Content throughout the site has been refreshed to make information easier for students to find and use. New audience pages have been added with links, media and other resources catered specifically for their use. New functionality and content features have also been added.
The USD 2.0 project continues with a website redesign for Knauss School of Business, which launches in early 2023, and a new website for the School of Law is in the early stages. Of 150 sites total in the USD web ecosystem, 144 are now transitioned into the new 2.0 framework, marking our progress at nearly 96% of our completion goal.
New and enhanced features continue to be added to Camino, USD's digital design system, and are tracked and announced via a changelog. If you maintain a website that's been transitioned into the new system, be sure to bookmark the link and stay updated on new and exciting enhancements available to you.
— Joy Brunetti '01 (BA)
Learn more at the USD Redesign website.