How Sweet it Is!! USD Continues NCAA Tournament Run with Victory over Washington State
How Sweet it Is!! USD Continues NCAA Tournament Run with Victory over Washington State
Edwards Keys Offense as Toreros Advance; Kentucky Awaits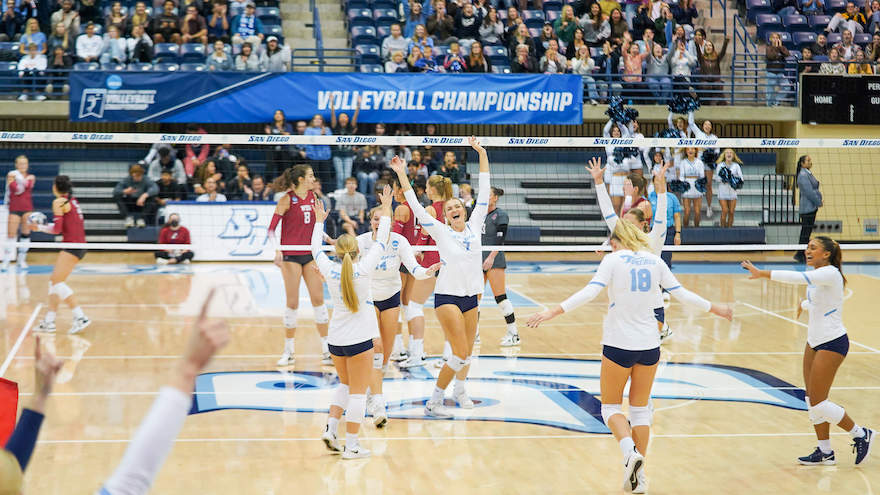 A career night from outside hitter Breana Edwards propelled the University of San Diego (29-1) to a 3-1 win over Washington State (23-10) in the second round of the NCAA Tournament Friday Night. The win sends the Toreros to their first Sweet 16 appearance since 2018.
Edwards paced the match with a season-high 18 kills while hitting a team-best .447. Her performance headlined a dominant offensive effort for San Diego that saw it out-hit the Cougars .289 to .232 and tally seven service aces to WSU's two. USD's defensive proved to be dominant as well, with the Toreros out-blocking Washington State 12.0 to 5.0.
A graduate transfer student, Edwards played her undergraduate volleyball at the University of Indiana before heading west to Alcalá Park, and is no stranger to the ebbs and flows of high-intensity matches like the one the Toreros played in front of 2,228 energized and enthralled fans at the Jenny Craig Pavilion.
Case in point: the Toreros had won the first two sets of their match against the Cougars, but fell behind 20-11 in the third set. For the first time in a very long time, the Toreros looked ... beatable.
And even though the USD ultimately lost the set 25-21, Edwards was quick to point to that portion of the match as a turning point.
"We came out and played great, but lost our momentum in the third," she said. "We knew they were going to fight with everything they had and they did. They really pushed us and we had to find a way to get it done. I'm really proud of how we came back in the third set. I think we showed how resilient we are."
The Toreros then responded with their most dominant frame of the evening, securing the 3-1 decision with a 25-15 win in the fourth.
Friday night's win marked USD's 26th straight win, with 19 of those being three-set sweeps.
The victory advanced USD to the fifth NCAA Regional Semifinal appearance in program history (2004, 2006, 2013, 2018, and 2022). The Toreros will take on third-seeded No. 15 Kentucky on Thursday, Dec. 8.
With Stanford's win over LSU Saturday night, USD will now head north to Palo Alto to play their regional semifinal match.
— USD News Center