Defense, Blackwell Dominate; USD beats Northern Colorado to Advance to NCAA Tournament's Second Round
Defense, Blackwell Dominate; USD beats Northern Colorado to Advance to NCAA Tournament's Second Round
San Diego volleyball defeats Bears 3-1 before 2,667 in the Jenny Craig Pavilion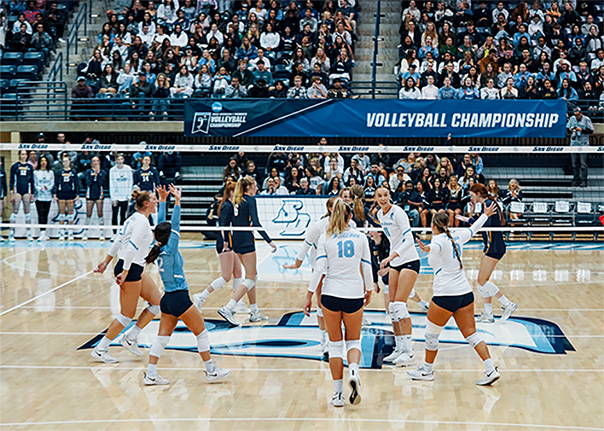 A career-high 17 kills from Leyla Blackwell while hitting a remarkable .739 led No. 2 San Diego (28-1, 18-0 WCC) past Northern Colorado (22-9, 13-3 Big Sky) in the first round of the NCAA Tournament on Thursday night, beating the Bears 3-1 before a crowd of 2,667 in the Jenny Craig Pavilion to advance to a second-round matchup with seven-seed Washington State on Friday night.
To purchase single session tickets to Friday's match against No. 7 Washington State, click here.
USD took the first two sets by scores of 25-21 and 25-14, dropped the third set 25-21, then rallied for a dominant and decisive 25-11 win in the fourth to secure a 3-1 victory over UNC in the match that marked its 25th in a row.
Blackwell's career night headlined a balanced offensive attack that saw three other USD players tally 10 or more kills. San Diego out-hit Northern Colorado .394 to .313 in the match and dominated the Bears on the defensive end, with 10.5 total blocks to UNC's 2.0.

The win marked USD's first in the NCAA Tournament since April 14, 2021, when the Toreros beat Texas A&M - Corpus Christi in Omaha, Nebraska in the first round as as part of the modified 2020-2021 schedule.

It was San Diego's first match and postseason win in the JCP since December 7, 2013, when USD swept Arizona 3-0 in the second round to advance to the fourth and most recent Regional Semifinal in program history.

San Diego is now 5-0 all-time in NCAA Tournament matches at the JCP, with one win in 2022, two wins in 2013, and two wins in 2004.
USD and and next-round opponent Washington State are both NCAA Tournament regulars. The Toreros are making their 13th straight appearance in the tournament, the Cougars their seventh straight.
"It'll be a battle, an absolute battle," said USD Women's Volleyball Head Coach Jennifer Petrie. "Washington State is bigger, more physical. I think we're better suited to their style of play. They play a little faster, they've got strong arms. I think our blockers are suited for that."
Whatever comes from Friday night's match, Petrie has no doubt that her squad — and their fans — will be ready.
"Every match in [the NCAA torunament] is a fight. We're excited to have our crowd behind us."
For more information on the win, visit USD Women's Volleyball.
— USD News Center