USD Lights Christmas Tree to Kickoff the Holiday Season
USD Lights Christmas Tree to Kickoff the Holiday Season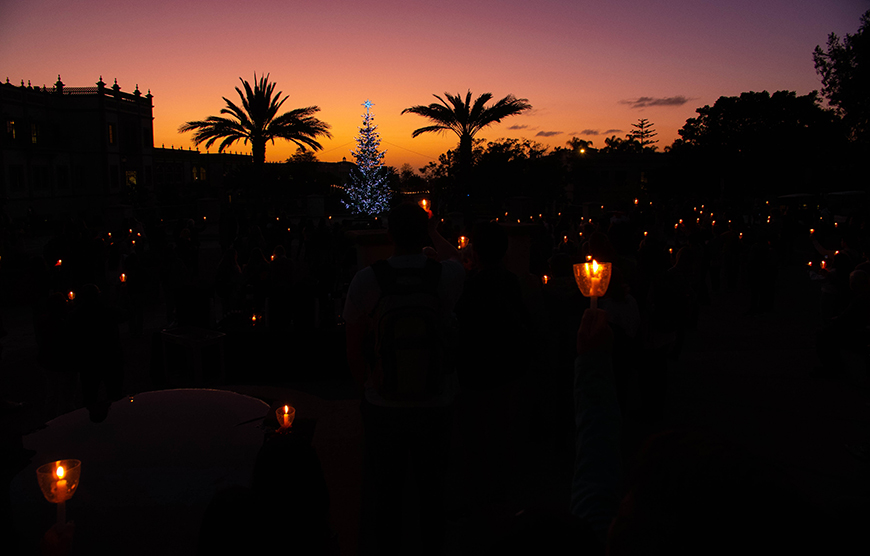 A vibrant orange glow filled the space within Plaza de Colachis at twilight Tuesday as a host of Toreros stood, candles in hand, awaiting the lighting of the Christmas tree behind the backdrop of a spectacular late November sunset.
The Sixth Annual Christmas Tree Lighting featured holiday songs from professional carolers, decadent hot chocolate and meticulously decorated Christmas sweets.
"This is one of my favorite campus traditions," said USD President James Harris, DEd. "It's a time for our community to come together to celebrate the holiday season."
As the sights, sounds and smells of the holiday season lingered in the air, the tree came alive with light, officially ushering in the holiday season at USD. The glow of candles was replaced with the illumination of cell phones capturing the magnificence of the scene.
"We hope all of you will enjoy this tree, the light that it brings and everything that light symbolizes and represents," said Harris.
— Story and photos by Matthew Piechalak, video by Alé Delgado