USD Women's Volleyball looks to 'Pack the Pavilion' for opening rounds of NCAA Women's Volleyball Tournament
USD Women's Volleyball looks to 'Pack the Pavilion' for opening rounds of NCAA Women's Volleyball Tournament
No. 2 Toreros Set to Host Northern Colorado Thursday in the JCP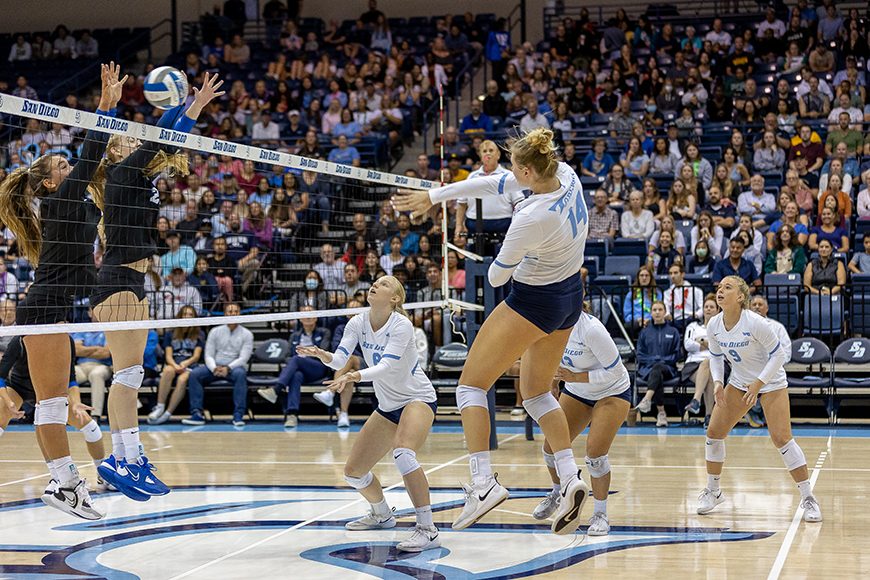 The University of San Diego Women's Volleyball team will host the opening two rounds of the 2022 NCAA Women's Volleyball Tournament this week at the Jenny Craig Pavilion.
The No. 2 Toreros will open tournament play against Northern Colorado at 7:30 pm on Thursday, Dec. 1. The winner will face the winner of the No. 7 Washington State vs. UNLV match at 7:30 pm on Friday, Dec. 2.
To purchase single session tickets for USD vs. Northern Colorado, click here.
To purchase single session tickets to the second round matchup, click here.
The first 1,000 USD students will receive free admission to the opening round match against Northern Colorado.
"The team is so excited and they are more than ready for this opportunity," says USD Volleyball Head Coach Jennifer Petrie. "It's electric here in the Jenny Craig and we're super excited to showcase what we have been working on all season."
The opening round matchup will be broadcast on ESPN+.
The Toreros were awarded a two seed in the tournament during the selection show on Nov. 27. On Monday, the team captured a series of West Coast Conference (WCC) awards. Petrie was named WCC Coach of the Year, Katie Lukes was named WCC Player of the Year, Gabby Blossom was named WCC Setter of the Year and Annie Benbow was named WCC Libero of the Year.
Leyla Blackwell, Blossom, Grace Frohling, and Lukes earned All-WCC First Team honors, Benbow and Breana Edwards were named to the All-WCC Second Team, and Haylee Stoner was selected as an All-WCC Honorable Mention.
(Note: To view the full video below, click on the video and enable the "Click to enter full screen" option in the bottom right corner)
For any questions, call the Torero Ticket Office at 619-260-7550 (Monday through Friday 10 am–4 pm) or email tickets@sandiego.edu.
— USD News Center