USD Alumna Becomes First Latina Elected Sheriff in California
USD Alumna Becomes First Latina Elected Sheriff in California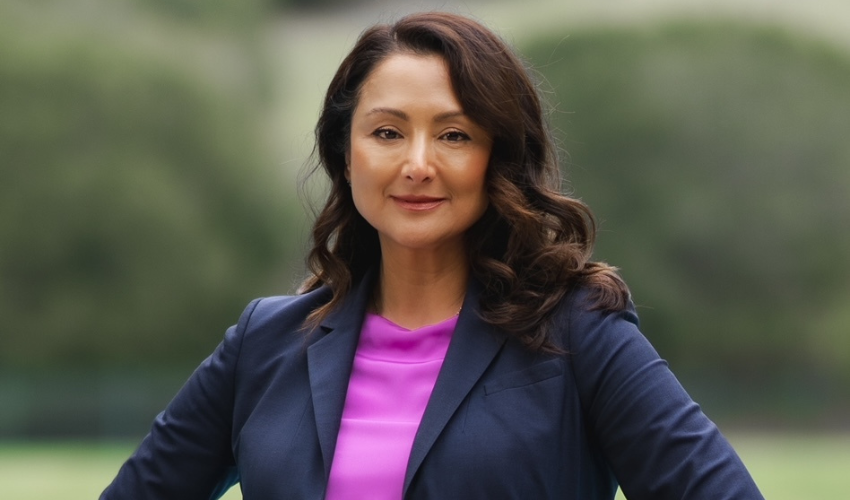 When she was 16, Christina Corpus saved enough money from her summer jobs to buy a car, but not just any car. She bought a Toyota pickup truck, a vehicle that supported her active lifestyle and had enough room to drive her friends around the Bay Area.
One Sunday, she headed to Tanforan Mall to pick up one of her friends from work. While she sat and waited, a man tapped her window and pointed a gun barrel at her. Within the blink of an eye, a struggle ensued and Christina fought off her attacker.
The violent carjacking attempt was enough to leave any teenager shaken, but Christina says it was the police officers who arrived on scene that made all the difference.
"It was the way the law enforcement officers responded to me, a 16-year-old, frightened girl, and helped me navigate through that traumatic situation with empathy, compassion and respect, not only at the scene, but also at the trial. That changed my whole trajectory."
Corpus currently serves as the chief of police services for the City of Millbrae. This June, she was elected to be the next San Mateo County Sheriff, making her the first female elected Sheriff in San Mateo County and the first Latina elected Sheriff in California. She will be sworn into the position on January 2, 2023.
It's taken Corpus 21 years in law enforcement and a lot of "tenacity, grit and dedication" to climb the ranks. She started her career in 2002, when she was hired as a correctional officer for San Mateo County. The job taught her a lot about people.
"A lot of these people were born into very challenging circumstances: they had parents or family members who were incarcerated, they were subjected to a lot of physical, sexual or mental abuse, or there was drug or alcohol use in their home. You have an opportunity to get them to think about themselves in a respectful way and offer them resources to try to get them the help that they need."
One of the people Corpus remembers is a 23-year-old woman who was terribly addicted to drugs, lost custody of her child and spent time in and out of jail about "every two to three weeks."
"Every time I would see her come in, she would look more and more drug-addicted. She didn't look like the 23-year-old she should be. I would tell her, 'What happened to you before, you can't change, but you can change what happens to yourself and your child in the future.' Sometimes she would be dozing off because the drugs were still in her system, but I felt the more I talked to her, something had to sink in."
Corpus didn't see the woman for several years until one fall when she was at a community Halloween festival. From a distance, she heard a woman yelling, "Ms. Corpus!" She turned around to find a woman she didn't recognize embracing her. The woman pulled away and explained she was the 23-year-old woman. Through her journey, she went to rehab, Governor Brown pardoned her for her crimes, and she started a nonprofit to help women who were victims of human trafficking and provide education to community members.
"She said I had planted a seed in her to do better and that she was worthy, but she also planted a seed in me that we need to be advocates when we can, because we never know when we talk to someone for five minutes that we have the opportunity to change the trajectory of their future."
Corpus also works to empower women who want to join the law enforcement profession.
"My mother, who emigrated from Nicaragua, always told me, 'Don't ever let anyone tell you, you aren't capable because you're a woman or because of the color of your skin. You keep going because you can do anything you put your mind to.'"
Those words became crucial when Corpus was working one of her first shifts in law enforcement. She was pulled to the side by an older deputy, who she says, had a couple more years before he retired.
The deputy asked her, "What are you doing here?" Corpus responded, "I'm here to work and to serve." The deputy said, "You look like you should be barefoot and pregnant in the kitchen."
Corpus says the deputy's words helped her realize that she had a lot of work to carve a path for women law enforcement. She noticed one of the biggest challenges for women entering law enforcement was the physical testing because it was geared toward the male physique, specifically, upper body strength.
To prepare women, Corpus started a women's bootcamp in 2014. The goal was to provide mentorship to women and to remove the barriers women faced entering law enforcement. According to Corpus, the bootcamp has helped dozens of women attain their goals, getting them hired into law enforcement positions.
Corpus also supports 12-18-year-old girls through a program called I'Mpossible, which uses running as a conduit to teach self-love, dedication and determination. On the first day of the program, Corpus writes the word "impossible" on the white board and asks the girls what they think when they see that word. Most respond with, "It can't be done." Then she adds an apostrophe between the "I" and the "M." In a flash, the word transforms to "I'm possible," reminding the girls that they can do anything they set their minds to.
Corpus also needed this mindset when she decided to complete her master of science degree in law enforcement and public safety leadership at the University of San Diego. A mom of two and working full-time, it would have been easy for Corpus to find an excuse to avoid pursing a master's. But she didn't. She walked across the commencement stage in 2021.
"To all the moms out there, we're super women! We can do anything. We can always find an excuse to not do something, but when you make excuses, you have to remember you have children. I always hold myself accountable by saying, 'How can I ask my child to do something if I'm not being the example?' You not only inspire your children, but also other women. In the end, I can tell you all the hard work pays off."
The education she received through the degree program will continue to guide Corpus as she shifts into her new role as San Mateo County Sheriff. She's currently working with a transition team so she can hit the ground running on her first day. She says she'll be guided by transparency, integrity and community engagement.
"I want to make the office about the people of the organization and serving the people, the residents that live in San Mateo County. I just saw a real need for change."
Part of that change is also addressing how deputies respond to non-violent individuals experiencing health crisis.
"In law enforcement, we're still traditional in the sense we may respond to calls that don't necessarily fit within the law enforcement box. We need to start thinking and collaborating about how we serve our communities to the best of our abilities. I've been doing research and looking at different models across the country and I feel there's a better way for us to respond to those in a mental health crisis situation."
Corpus is also focused on supporting deputies and their own mental health.
"It's really important for us to take care of our law enforcement officers because we see so much trauma. We often have this mentality where we've just got to suck it up and move on, but we're human and those things don't exactly leave us."
Corpus wants to create a space where deputies understand, it's OK not to be OK and to ask for help to process the trauma they've witnessed.
"If they're not OK and they're stressed out, we put them out in the communities we serve and it just takes one bad judgment call that can change other peoples' lives. We can't afford to do that."
— Kelsey Grey '15 (BA)
Photo provided by Christina Corpus