When Passion Leads to Purpose
When Passion Leads to Purpose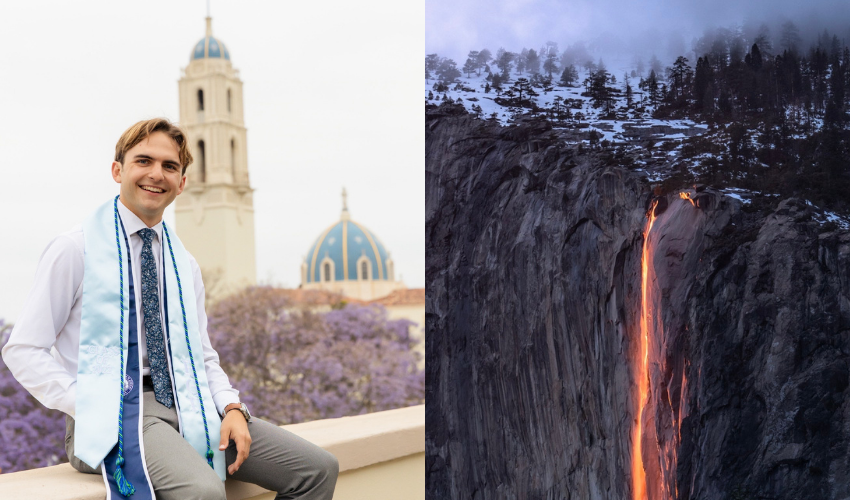 Double-major Bryson Patterson was on track to becoming a lawyer, or at least, when he was in high school, he was. He pivoted away from that dream to focus on environmental and ocean sciences and political science, two passions he discovered while at the University of San Diego.
It wasn't that Patterson hated law. In fact, he liked it. He once spent a summer working at a law firm close to his home in Concord, California, and thoroughly enjoyed the work. But life is full of twists and turns.
As a first-year student, Patterson took an Introduction to Geo Sciences LLC course taught by Associate Professor of Environmental and Ocean Sciences Beth O'Shea, PhD, and Adjunct Assistant Professor Eric Cathcart.
"I'd never been exposed to it [environmental and ocean sciences] that presented it in a way as an option to study," says Patterson. "I didn't have AP Environmental Science in high school. I knew I liked being outside and doing outdoor activities, but I didn't fully realize that there was this umbrella that encompassed the way things interact beyond physics, biology and chemistry."
The course had a profound impact on Patterson. So much so, that he decided to tack on an additional year at USD to obtain his master's in Environmental and Ocean Sciences. He will continue working with O'Shea as his faculty advisor and focus on the water quality inside watersheds that have been impacted by wildfires in California.
Patterson's passion for photography also grew while at USD.
In 2014, he was helping clean his family's home when he came across an old camera. He admits that he became "easily distracted" by the camera and began playing around with it. It had a macro lens on it, which is designed for close-up photography and makes small objects seem large.
His dad began driving him to the coast so he could gain more hands-on experience with the camera and teach himself everything there was to know about photography.
"I played around with that camera until I could prove to my family, and myself, that it was more than a distraction from cleaning."
He succeeded: The following Christmas, Patterson's parents gifted him a Canon 6D. The camera now sits in his home in San Diego, well-loved after going on dozens of adventures.
Some of those experiences came through his work with the Keck Undergraduate Humanities Research Fellows program with the help of his mentor, Professor of Philosophy and Humanities Center Director Brian Clack, PhD. During the academic year, these fellows conduct original research, scholarly activities or creative work that advances the interdisciplinary humanities.
Patterson knew he wanted to incorporate photography with a book written by Edmund Burke called, A Philosophical Enquiry into the Origin of Our Ideas of the Sublime and Beautiful. He used the book as a jumping-off point to look at art during the romantic era and how artists grasped the concepts of the sublime, or a quality of greatness or grandeur that inspires awe, wonder and delightful horror. He then asked the question, "Could photography convey more or less sublimity than traditional paintings?"
To answer this, Patterson took himself on a polar expedition in northern Norway during Easter break of this year. He took his camera and went on a boat and fishing tour that included snowshoeing. The photos he captured of the polar landscape were compared side-by-side with paintings by Norweigan artist Peder Balke in a presentation that Patterson gave.
His photography also extended into his trips abroad to study political science with Professor of Political Science Randy Willoughby. Additionally, Patterson has studied in Cambodia, South Korea, Taiwan, France and Spain.
"All the things I've done through USD are because of the relationships I've developed with my professors. They've opened an incredible number of doors for me."
Although many people have assumed Patterson's next step would be to go into policy, that's not the case.
"I've always cringed when someone suggests that. That isn't what I want to do."
Instead, the critical perspectives he's learned in political science will help continue to support his studies as he pursues his master's in Environmental and Ocean Sciences. From there, there may be even more twists and turns to Patterson's journey, just as the last four years have taught him.
— Kelsey Grey '15 (BA)