USD Student Advocates for Making Higher Education More Accessible
USD Student Advocates for Making Higher Education More Accessible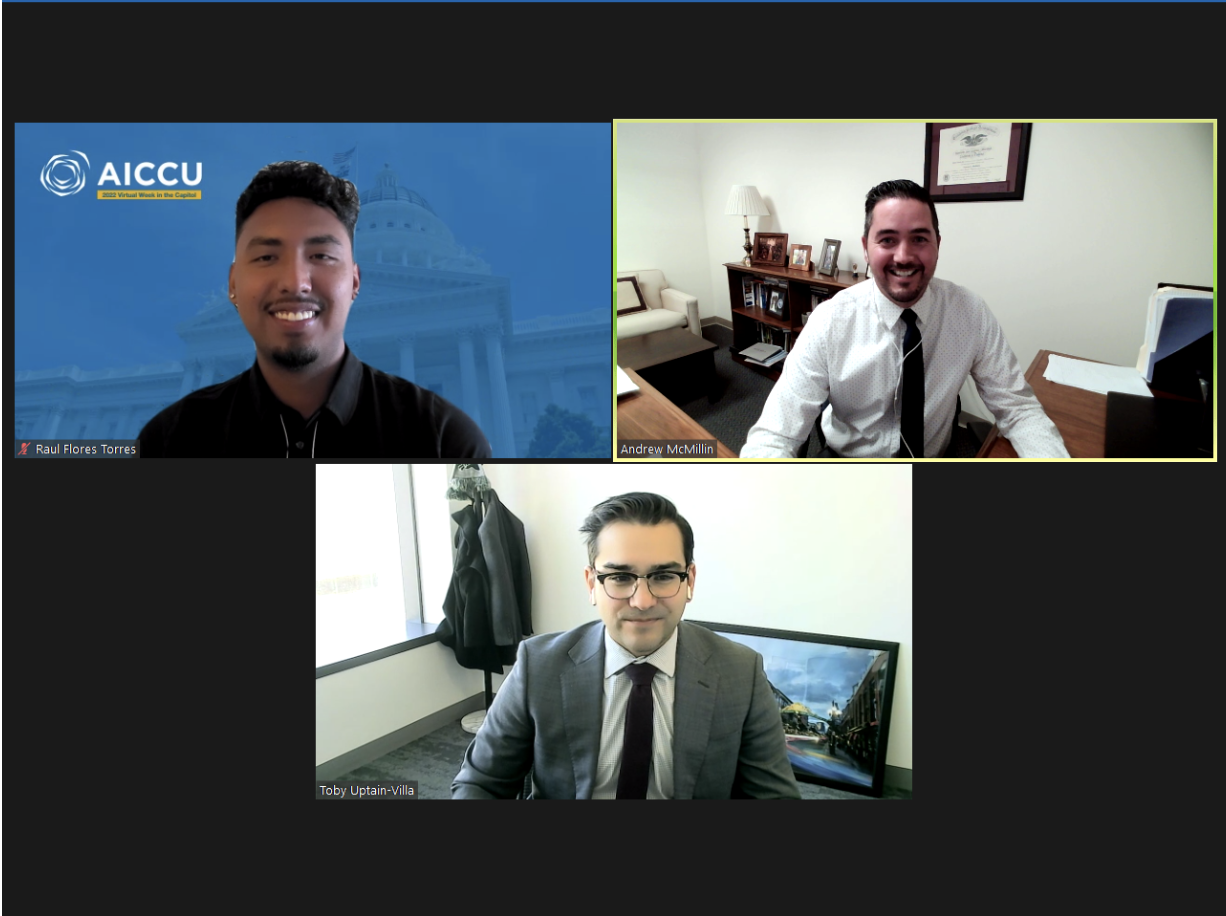 University of San Diego student, Raul Flores Torres '23, got first-hand experience in the legislative process during The Association of Independent California Colleges and Universities (AICCU) 2022 Virtual Week in the Capitol. The week-long virtual experience highlighted the progress and efforts made to improve college access and affordability through the voices of students and key changemakers.
Flores met with Senate President Pro Tempore Toni Atkins' office and 78th District Assemblymember Chris Ward's office to advocate for Senate Bill 851, a measure that will make adjustments to the Cal Grant to include more independent colleges and universities and make the Cal Grant more equitable for all California students. During the meetings, Flores told the story behind his journey towards higher education and how the Cal Grant has contributed to his financial support.
A Cal Grant is an award given to students pursuing an undergraduate degree or vocational or career training based on demonstrated financial need and other requirements. It can be applied at any University of California, California State University or California Community College, as well as qualifying independent and career colleges in California.
"I believe it is important that USD students take part in the legislative process as you are not only advocating for yourself but for current and future students who will be on a similar path," said accounting major Raul Flores Torres. "Recognizing that attending a private institution such as the University of San Diego is expensive, but a privilege is extremely important as not every student has the same opportunity as USD students have. USD students should advocate for future students to have an equal opportunity to attend private institutions at a reasonable cost."
SB 851 is sponsored by AICCU, which represents more than 80 independent nonprofit colleges and universities in California that collectively educate over 180,000 undergraduate students, including approximately 27,000 Cal Grant recipients and over 32,000 adult learners. AICCU institutions also enroll over 4,700 new California Community College students annually.
"It is important that we, as students, provide our perspective on how the Cal Grant has contributed to our financial circumstances as it provides legislative representatives the lens of our students before deciding on a bill that could potentially affect our academic experience, cost, and accessibility," said Flores.