Humanities Center Celebrates Five Years
Humanities Center Celebrates Five Years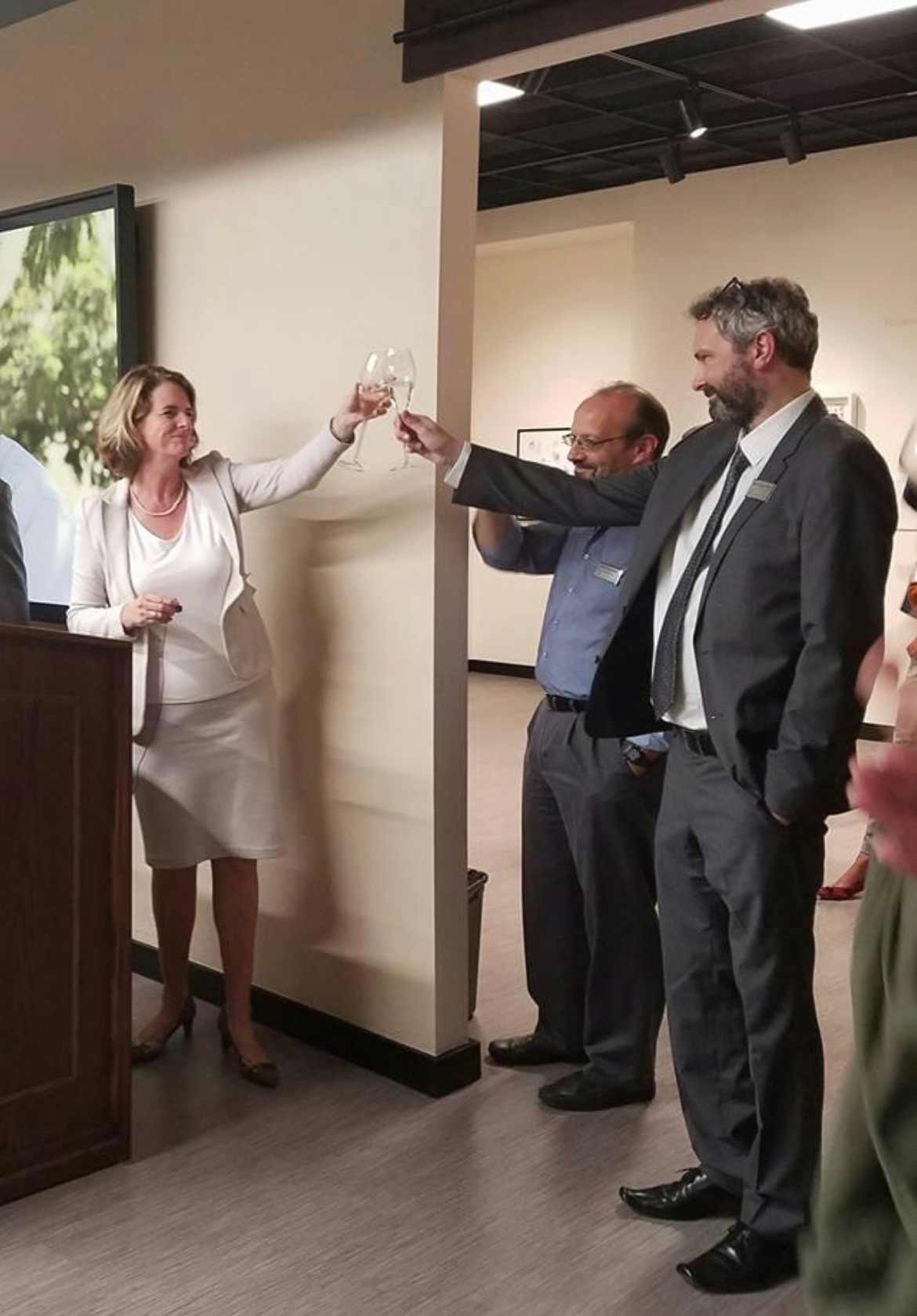 When USD launched its Humanities Center on October 13, 2016, the creation came amid a roiling national debate over the significance of a liberal arts education's core subject matter – literature, philosophy, history, art and religion among them – and the importance of such disciplines toward creating a modern college graduate.

In the two-year-long planning stages, trips by A. Vassiliadis Director of the Humanities Center Brian Clack and USD colleagues to humanities centers on the East Coast and in California didn't always offer promising templates.
"I'd ask, 'where is it?' or 'doesn't it physically exist?'" he recalls. Not unusually, the program did not have a dedicated building.

USD wasn't going to make the same mistake. Its physical location – in the center of Alcalá Park – is a testament to its importance to academic life.

"I'm sitting here, without a shadow of a doubt, with one of the best views on campus," says Clack, professor of philosophy. "I'm looking out over the Immaculata. This place is dead center on campus. It's not been shuffled away in some embarrassed way into a basement somewhere."

"You couldn't be closer to the heart of campus than we currently are," he adds. "That's a signal that these things matter. Humanities are the heart of the university."

The humanities, at its core, ask a fundamental question: What does it mean to be human? USD has not shied from the question. Coursework in the last year, for example, has focused on the pandemic and Black Lives Matter.

"We want to make sure that people are clear that the humanities are valued, and that the liberal arts are central to a university education," says Noelle Norton, dean of the College of Arts and Sciences. "The national conversation suggested that the humanities and liberal arts were not thriving, although that has turned out not to be the case as we watched this center blossom. People can see that the humanities are foundational. It's an ideal that we've held up at USD."
The center is now preparing a three-year "immersive programming" initiative on natural landscape and human meaning. Programs and coursework, in the face of climate change, will focus on oceans, deserts, ice, mountains, forests and cities. Students will visit locales – including a trip to Alaskan glaciers – and scientists, authors, poets and philosophers will come to campus to give talks. It's what Clack calls "a full-sensory education."

In creating the center, USD was faced with several formative questions. Should it be faculty-centered, supporting professional research? Should it be "student-facing," highlighting student work? Or should it espouse a public humanities mission and work with the outside community?

"We decided to do all of them," Clack says. "That's the really distinctive thing – we're multifaceted."

And it's pushing boundaries. The center, in an arrangement that is rare and collaborative, works closely with University Galleries to stage two exhibitions per semester – each of which addresses the human condition. Through Oct. 22, the Humanities Center Gallery is showcasing the work of Eve Fowler, a Los Angeles artist known for her visual inspections of language and gender. Another art installation featured the works of a military veterans' art collective, which recreated living conditions for American service members during the Iraq war.

"If you were to say to me, 'what kind of stuff goes on in the art gallery?' I couldn't tell you, because it's so widely diversified," Clack says. "That goes for all of our programming. What we want to do is have a space for conversation – including the widest range of perspectives and voices, not just one thing."

The center was made possible by a generous construction grant and an additional $1.5 million gift from Carol Vassiliadis, a patron of the arts and humanities at USD. Vassiliadis, in making the gift, described the humanities as "the core of every fine university." Programming is funded by the Vassiliadis donation, the Knapp Family Endowment for the Liberal Arts, the College of Arts and Sciences and was stimulated by a $250,000 seed grant from the W.M. Keck Foundation.

Studies have shown that today's employers increasingly are looking for workers who not only can solve complex problems, but who can also express empathy in doing so. "That's why we have to introduce all different ways of thinking," Norton says. "And that's what the center does."

For anyone who still questions the value of a humanities education, Clack stands at the ready.

"I'm a philosophy professor," he says, "so a full 50 percent of my time is spent with people asking me, 'what do you do with that?'"

The bottom line, he adds, "we're interested to see what it's like to be alive, to be a curious human being, and finding ourselves in a world that puzzles us. Our programming is focused on that. How do we understand this strange world that we're in?"