Sioma Waisburd '03 (BBA, BA): An Ambassador for Culture, Community, and Avocados
Sioma Waisburd '03 (BBA, BA): An Ambassador for Culture, Community, and Avocados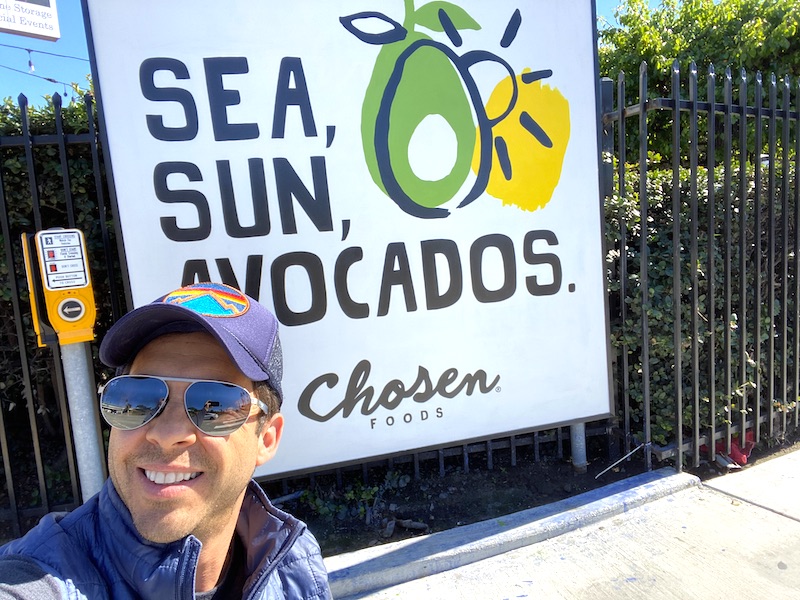 Born and raised in Mexico, Sioma Waisburd '03 (BBA, BA) is the co-founder of Chosen Foods and a passionate ambassador for both his culture and the extraordinary nutritional benefits of ancient foods including avocado oil. We caught up with Sioma recently to talk about his Hispanic heritage and how it has influenced his personal and professional endeavors today. His stories and experiences demonstrate an unwavering dedication to do good for society, especially within the Hispanic community.
Why is your Hispanic heritage important to you?
I come from the Jewish faith. My family and I have an extra appreciation for Mexico because of the way this country accepted us. My great grandparents first came to Mexico as refugees when they had to flee the war in Eastern Europe — and they were warmly embraced by Mexico! They went on to raise my grandparents there. And eventually, my parents had me and raised me in Mexico as well.
I cherish my Jewish roots. I'm also extremely proud to be Mexican. My family has lived a happy life in Mexico enjoying peace and its beautiful culture, which I identify with very much. I love Mexican culture — from its food to history and its music, it's very joyous.
Embracing joy and cherishing the moment is part of Mexico's essence. This joy is something I try to bring into my business endeavors. Human connection is also very important in Mexico as tt's a very warm society. So when business seems a bit cold due to an overload of digital communication, I make sure to build relationships because that human connection is essential.
When you were a student at USD, how did you connect your Hispanic heritage and community?
I was a member of the International Club and hosted its annual international show for two years, which was amazing! USD students came together to showcase all of the cultures they represent. The show featured music from all over the world and students from other countries would wear traditional clothing. We would 'travel' and try food from all over the world.
As a native Spanish speaker, I also participated in a program to help teach Spanish to USD students. As a Drill Teacher, I would meet with the professor of a Spanish class who would say, "okay this week we're reviewing past tense" or the future tense or conjugating certain verbs. So, I would make flashcards for those exercises and meet with the class three times a week. Two or three times each semester, I would take the class south of the U.S. border to really practice their Spanish — it was an incredible experience!
I really enjoyed representing Mexico and teaching Spanish in the classroom. One year, I was honored after my students voted me teacher of the year — one of my proudest moments at USD!
Tell us about your business.
My co-founders and I launched Chosen Foods in 2011 and immediately made San Diego our headquarters. We started out by selling ancient ingredients such as chia seeds and cactus powder but quickly focused on avocado oil and avocado oil-based products. Our avocado oil first sold in Costco, which is very unusual because a brand usually has to prove itself in a smaller market before Costco will carry its products. Fortunately, we were able to sell to them right away.
At Chosen Foods, one of our greatest strengths is our multicultural background and perspectives. One of our co-founders is originally from Norway and then lived in Canada and Mexico for many years. Our other co-founder was born and raised in the U.S.. And, as you know now, I was born and raised in Mexico before moving to the United States for college. As a team, we're all passionate about wellness and elevating our collective health.
What inspired you to launch Chosen Foods?
Just after I graduated from USD, I worked as an international marketing and sales manager for a personal care brand that my family business had just acquired. During this time, I saw a big health crisis within our Hispanic community in the United States. A lot of people suffer from hypertension and diabetes, in part due to replacing a diet of ancient, whole foods with processed foods and fast food.
I wanted to do something to help and told my wife, "Let's start a business where we can bring ancient superfoods to our modern life." That really was the premise behind Chosen Foods.
Something we learned when we started is that a lot of vegetable oils like soybean oil and canola oil are major contributors to inflammation and pre-diabetes. But avocado oil retains many ancient and healthy nutrients — it has an almost perfect ratio of omega six, omega three and monosaturated fatty acids.
We became very passionate about the benefits of avocado oil so we partnered with an amazing sourcing and manufacturing partner in Mexico. That's when Chosen Foods really started to grow.
Did you participate in any entrepreneurial activities at USD that helped you develop your business idea?
When I was a business major at USD in 2001, entrepreneurship wasn't really talked about yet. The classes I took in this subject area were called 'new business ventures.' The advancement of entrepreneurship initiatives at the USD School of Business that I've witnessed in the last 10 years is striking! I think USD is a leader in Southern California in this space and it's just the beginning!
In the past, I've participated in USD's Legacy Entrepreneurship Conference as a speaker and panelist, which I loved. I enjoy sharing and hearing stories about entrepreneurship, the startup journey, the good and the bad of the process and how you just have to keep going and believing. Having the right mindset for the entrepreneurial journey, I believe, is one of the most underrated skills.
What is one impactful lesson you learned at the USD School of Business that you apply in your business today?
That doing good and doing well go hand in hand, really. I believe that doing business right means doing good economically AND doing good for the environment and society. One area can elevate the other. It's not a zero-sum game.
When a company authentically makes a positive impact, that's felt by customers and retailers. This creates a connection with a brand that is stronger than any marketing campaign. Customers will ultimately "reward" the companies they feel that connection with by making a purchase.
As an alum, how are you involved with USD and the School of Business today?
In 2010, I got involved with the USD Alumni Board and served for three years. It was a fantastic experience! Around that time, I also connected with Comité México at USD, which was founded in 2009 by a group of Mexican alumni, parents and friends to provide outreach to the Mexican community in Mexico, San Diego, and the Southern California region. I helped organize the first-ever alumni reunion in Mexico City to help raise money to endow its scholarship for Mexican and Mexican-American students.
A few years ago, I was also a panelist judging student pitch decks at USD's V2 Pitch Competition and I loved it! I want to give back, not only through donations but also by giving time to be with students and share stories of what it's really like to start a business because I remember being moved by and learning a lot from people who told their stories, their hardships, their failures, their successes.
Did you know that USD aims to become a recognized Hispanic Serving Institution by 2025?
Yes, it's extremely exciting and I hope to help make that happen in whatever capacity I can. It's up to all of us to make it happen!
Mexico and the United States will forever be neighbors. Not only are we neighbors, but USD is literally a few minutes from Mexico and vice versa. So this is a beautiful opportunity to bring the best out of both cultures, both nationalities, both geographies.
Any final advice for our students?
There's really no point in comparing ourselves with others. Instead, work on being in tune with yourself and always strive to be the best version of yourself. We all have our little journey in life. Failures don't last forever, success doesn't last forever. Be ready for both, learn from both, and don't divorce yourself from failures and don't marry yourself to success. Embrace both and bring both into the equation because they have their own unique roles. And always remember to enjoy the ride, enjoy YOUR ride.