Asian American and Pacific Islander Heritage Month: Faculty Spotlight with Diana Chen, PhD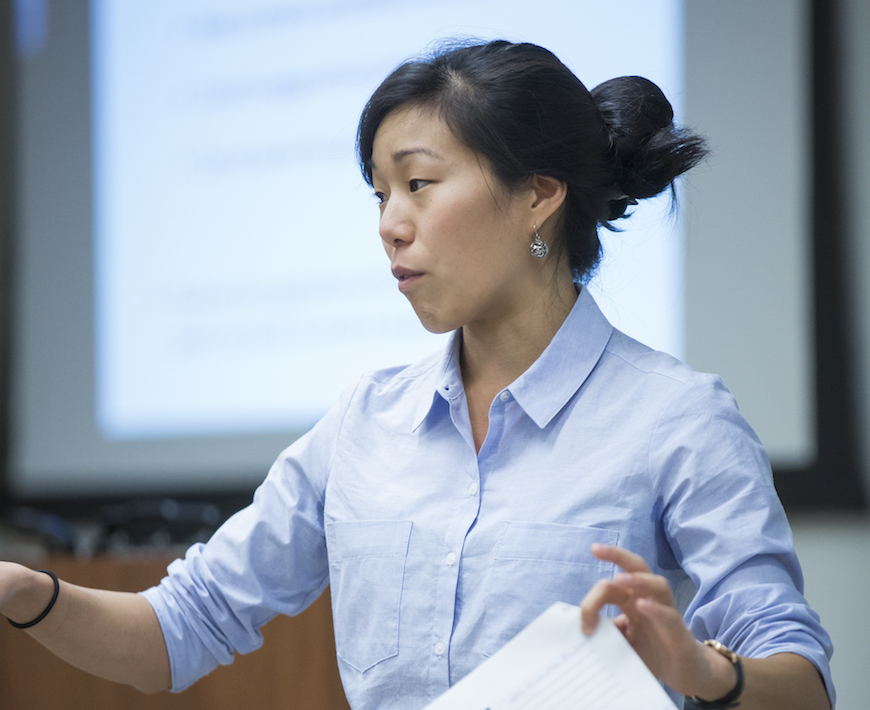 In celebration of Asian American and Pacific Islander (AAPI) Heritage Month, Assistant Professor of Integrated Engineering Diana Chen describes how upholding her commitments to inclusion and justice as an educator helps her serve as a role model for students to find the balance between their identities as individuals, as world citizens and as engineering professionals.
First and foremost, I want to acknowledge that the Asian American and Pacific Islander umbrella is so broad and encompasses Americans with cultural roots in all of East Asia, Central Asia, South Asia, Southeast Asia, Western Asia and the Pacific Islands of Melanesia, Micronesia and Polynesia. The history of the term "Asian American" stems from political origins, created specifically to unite activists from various Asian ethnic subgroups in the fight for equality (Time, 2020).
While I personally identify with this pan-Asian American term, we need to collectively recognize that Asian Americans are not a monolithic group. Treating AAPI communities as a monolith drowns out statistics and ignores the sociopolitical and historical contexts in which Asian immigrants, refugees and victims of colonization have settled in the United States.
Second, it is important during AAPI Heritage Month to specifically call out and dismantle the model minority myth, which has been used to drive a wedge between AAPI and other communities of color by minimizing the role racism plays in the struggles of minoritized groups, particularly Black Americans. As Asian American anti-bias, anti-racist educator Liz Kleinrock says, "[We] need to recognize that this stereotype holds up Asians in comparison to other people of color and particularly perpetuates anti-Blackness… Ultimately Asians are the ones that must work to reject it in order to reclaim our own identities and narratives. We deserve to define who we are for ourselves, not by what other people tell us."
Engineering circles are perhaps more guilty than most in upholding the model minority myth due to "overrepresentation" of Asian Americans in STEM fields. The model minority myth is closely tied to the myth of Asians' proximity to whiteness and privilege. Yet, Asian Americans are not exempt from racism and violence today, as we are painfully aware of in the year of 2021.
Like many other children of Asian immigrants, I grew up hiding my mother's cooking at lunch, rejecting my parents' tongue, and continued to face moments of shock when I was perceived as a foreigner even as late as in graduate school. I recognized quickly in college that Asian American women are few and far between in engineering, and I remember discussing with friends at the dining hall how important it was to me to become a role model for Asian American engineering students -- particularly women -- to prove that, no matter what obstacles we may face, women do have a seat in a man's world, and Asian Americans can and do have a voice.
When my first journal article was published during my graduate studies, I decided then and there that I was committed to keeping my maiden name professionally for the sole reason of Asian American representation in engineering.
While the feeling of underrepresentation contributes an additional weight for engineering students who are already working through a challenging curriculum, people who come from minoritized backgrounds have an advantage in seeing things from a different perspective. We should celebrate the different realities that we have lived through -- which can inspire unique design solutions to various challenges -- rather than conform, as it is diversity that leads to creative innovations.
Part of my research, with my colleagues in Integrated Engineering, looks at how using cultural frameworks in engineering education can broaden what inclusivity looks like in the engineering classroom. These frameworks celebrate the lived experiences that students bring to the classroom and recognize that there are many different approaches to what it means "to engineer".
One element of that inclusion depends on pedagogy; another piece demands a hyperfocus on the course content that is prioritized and its sociopolitical and historical origins. Upholding my commitments to inclusion and justice as an educator necessitates first understanding my own positionality, my identity, my privilege and my own biases, before I can guide students along their own individual paths in finding the balance between their identities as world citizens and identities as engineering professionals.
As an engineer, I am acutely aware of my lack of skills in processing the recent hate crimes against the Asian community. One of my goals as an educator is to help our students, the next generation, see that their engineering identity shouldn't be separated from the rest of their personal lives, and to gain a better set of skills to process this from their liberal arts education. The innovative work we are doing in the Shiley-Marcos School of Engineering to highlight the sociotechnical nature of engineering was not something I was trained to do, but rather something I pursue because I truly believe that the future depends on our graduates' ability to see connections between engineering theory and impact on society. I hope to model for students that critical consciousness in engineering is possible and is an on-going process, similar to how there is rarely one correct solution for real-world engineering problems.