The Horizon Project
The Horizon Project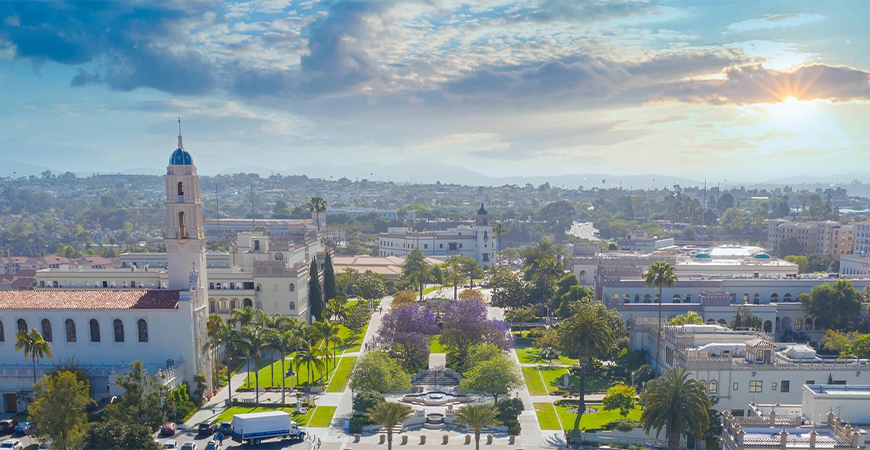 Dear USD Community:
In 2016, when we announced the launch of Envisioning 2024, we had no way of predicting the monumental societal changes that would occur over the next few years that would impact our lives and our world in so many ways. Yet, in spite of these challenges we have remained undeterred in our pursuit of our vision to set the standard for an engaged, contemporary Catholic university in the 21st century.
To achieve our vision, we developed five goals and identified six interconnected pathways to lead USD forward. To date, we have made tremendous progress toward achieving our strategic goals and now we have an opportunity that if we act deliberately and redouble our efforts we can truly emerge a stronger and more vibrant academic community when we celebrate our 75th anniversary in 2024.
One area of great promise is our pathway to expand access and demonstrate inclusive excellence to benefit the learning and success of all students, advance educational equity and become a first-choice university for underrepresented students. Over the past four years, we have made tremendous progress toward inclusive excellence, and today we can celebrate achieving the most diverse student body and faculty in our history.
While we can take pride in our efforts to create a more diverse and vibrant academic community at USD, we still have work to do to make it more welcoming and inclusive. Writer and activist Marcus Harrison Green described the work ahead in this way: "There is a difference between all are welcome here and this was created with you in mind." Today it is time for USD to take the giant leap forward to build a campus culture where all members of our academic community know that we have in place the people, practices and policies conducive to creating an environment where everyone is not only welcomed but they know we have a campus culture that was built with them in mind.
It is with this in mind that I am excited to announce USD's multi-year, comprehensive and strategic initiative for diversity, equity and inclusion: The Horizon Project.
The Horizon Project is a clarion call for solidarity that outlines the immediate, concrete and material steps that USD will take to ensure that inclusive excellence efforts are unequivocally woven into the fabric of our institution. This bold and action-oriented initiative taps into the rich tapestry of talents, strengths and expertise of our community and represents the accumulation of work and recommendations submitted by a broad cross section of stakeholders. The objectives outlined in this initiative align perfectly with Envisioning 2024. It also sets forth a path to move USD into the forefront of Catholic higher education by promoting engagement, strengthening our Catholic values and working toward our highest aspirations for racial and social justice.

In order to catalyze these changes, the Board of Trustees has fully endorsed this new initiative and committed an additional $15 million over the next five years to achieve the goals outlined in The Horizon Project. This includes a $1 million matching gift program, the "USD Board of Trustees Horizon Project Matching Gift Program;" which will match donor contributions towards endowed funds that support the Horizon Project goals. This will allow us to commit the dedicated time, energy and resources to achieve one of the key pathways of our strategic plan: Access and Inclusion. Our investment in The Horizon Project will build upon the momentum of our Envisioning 2024 strategic work by creating pipelines that will channel all of our diversity, equity and inclusion efforts into a concerted university-wide response that is supported by dedicated leadership and accountability structures.
I invite you to learn more by visiting The Horizon Project website. Information on this website will be continually updated. Further, more specific details will be highlighted in a video that will be shared with the USD community in the very near future.
During this time of change—and in every area of university life—we are now facing new questions, new challenges and new tensions in identifying a more complex and nuanced sense of who we are and what we represent. This requires recognition, acknowledgement and commitment by all community members that the work of inclusive excellence is an ongoing process that will undergo change and growth as we meet the contours of the times. The Horizon Project is just the beginning.
We now stand at a liminal moment in our history, and we must look to the horizon as our path forward. The civil rights leader, author and theologian Howard Thurman once wrote, "A dream is the bearer of a new possibility, the enlarged horizon, the great hope." Let us all dream and work together to build a campus culture that exemplifies our highest aspirations to "set the standard" and become a beacon of hope for our campus, our community and future generations of USD students and alumni.
The Horizon Project will illuminate our way.
Peace,
James T. Harris III, D.Ed.
President