Economics Student Among 100 Best and Brightest Business Majors of 2021
Economics Student Among 100 Best and Brightest Business Majors of 2021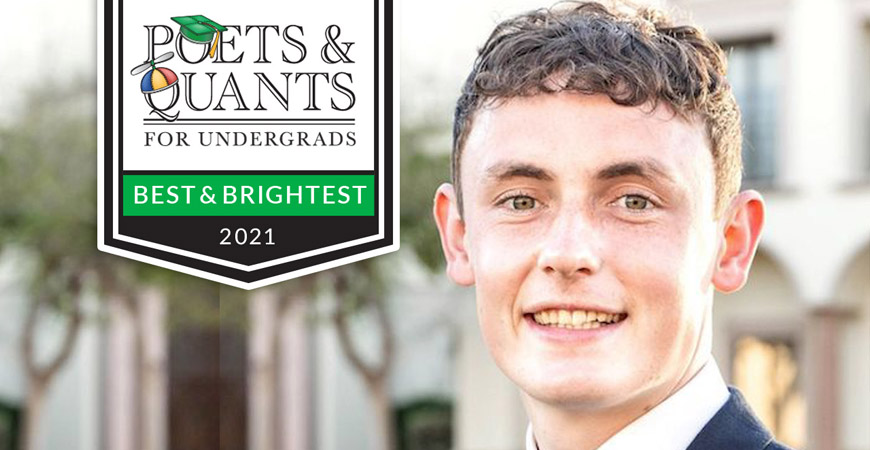 Each year, Poets&Quants selects students from the top business schools in the nation to be included among its "100 Best & Brightest Business Majors of 2021" list. Included in this year's standout selection is USD Economics major, Ross Meldrum.
A native of Chelmsford, England, Meldrum shared the following with Poets&Quants about his student experience at the University of San Diego School of Business.
Fun fact about yourself: Before coming to USD, I had played soccer against Premier League stars Marcus Rashford and Trent Alexander-Arnold.
Major: Economics and Political Science
Favorite Business Course: My favorite business course at the University of San Diego School of Business was my Behavioral Economics class with Dr. (Alison) Sanchez. We covered some really interesting topics and applications, and Dr. Sanchez made the class so fun and inclusive. Even though the class was taught remotely midway through the semester, we were able to make the most of our time and still completed our research projects. My project highlighted a possible motivation for altruistic behavior, for which I called upon the USD School of Business community for survey responses to inform my research.
Extracurricular Activities, Community Work and Leadership Roles During College: Captain, USD Men's Soccer Team, Vice President, USD Economics Council, Team Representative, USD Student Athlete Advisory Committee, Delta Sigma Pi Professional Business Fraternity, Team Impact Mentor, Omicron Delta Epsilon International Honor Society for Economics, Dean's List every semester, Mentor, Linda Vista Boys and Girls Club, USD Model United Nations
Where have you interned during your college career? Unfortunately, the pandemic disrupted my plans for an internship this past summer. However, I was able to take on a role as a research assistant in Dr. Sanchez's Behavioral Analytics and Decision Analysis Lab.
Where will you be working after graduation? I have recently applied to graduate school back home in London where I hope to study either Development Studies or Public Policy.
Who is your favorite professor? My favorite professor has to be Dr. Alyson Ma. She was my academic advisor freshman year and my first economics professor. She really got me interested in economics and is definitely the reason I chose it as my major. Even though she is no longer my advisor, she has always been my first port of call whenever I had questions about which classes to take, my plans after graduation, or just about anything else. She has always been there to help and has supported me throughout my time at USD.