A Holy Thursday Reflection with Aly Monteleone, MA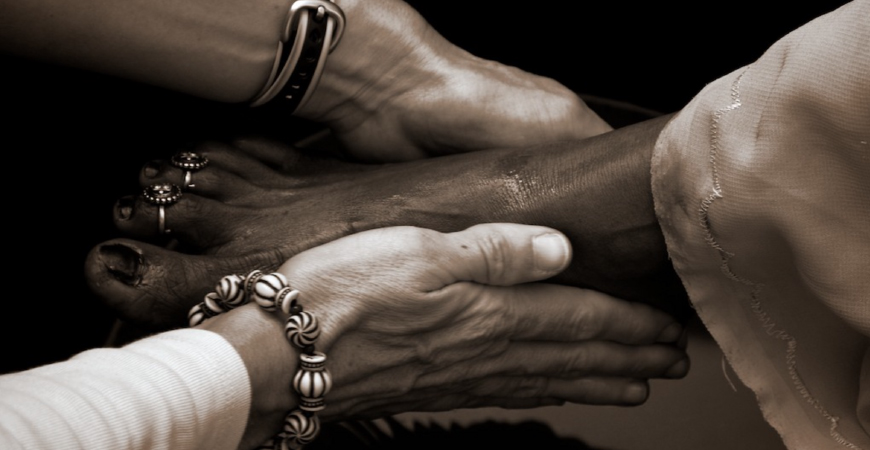 "I have given you a model to follow, so that as I have done for you, you should also do." — John 13:15
Two years ago, my husband and I washed one another's feet during our wedding liturgy. When we made the decision in the comfort of our apartment, we couldn't imagine how vulnerable it would feel on the actual day. Kneeling on the tile floor in a wedding gown and suit, fumbling with each other's shoes, and spilling cold water everywhere — all while 160 guests gazed upon us — made the 10-minute procedure feel much longer. It was awkward and amusing all at once.
It was also a commitment to carry the meaning of the ritual beyond the building and into our lives.
Washing someone's feet symbolizes love, service, and humility. Placing yourself beneath another is a surrender of power. And, because feet aren't always the cleanest part of the body, embracing them expresses a willingness to treasure someone for all that they are - not just the easy or appealing parts.
There's equal significance in allowing your feet to be washed. It demonstrates that you will accept support. You'll let someone see the parts of you that are messy and weathered. At the same time, it positions you in power - a privilege that should only be used to uplift others.
When Jesus washes the disciples' feet after the Last Supper, he commissions them to do just that. After he is gone, they are to empower those around them in imitation of his love. This is easier said than done. The inequities highlighted by the dual pandemics of systemic racism and COVID-19 reveal how far away we have fallen from Jesus' model.
So why still wash one another's feet? Because we need a recommitment to love, service, and humility very badly. For me, this means showing up and remaining steadfast when the changes I want to see feel beyond my grasp. It also means recognizing that the ritual is pointless if I don't carry its meaning into my everyday life.
Jesus wasn't passive. He was disturbing. He broke through barriers to teach us what the Reign of God should look like: a world where unconditional inclusivity, justice, and dignity abound. Let this be the model we recommit to this Easter season.
As you celebrate Holy Thursday, say yes to being disturbing. Challenge systems of oppression. Compel others to act more inclusively. Use your power to build the Reign Jesus asked you to. And if it feels awkward, vulnerable, or messy, gaze upon the community of support who's right there with you.
As we prepare to become an Easter people this weekend, enlivened by Jesus' radical hope, may we never lose faith in what we have yet to see.
— Aly Monteleone, MA, University Minister