USD Athletics Roundup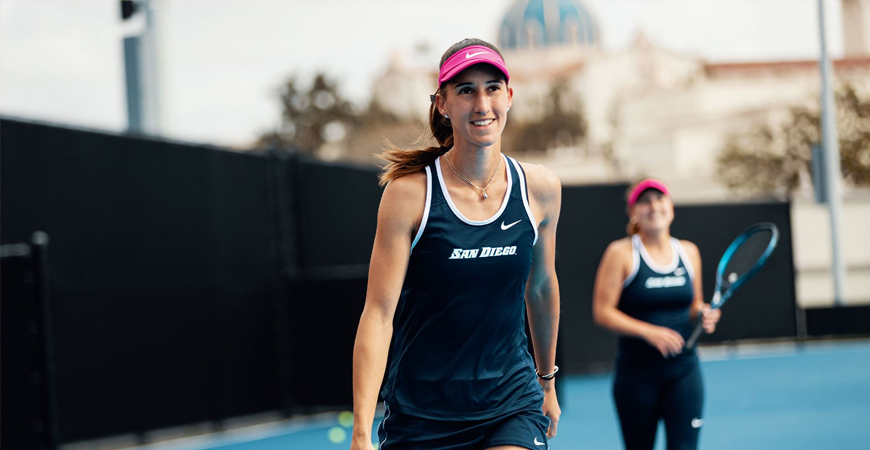 Catch up on some of the athletics news from this week. For more USD Athletics updates, please visit usdtoreros.com.
USD Women's Soccer: San Diego Falls to No. 16 BYU
San Diego women's soccer (1-5, 1-3 WCC) fell to No. 16 BYU (7-3, 4-1 WCC) 6-0 on Wednesday afternoon in Torero Stadium.
San Diego looked to score early with freshman Aryssa Mahrt providing a shot on goal in the third minute.
It was Mahrt again a minute later who tried to connect a cross to sophomore Delaney Jannone that was blocked by the BYU defense.
BYU broke through first in the 9th minute to create a 1-0 advantage. The Cougars continued on the attack to create a 4-0 advantage at the half.
The Toreros couldn't cut the deficit in the second half to fall 6-0.
Sophomore goalkeeper Ellyn Casto collected 17 saves in the match, two off of the San Diego single-game record. Her season total now stands at 41. The Toreros managed five shots on target in the contest.
San Diego will return home on Saturday, March 27 to take on Portland at noon (PT). Tune into the livestream at usdtoreros.com
USD Women's Tennis: Toreros Begin WCC Play
San Diego women's tennis (6-3, 0-0 WCC) will hit the road this week as they open up WCC play beginning on Friday, March 26 as they take on Pacific (3-5. 0-0 WCC) followed by St. Mary's (2-4, 0-0 WCC) on Saturday, March 27.
The matches will begin at noon and 11:00 a.m. (PT) respectively.
All-time, the Toreros are 1-0 against Pacific with the sole matchup coming in 2019, a 4-0 victory on the road for San Diego. The Toreros are 4-12 all-time against St. Mary's. San Diego won the last matchup 4-2 on the road in 2019 as well.
The Toreros are coming off their biggest win of the season, a come from behind 4-3 win against Oregon last Sunday at home.
Fans can follow along with the action by following @USDwtennis on Twitter for live match updates.
Click here for the full story.
USD Baseball: San Diego Storms Back for Win at USC
San Diego baseball (14-4, 2-1 WCC) stormed back for a 6-5 comeback win at USC (9-7, 3-0 Pac-12) on Tuesday night, earning its 14th victory in its last 16 games.
Junior Shane McGuire delivered a RBI double down the right field line in the top of the ninth inning to tie the game at five runs apiece, then true freshman Jack Costello pushed across the go-ahead run with an RBI infield single to second base to move the score to 6-5 in favor of USD.
Costello was a team-best 5-5 with an RBI and a run scored on Tuesday night, stretching his hit streak to 12 games with the best offensive performance of his young USD career. That 12-game span has included 10 total multi-hit performances and two separate streaks of five (3/6-3/13 and 3/14-present) consecutive contests with more than one hit.
The Toreros trailed for nearly the entirety of the game, falling behind after the Trojans plated an early unearned run. USC would stretch its lead to as many as four runs in the contest's middle frames before San Diego began to mount its comeback.
The Toreros return to action this evening when they host West Coast Conference foe Pacific for a three-game set at Fowler Park. First pitch is set for 6 p.m.
Click here for the full story.
— USD Athletics