Wearing Her Heart on Her Sleeve: Woman of Impact Gabriella Rangrej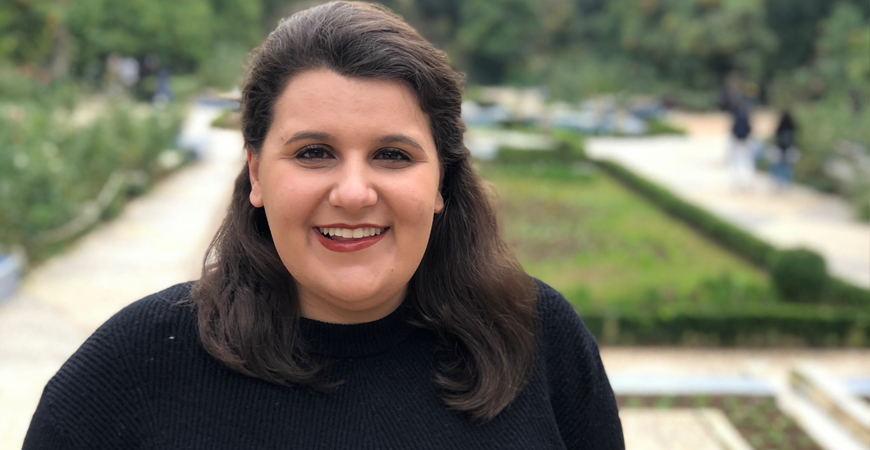 In honor of Women's History Month, the USD News Center will highlight the Women of Impact recipients in a month-long series that shares their stories with the campus community.
A proud alumna, current student, and staff member, Gabriella Rangrej '18 (BA), '21 (MA) is a committed Torero. Rangrej, who serves as the learning communities coordinator, was honored in February as the University of San Diego's 2020 Women of Impact staff award recipient.
Surprised and humbled by the award, Rangrej was touched by the nomination, describing it as a "life-giving" experience. She adds, "for me, it is a moment of cheerleading and celebrating [that] keeps me going."
For Rangrej, the opportunity to be honored alongside other outstanding colleagues was a source of pride. "To be in community with such great women really felt special," she says.
At the start of the pandemic, Rangrej was part of the team that transitioned the Scholastic Assistant Program to a completely virtual format. The program, which connects Scholastic Assistant (SA) student leaders with first-year students, is an essential part of a student's academic and social transition to USD. However, with no roadmap for what a virtual program should look like, Rangrej praises her colleagues for their collaborative efforts to ensure the program continued. For Rangrej, this transition has been an opportunity to incorporate innovative ideas that help the program better serve student constituents.
One opportunity in particular has been Rangrej's work to develop anti-racism training for the students. "Beyond how much Gaby has accomplished, what stands out to me is the care and integrity with which she's done it," wrote her colleague in the award nomination. "Gaby is a passionate voice for change and seeks to integrate social justice into what we do and how we do it as a division of Student Affairs."
With a go-to attitude and a lot of energy, Rangrej sees her involvement as a way to give back to USD. "I love being able to give back to the community that shaped me into the person and woman I am today."
Coming to USD as a first-generation college student and staying on as a staff member after graduation, Rangrej has found her home. In addition to her role as a staff member, she is also a part-time student in the School of Leadership and Education Sciences Higher Education Leadership program. Through this program she will receive a Certificate in Restorative Justice Facilitation and Leadership and is currently pursuing her Action Research project, focused on understanding whiteness and anti-racist attitudes in student leaders.
In all she does, Rangrej is motivated by a desire to learn, grow, and ultimately create change in her community. With a social justice mission and a passion for her USD family, there's no denying Rangrej's commitment to USD's Culture of Care.
"I wear my heart on my sleeve," she says. "I put my all into everything I do."
— Allyson Meyer '16 (BA), '21 (MBA)