Reyes L. Quezada, Ed.D., named AILACTE President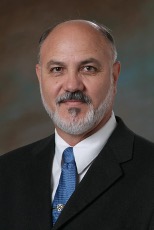 The Association of Independent Liberal Arts Colleges for Teacher Education (AILACTE, https://ailacte.org/) announced on February 26, that Reyes L. Quezada, Ed. D of the University of San Diego (CA), will be the next President of the association. He was elected as the president-elect two years ago by the association that represents independent, liberal arts colleges and universities across the nation.
During his two-year term, Dr. Quezada will continue to support AILACTE's mission and vision as the voice and advocate for independent, liberal arts colleges for teacher education. His key initiatives are to support AILACTE teacher education, their faculty, teacher candidates, and other education programs to be the best in the nation. His focus will be to further advance antiracism, equity, social justice, inclusion, and language diversity. He will introduce Changemaking, as well as ways to increase international collaborations of educator preparation programs.
"My focus is to reimagine the possibilities and innovation for the Fall 2021 semester and beyond from what we learned as faculty and as teacher candidates from teaching in remote/virtual setting from an equity lens. Let us take the best lessons learned so we can produce high quality teachers that our culturally diverse students need in our nation's schools. We must not forget the social injustice events we have witnessed against Blacks, Latinos, Indigenous Peoples, Asian Americans, LGBTQIA+ community members, and other People of Color, as well as the attack on our own democracy from individuals and organizations who espouse hatred and intolerance."
Dr. Quezada has been an educator for the past 40 years and holds degrees from San Jose State University, the University of San Diego, San Diego State University, and Point Loma Nazarene University. He is recognized as a scholar in the areas of teacher education, diversity, language and cultural proficiency, family-school and community engagement, and internationalization. He has held various editorial board roles, including current editor of Teacher Education Quarterly, Issues in Teacher Education, The Journal of Hispanics in Higher Education, The School Community Journal, and others. Dr. Quezada has published books on cultural proficiency and English learners, migrant students, internationalization of teacher education, and most recently on equity and family-school and community engagement.
Dr. Quezada has been elected to several university, state, national, and international organizations serving in various educator preparation leadership positions. He is the current outgoing Chair of the International Council for the Education of Teaching, President (ICET), was the President of the California Council of Teacher Education (CCTE), the California CCTE. He served on the Board of Directors of AACTE and the Council for the Accreditation of Educator Preparation (CAEP). He currently serves on the Board of Directors of the Association for Advancing Quality in Educator Preparation (AAQEP). For more information, visit https://ailacte.org/