International Women's Day: Alumna Spotlight with Alexandria Tillard-Gates '14 (MA), Marriage and Family Therapy
International Women's Day: Alumna Spotlight with Alexandria Tillard-Gates '14 (MA), Marriage and Family Therapy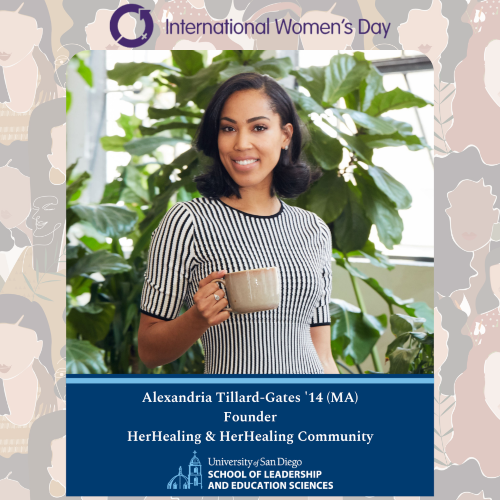 March 8th is International Women's Day. To celebrate and recognize this day, we connected with a few alumnae from the School of Leadership and Education Sciences, including Alexandria Tillard-Gates '14. Alexandria received her Master's in Marriage and Family Therapy and is the Founder of HerHealing and HerHealing Community.
Why is it important for SOLES to value the role of women in your profession?
Growing up, I didn't know any female or Black female therapists. I never considered it as a career option or even understood its purpose. The older I got, the more I began to understand how my own trauma and the trauma of Black women continues to impact the Black community as a whole. Healing is necessary to move forward and raise up a generation of children who are free from the generational traumas of their parents and ancestors.
How do you lift up the women in your life/community?
I uplift women in Los Angeles and San Diego by providing individual, couples, and family therapy through my group practice, HerHealing. I also run a school-based counseling program for a middle school through my non-profit 501 (c) (3), HerHealing Community. Lastly, through HerHealing Community I provide monthly healing sessions to women of color, exposing them to a range of different holistic and alternative healing modalities at a low cost.
How do you choose to challenge and call out gender bias and inequity?
I choose to challenge gender biases and inequalities by intentionally providing a safe space and increased access to healing to BIPOC women and girls. The populations I serve often have a higher need for mental health services and healing but are frequently at a disadvantage due to access, stigma, and finical barriers.
What do you hope is accomplished through celebrating International Women's Day?
I hope that by celebrating International Women's Day, the stories of remarkable women making an impact in the world are highlighted and celebrated. In doing this, the larger goal is for young girls to see that their future possibilities are limitless!
Anything else you would like to add?
I'm so grateful for the opportunity to be acknowledged and recognized by my alma mater USD!